 In examining gender equality, it is important to consider women's role in politics. Certainly the United States has shown progress in this regard. Women hold elective office at every level of government and have risen to positions of considerable power in both elected posts -- for example, former Speaker of the House of Representative Nancy Pelosi -- and in critical appointed posts. Perhaps the most notable example of the latter is that the 64th, 66th, and 67th U.S. secretaries of state have all been women (Madeleine Albright, Condoleeza Rice, and Hillary Rodham Clinton, respectively). Yet apart from these celebrated and important leaders, the data on women's participation in political institutions do not paint a particularly rosy picture of rising political power for women in the United States.
A common metric for female political participation is the percentage of seats women hold in the national legislature. Women occupying a percentage of legislative seats that matches their percentage of the population would constitute perfect equality on this metric, but no large democracy comes close to that. The countries with the highest rates of female political representation are the Netherlands and Belgium, while the lowest are Greece, Korea, and Japan. Some of the gap is due to different national perceptions of women in politics. A World Values Survey found that Americans have more negative views of women's ability in politics than do citizens of Australia, Spain, and Germany. Korea and Japan show even more negative views, and this correlates strongly with women's representation in those nations' legislatures -- a likely reason that researchers conclude that gender attitudes are a primary factor in determining the level of female representation.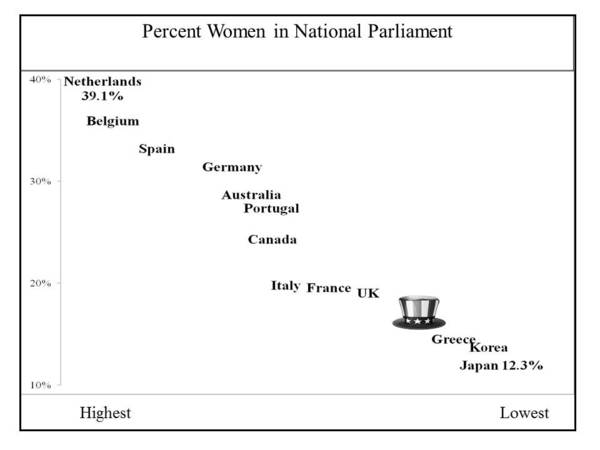 The United States is not only a low performer in terms of the percentage of women representatives but is also an outlier when it comes to the use of gender quotas as a means for driving greater female political representation. Some democracies, such as Belgium, Korea, Portugal, and Spain, have legislative gender quotas or voluntary party gender quotas (Australia, Canada, France, Germany, Greece, Italy, Netherlands, and the UK). The United States does not have these types of quotas.
Although women comprise half the U.S. workforce and are the responsible decision-makers for the majority of consumer purchasing decisions, their median annual earnings are only around $24,000. Hillary Clinton mounted a powerful campaign for the presidency in 2010 yet in the end fell short of gaining the nomination, while the Republican ticket, with Sarah Palin as the vice presidential candidate, lost. The 2010 elections saw the number of women in the U S Congress slip and the percentage of women in statewide executive positions decline to 22.4 percent from a high of 27.6 percent at the turn of the 21st century. It took more than 130 years for American women to gain the right to vote and it wasn't until 1933 that the United States saw its first female cabinet secretary. Countries like the United Kingdom and Germany have been led by women, yet the United States still hasn't seen a female vice president, let alone a president.
As female representation in the United States slips even lower, one has to ask whether women will ever experience the political strength found in other democracies.

Follow Howard Steven Friedman's Facebook Fan Page
Popular in the Community