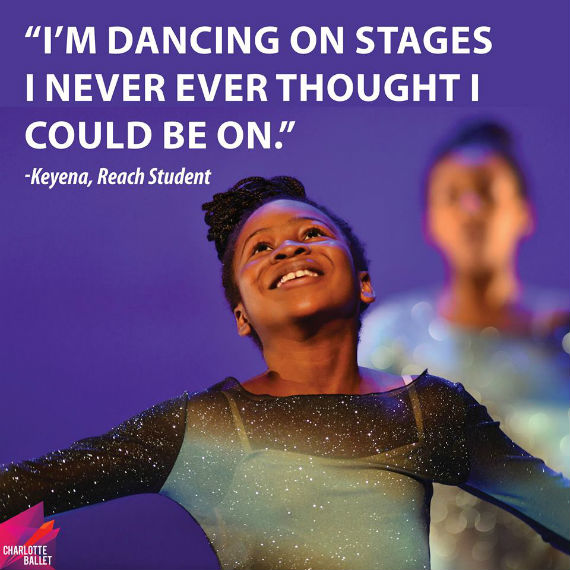 Photo Credit: Charlotte Ballet
Philanthropy is trending in a new direction and women are leading the way. The newest trend, however, is not just about a woman's donation, it's about women's collective philanthropy -- pooling funds together to exponentially increase community impact. Women make over 60 percent of their families' charitable contributions and when contributing together, have literally moved millions to catalyze community improvement.
More than 300 leaders of the women's collective giving movement gathered in Charlotte, North Carolina, this week to share insights and inspiration during the three-day Women's Collective Giving Grantmakers Network (WCGN) 2015 National Leadership Forum. This network boosts over 10,000 members across the nation. All member organizations use a similar democratic grantmaking process to award local non-profits with individual grants ranging from tens of thousands to $100,000 to local non-profit organizations. Of the 46 member organizations that belong to this network, many have given over $500,000 in total grants to their community each year. These contributions help nonprofit organizations catalyze community programs across five general categories: Arts & Culture, Education, Environment, Health, and Human Services.
Charlotte, the host city for the national conference, has established itself as one of the nation's leading cities for women's collective grantmaking, in membership numbers as well as financial contributions. The Charlotte Women's Impact Fund uses innovative approaches for collective grantmaking to help Charlotteans to tackle poor municipal rankings in socio-economic mobility, address environmental challenges, protect abused children and assist veterans in transition. Several examples highlight Charlotte's innovative approaches to tackling community problems.
The Charlotte Ballet received a $78,000 grant from the Charlotte Women's Impact Fund for its then-new REACH! program, which makes high quality dance training accessible to minority, male and female, students with limited financial means and little if any previous dance experience. This program, Discovering the Next Baryshnikov, allows each student to demonstrate a natural talent for movement and the potential to be trained as accomplished ballet dancer. Training is provided in their own neighborhoods completely free of charge. Charlotte Ballet also provides all dance attire and tickets to ballet performances, plus the gifts of self-esteem, discipline, a strong work ethic and an appreciation for the arts.
At another point on the community needs spectrum is a focus on the environment. The Charlotte Women's Impact Fund awarded TreesCharlotte a $96,000 cash infusion to establish NeighborWoods, an innovative program to replenish and sustain the treasured tree canopy in deforested and underserved areas of Charlotte. The grant was used to plant 1,800 new trees. Benefits of the urban tree canopy include reducing stormwater runoff, energy conservation, improving air quality, and enhancement of community vitality, stability and property values.
At a time when over one million service men and women are leaving military, many impact funds have recognized the need to provide veterans with transition assistance. Last year, the Charlotte Women's Impact Fund granted $80,000 to Legal Services of South Piedmont to establish Legal Services for Veterans to provide our veterans the legal representation they need and richly deserve. Through this program, trained lawyers are assigned to lower-income veterans to assist with legal matters related to their military service, including access to disability and other critical benefits. "This help was life altering," a client named Eric said. "I felt lost. But getting this, it feels as if I haven't been completely forgotten. It was a load off, just to know that your service is acknowledged, that you put your life on the line."
Last but not least, some community issues garner universal attention. All women's impact funds dedicate some resources to protecting children. Charlotte's Women's Impact Fund, for example, has awarded a $100,000 grant to Pat's Place, a local shelter for abused children. The organization was able to hire the first case worker to provide assistance, with expertise and compassion, to shelter and counsel thousands of children facing physical and mental trauma.
These are but a glimpse into the enormous impact the Charlotte Women's Impact Fund has had alongside 46 sister organizations across the country. Truly, the movement towards women's collective giving is a positive development that should be praised for its broad social impact, not only for helping the needy with grant funds, but the educating more women to become responsible philanthropist and agents of change within their communities.
In the words of Kerry Sullivan, President of the Bank of America Charitable Foundation, a supporter of the conference, "Money matters, voices are essential, and connection to community are vital." Women's collective giving grantmakers have demonstrated their responsible use of all three. Let's hope this trend keeps growing across the nation. To learn more about how to start a community fund or connect with an existing organization, visit www.wcgn-network.org.
This is the second article in a series on women's collective giving movement, published in advance of the national leadership forum in Charlotte, NC, Oct 15-17th, 2015. Hundreds of female philanthropists will gather to share best practices, gain new skills, and network with globally-recognized philanthropists. For an overview of the movement, tune into this NPR podcast with the WCGN founder and other key leaders.
CORRECTION: A previous version of this post incorrectly stated Kerry Sullivan's name as Kerry Russell.
Related
Popular in the Community