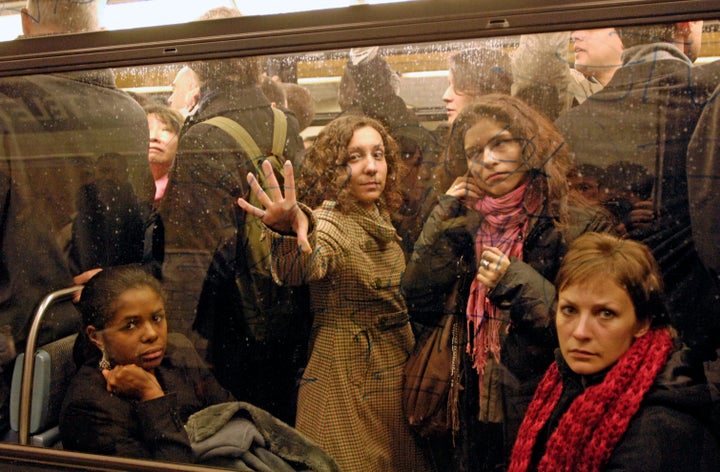 A new report affirms what many people already know: Harassment and physical abuse are preventing women around the world from being able to use public transportation safely.
"The lack of personal security, or the inability to use public transport without the fear of being victimized ― whether on public transport, walking to or from a transit facility or stop, or waiting at a bus, transit stop, or station platform ― can substantially decrease the attractiveness and thus the use of public transit," notes the Global Mobility Report, which was released Thursday.
Published by World Bank-led partnership SuM4All (Sustainable Mobility For All), the report is the first major assessment of the global transport sector. It examines the efficiency, safety, green credentials and accessibility of all forms of transport ― and finds all four areas wanting.
While data on women's transport experiences is limited, a number of studies note that abuse and harassment on public transport are far from unusual. A Reuters survey of 16 major cities worldwide found that women in Latin American cities suffered the highest rates of harassment, with about 6 in 10 women physically harassed on transport systems.
Bogota, the capital of Colombia, was the most dangerous city examined in the Reuters survey, with women saying they were scared to use transport after dark. In Mexico City, 64 percent of women said they'd been groped or physically harassed on public transportation.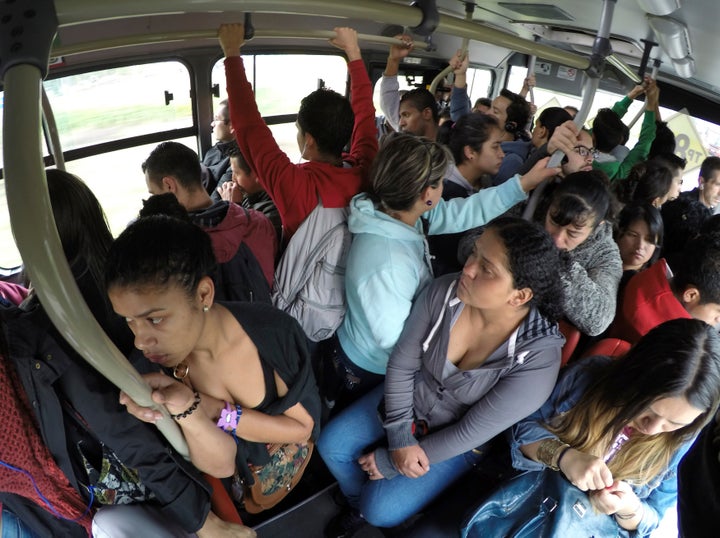 Research shows this is a global phenomenon. In a 2009 survey in Delhi, India, 95 percent of women said their mobility was limited by fear of harassment in public places. And in a Kenyan survey from Women's Empowerment Link, more than 50 percent of the 381 women interviewed said they had experienced gender-based harm while using public transportation.
"[Respondents] witnessed female passengers being stripped naked... but the female survivors neither received any help nor reported the violation," WEL said.
It's not just developing countries where this is an issue. According to the SuM4All report, 53 percent of women in developed countries feel "unsafe'" or "very unsafe" waiting on a railway platform after dark.
Women's lack of access transport has a real impact, says Nancy Vandycke, lead transport economist at the World Bank and the author of Thursday's report. "What we have seen, based on the existing evidence," she said, "is that women have begun to shift away from public transport."
"The inability to safely take public transit can limit women's lives and their livelihood," said Holly Kearl, founder of Stop Street Harassment. "Experiencing sexual harassment on the transit system can cause women to change their routes to take alternative transit options that may be less convenient, take longer or are more costly, and on the extreme end, they may leave jobs or school if public transit is their only option and they are tired of or scared from the harassment they face."
It's an environmental issue too. "Women are at the crossroads of people we have to convince because they will determine whether the future of transport will be public transport or private cars," Vandycke said.
A number of countries have adopted policies attempting to tackle the harassment epidemic. Women-only train carriages, for example, have been rolled out in Japan, India, Brazil, Egypt, Iran and Mexico. However, recent proposals to introduce them in the U.K. met with objections, with critics saying such a measure fails to tackle the problem at its root.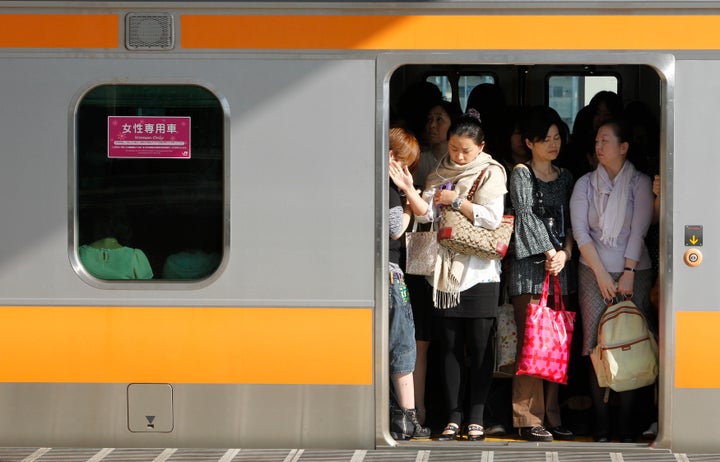 Having an easy way to report incidents is important, says Kearl. In Washington, D.C., for instance, there is a dedicated online reporting form, and people can also report by phone or text or in person to transit staff.
Ensuring women are part of decision-making is the key ― but "unfortunately gender has not been part of the way we have been thinking about transport," Vandycke said. For example, when planning routes, planners should think about the kind of lighting that will make women, as well as men, feel safe while waiting for the bus, she said.
As well as failing on universal access, the SuM4All report found that transport is not performing on efficiency, safety or green credentials either. Almost 1.3 million people die on the road each year, and carbon emissions from the sector could grow by 40 percent by 2040, according to the report.
"The costs for society of increased mobility in terms of congestion, accidents, inefficiencies and pollution are simply too high," said José Luis Irigoyen, senior director for the Transport and Information and Communications Technologies Global Practice at the World Bank.
The report's authors call on governments, the private sector, financial institutions and donors to put more money into transport and recognize its potential to "improve the lives and livelihoods of billions of people."
For more content and to be part of the community, join our Facebook Group.
HuffPost's This New World series is funded by Partners for a New Economy and the Kendeda Fund. All content is editorially independent, with no influence or input from the foundation. If you'd like to contribute a post to the editorial series, send an email to thisnewworld@huffpost.com
Popular in the Community