MojaMoja Charity Concert Benefits LA Girl Scouts Interested in Science & Tech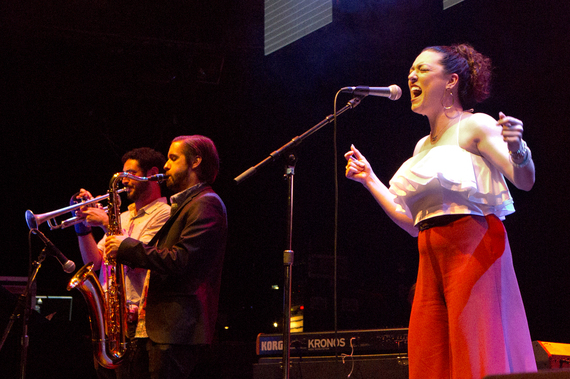 Raquel Rodriguez (Photo Credit: Holly Gable)
Post the GRAMMY Awards reviews, another music event took place leading up to the highly anticipated award show last Monday. The 8th Annual MojaMoja Brunch & Benefit Concert held Saturday, February 13, 2016, at the Avalon Hollywood showcased six dynamic artists. From DJs, to MCs, to songstresses, the all-female line-up featured Goapele, DJ Rashida, Lizzo, Gavin Turek, Mara Hruby and Raquel Rodriguez. All of whom took the audience of more than 200 guests on a musical journey through magical melodies and sensational sounds. The performances were donated to benefit the Girls Scouts of Greater Los Angeles Science, Technology, Engineering, Art, & Math (STEAM) program. This year's theme of "Empowering Women" set the tone of unity and celebration in a time when women are disproportionately underrepresented in science and technology.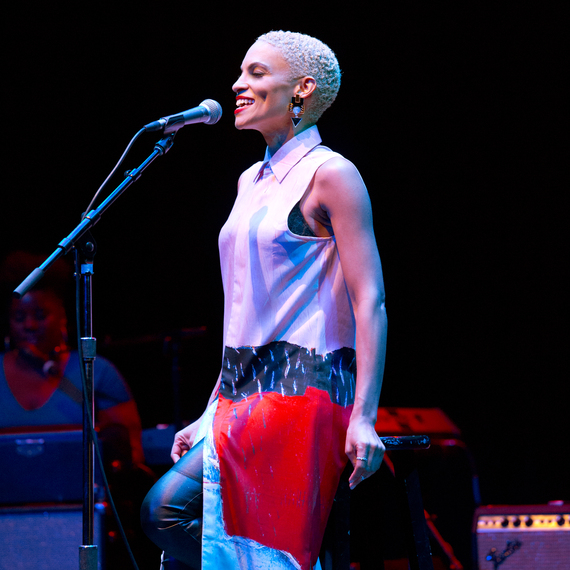 Goapele (Photo Credit: Holly Gable)
After her moving performance Bay Area singer Mara Hruby said, "this event is inspiring and enlightening as a young female artist. The drive and the passion that people have for MojaMoja is exciting to be a part of. Getting to be exactly who you are and having everyone around you to celebrate you as a woman is empowering." For nearly a decade MojaMoja has provided a platform for emerging talent like Hruby to be seen and heard during GRAMMY Awards Weekend. MojaMoja co-founder and 89.9 FM KCRW DJ Garth Trinidad said, "I like to think of this event as a community gathering of music lovers who come together year after year to discover breakout talent and honor iconic artists".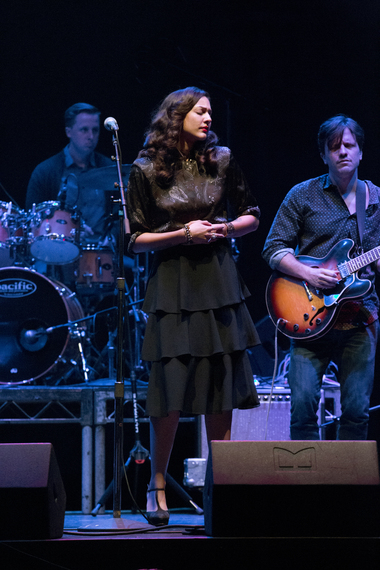 Mara Hruby (Photo Credit: Holly Gable)
MojaMoja partners with corporate sponsors to raise awareness and funds for the MojaMoja Innovation Fund at Liberty Hill Foundation. The fund supports initiatives and nonprofits working with underrepresented, multicultural youth pursuing education and job preparedness opportunities in science, technology, engineering and mathematics (STEM). This year's charity partner, Girl Scouts of Greater Los Angeles offers girls and young women the world's premier personal growth and leadership development experience. Their (STEAM) initiate is preparing the next generation of female innovators.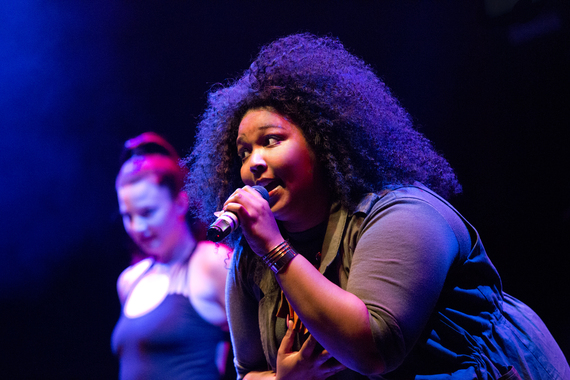 Lizzo (Photo Credit: Holly Gable)
Kenya M. Yarbrough, Director of Marketing for Girl Scouts of Greater Los Angeles says "research tells us that girls' and boys' attitudes about math begin to diverge as early as second grade, due mostly to gender stereotypes. It is those stereotypes that convince 86% of teenage girls that they don't want to become scientist. Add to these statistics that only 30% of teachers feel well prepared to encourage girls to participate in science, and it's no surprise that only 26% of STEM workers are women. At its core, the Girl Scout experience ingrains confidence in every girl. Our Movement recognizes that it is important to provide encouragement, empowerment, and experiences for girls instead of attempting to course correct these disheartening statistics after the fact. That's why we're so thankful that MojaMoja Innovation Fund considers our mission important, too."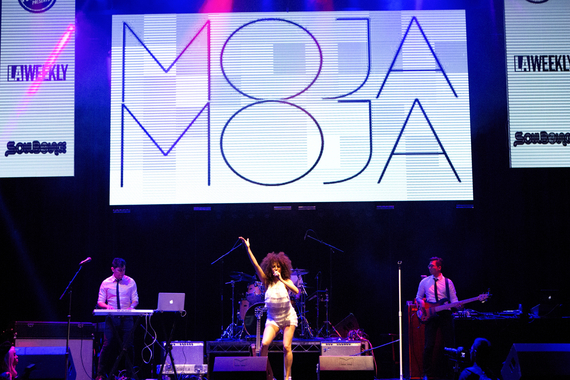 Gavin Turek (Photo Credit: Holly Gable)
Sponsors of the MojaMoja Brunch & Benefit Concert included FIGat7th, Downtown LA's premier shopping and dining destination. FIGat7th sponsored a styling experience and gifted all performers with apparel and accessories sourced by H&M, Target and Zara at FIGat7th and styled by stylist Makysha K-Boogie Barksdale of StyleMOSAIC. Featured in Billboard.biz, SPIN, Vanity Fair, Variety, and VIBE, year after year the MojaMoja Brunch & Benefit Concert is named one of the best events during GRAMMY Awards weekend. Held at the iconic AVALON in Hollywood, MojaMoja has featured past performances by Macy Gray, Questlove, Janelle Monáe, Flying Lotus, and breakout international artists Little Dragon, Hiatus Kaiyote, Los Amigos Invisibles, and Brazilian crooner Seu Jorge. Key influencers, music lovers and philanthropists come together at the annual fundraiser to benefit the MojaMoja Innovation Fund and honor music icons that have included Nile Rodgers, Mavis Staples, George Clinton, and Sheila E. For more information visit www.themojamoja.com.