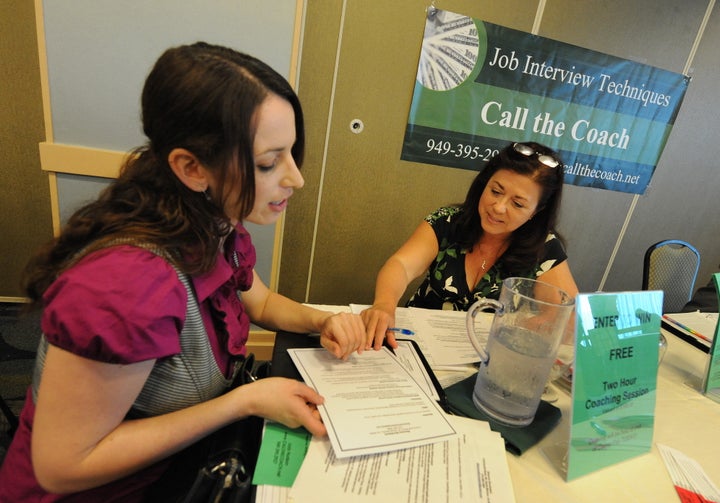 Men lost more jobs than women did in the Great Recession, but their unemployment levels have been steadily decreasing over the past year, the study shows. Women, on the other hand, are facing a stalemate and regaining very few jobs, resulting in a significantly higher percentage of women who continue to have deep concerns about their economic security.
"Women seem to have remained in the recession a year and a half after its end, and in the year since the survey was completed, women have failed to share the same gain afforded by the weak job recovery," the report says.
The report, conducted by the Institute for Women's Policy Research, surveyed 2,746 American adults 18 years and older from September to November 2010. It was "statistically adjusted" to accurately represent the U.S. adult population.
The economic recession has frequently been dubbed a "mancession" to refer to the fact that men were hit especially hard by the downfall. Men have lost 6.2 million jobs since 2007, and women have lost 2.6 million, according to the report. However, men have regained 27 percent of those jobs. Women have recovered just 9 percent of jobs lost, meaning that men are recovering nearly three times faster.
As women's unemployment levels continue to flatline, 65 percent of women worry about saving money for the future, compared to just 45 percent of men, the report shows.
The report suggests the recession has slammed single mothers the hardest, with 16 percent reportedly "experiencing hunger" in the previous year and 35 percent using food stamps. Furthermore, only 43 percent of women believe they would have enough savings to cover two months of income if laid off, compared to 61 percent of men. Twenty-eight percent of women have not gone to the doctor in the past year because of the cost -- up 7 percent from 2007 -- and 16 percent have not taken a child to the doctor due to costs -- up 4 percent from 2007.
Carol Wayman, director of federal policy for the Corporation for Enterprise Development, said there may be hope for women in Obama's American Jobs Act, citing the bill's ability to "add new resources to the real job creators -- new businesses under one-year old and usually unincorporated."
"Due to high levels of unemployment among women, especially young women, self-employment can increase much needed income," she said, suggesting that new entrepreneurs "are likely to be much more reflective of gender racial diversity."
Still, the road to recovery for women may not reveal itself anytime in the near future. Women's policy experts have found the Obama's proposal is insufficient in battling stagnant unemployment levels for women in particular.
Heidi Hartman, president of IWPR, told HuffPost that the $400 billion in Obama's job creation plan "is less than what we need," and called for at least double the amount.
Terry O'Neill, president of the National Organization for Women, said it is "absolutely astonishing that we have come to this point."
"We don't have a deficit crisis in this country. And anyone who says we do has a political axe to grind and is not telling the truth to the American people," O'Neill said in a panel addressing women and the economy last Wednesday. "We have a deficit problem that needs to be fixed and it can be fixed over the long term. The crisis that we have in this country is a jobs crisis."
Although O'Neill expressed support for the legislation when it was announced, NOW currently does not endorse the American Jobs Act.
The organization does, however, hope Congress will enact a bill with additional "progressive amendments" proposed by Rep. Jan Shakowsky's (D-Ill.), which would create 2.2 million jobs in various sectors, including health and child care.
Both Hartman and O'Neill called for more job creation focus in the fields of health care and education -- industries in which women predominate.
"There's a lot more we should do," Hartman said. "Women are still in recession. The recovery has not yet begun."
Support HuffPost
The Stakes Have Never Been Higher
Popular in the Community