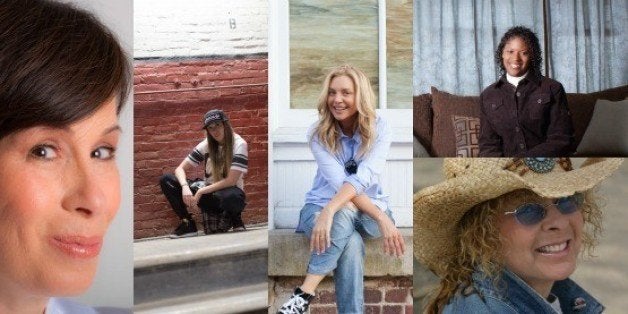 Evolution. It's as pivotal to a woman's life as it has been to the development of our species. Moving from the role of singleton to life partner, from childlessness to motherhood, from assistant editor to editor-in-chief, women are constantly reinventing themselves and adjusting to each new and unexpected curve that life throws. We've partnered with Energizer EcoAdvanced to provide a list of five thriving, inspirational women who have redefined their age, their industry and themselves.
Past life:
Bobbie Weiner had a life that many a Beverly Hills housewife would envy. "I was the doctor's wife," she says of her past self. Weiner had a Porsche in the driveway, a husband with a successful career as a surgeon and weekends on the ski slopes. And it was during one of those ski trips with her husband that all of their belongings were pilfered by guests of house party thrown by her 17-year-old stepson. Pouring salt in the wounds, her husband announced the following morning that he was leaving her. She was suddenly broke and had nowhere to turn. Anticipating it might be her last for a long time, Weiner decided to treat herself to an appointment to have her hair done.
A new path: While she was in the salon chair, a hairstylist suggested the 46-year-old enroll in the Joe Blasco Makeup Artist Training Center. She enrolled that same day.
"I had nothing," Weiner recalls. "I really was scared. I didn't think beyond working and putting a roof over my head." From there she outworked everyone around her, taking any paying (and sometimes non-paying) makeup gig that came her way. At her first job out of school, doing makeup for the hack-horror film "Pumpkinhead II," she picked up the nickname "Bloody Mary" for handling all the gory work after the head makeup artist on set refused. Subsequent work on TV led her to do the makeup for the corpses in James Cameron's "Titanic." From there, her career catapulted to include a successful Bloody Mary brand of makeup products, comic books, a haunted house, and even a contract with the U.S. Marines to provide camouflage face paint. Weiner now seeks out opportunities to give back and share her success with others, such as setting up a face painting booth at special events for U.S. veterans and their families.
Words of wisdom: I was never a victim. Don't say you can't do it. There aren't any overnight successes. We have to work our tuchises off. You gotta have the will and the passion. In my situation, I looked forward. And you have to seize every moment.
Past life:
New Yorker Holli Thompson lived a life of luxury and glamor. Thompson's career included buying jewelry for Macy's and diamonds for Tiffany's. She went on to run Chanel's fine jewelry division. On a business trip to Paris, Thompson fell in love with a man whom she would eventually marry. His career in third-world development was in stark contrast to the glitz and romance of hers. In fact, for the first couple of years they lived a long-distance marriage, with him working out of rural Virginia.
A new path: Perhaps influenced by her husband's job, Thompson remembers, a new calling came over her -- a desire to give back, though it wasn't clear how. Thompson left her role as a vice president at Chanel for the back roads of Virginia. Finally in the same place, she and her husband started a family, adopting a son from Russia. But soon Thompson began to exhibit a number of different ailments, including rheumatoid arthritis, asthma and hormone imbalance. After several doctors' visits, Thompson decided to look into what she was eating. Always the casual pupil of healthy and clean living, she found satisfaction and renewed health in digging deeper into the science of her diet. "It is often the smallest thing that you're doing in your diet that makes the biggest difference," Thompson explains.
She went back to school to study plant-based nutrition. Once certified by the Institute for Integrative Nutrition, Thompson began building her online presence, writing a blog about the "effect of food on health." She was an early user of Twitter, landing the handle @nutrition. She is now an author and a nationally recognized nutritional guru and consultant. Last year, Thompson lost her husband, who she credits as her cheerleader through her health journey, on the day before an advanced copy of her book arrived to her house. She is preparing to reinvent herself once more in this new stage of her life.
Words of wisdom: Age is a state of mind, I feel so much younger right now than I did when I was 32. Staying interesting and current is what keeps you young. I think you have to tune into your happiness and what feels good.
Past life:
Gail Dosik worked in various roles in the fashion industry. She noticed, however, that she wasn't as passionate about the fashion world as the people around her were. Dosik always had a sweet tooth and loved to dream up and bake elaborate desserts. Every meal and dinner party Dosik was planning, she would begin with the dessert and think backward from there -- so much so that she would daydream at work about her next dessert conquest.
A new path: When Dosik was laid off from her sales job, she decided to take the next step in her love for dessert. At age 49 and overwhelmed by the unknown, she enrolled in the French Culinary Institute. As she watched students turn simple ingredients into "luxurious" dough that Dosik compares to the finest European velvet, she began to cry. She felt a renewed excitement and joy as her fears of failure rolled away with each tear. Dosik approached the rest of her career the same way she did a meal, by starting with the end. She decided to open her own business, never again at an employer's beck and call. She fell in love with cookies and, after a series of apprenticeships, decided to open her own cookie business. One Tough Cookie has been collaborating with clients on innovative custom cookie and cake designs for 10 years. Dosik has never looked back; in fact, she only wishes she had left fashion 10 years earlier.
Words of wisdom: I check myself after every project I complete. No matter how big and how exhausting the project is, once it's finished and I'm ready to go on to the next, I'm excited for the next project, and that is a very good sign. It means I'm still doing what I love. That's a great way to make sure you're on the right path and that you're doing what you love.
Past life:
Shondale Atkinson says she was born to a crack-addicted mother, but don't ever call Atkinson a "crack baby." Put into foster care at the age of 2, Atkinson would have on-and-off contact with her mother and her three older siblings throughout her childhood, depending on her mother's drug habit. She encountered the term "crack baby" early in life; it was how others saw her, she says -- a damaged individual without a voice or mind of her own. At 17 years old, Atkinson gave birth to her first child and dropped out of school. Still in foster care herself, Atkinson sent her newborn to live with the child's father. By age 18, Atkinson was forced to leave her foster home. She returned to her old neighborhood, a place that held many scarring childhood memories and where she knew she could find her mother.
A new path: Although the road was neither smooth nor direct for her, Atkinson began forging a path toward a better life. She and her daughter eventually reunited. She worked as a State Tested Nursing Assistant, then went back to school, got her GED and moved out of the old neighborhood. At 20 years old, she gave birth to a second daughter.
A year later Atkinson was hospitalized after attempting suicide. "All I could feel was this hopelessness," she remembers. She had been taking courses at a local community college and working a full-time job, while still living in low-income housing. Atkinson says she was battling with depression at the time, caused by her slow rate of financial growth and the increasing isolation she experienced from her mother and extended family. Atkinson's cousin urged her to be strong for her daughters. "I could remember her telling me I had something to live for," says Atkinson. She felt a renewed sense of mission. "There was a reason why I was here, and it was greater than me." Her former caseworker encouraged her to volunteer at a home for teenage moms. "When I went over there it felt like I was home," Atkinson says. The location would shut down two years later.
Atkinson was working as a patient care technician when, she says, the "vision" became stronger and clearer to start her own home. Atkinson was driven to create a new place for teen moms and their children that mentored the girls as new parents and taught important life skills like making a budget and constructing a resume -- tools that were never given to Atkinson when she was younger. At 32, Atkinson opened the doors of the Mustard Seed Foundation. Today, the foundation offers a home for teen mothers and their children while serving its community as a licensed mental health provider. Atkinson is planning to walk at her graduation from Clark State University with a Bachelor of Applied Science degree in Social Work in May of 2017.
Words of wisdom: Your yesterday does not determine your today or your tomorrow . . . Whatever fear you have today, just know your promise is on the other side of that fear. Get up every single day and talk about [your goal] as if it's already here.
Past life:
Kelly Dailey grew up dancing but focused on her nursing career early in college. She graduated from Wright State University in 2007 and went on to become a board certified psychiatric nurse. Dailey and her husband moved from Dayton, Ohio, to Chicago, where she worked at Northwestern Memorial Hospital. In the new city she discovered opportunities to more deeply explore street and hip-hop dancing. She would work Baylor shifts -- two 12-hour spans over weekends that accounted for 40 hours -- and would spend the rest of her week taking dance classes. While the scheduling was ideal, Dailey and her husband had difficulty finding a social circle. Dailey was having an even harder time assimilating into her work community. The two decided to move back home to Ohio.
A new path: After returning home, Dailey moved up to the role of nurse manager at the age of 29. She enjoyed her work and even considered abandoning her love for dance altogether by becoming a nurse practitioner and advancing her career in health care. But her departure from dance didn't last long. Dailey opened Funk Lab Dance four months after the promotion, creating a place for her community to learn and practice hip-hop dance where there hadn't been one before. Today, Dailey is 32 and teaches at and runs Funk Lab, which has expanded from its original one-room studio and now offers 85 classes a week taught by 12 teachers. She still can't believe some days that she is able to have a career as a dancer and share her love of street dance with younger generations.
Words of Wisdom: Even though you may have spent four or five years investing in something, [it] doesn't mean you're stuck to it. [. . .] Life isn't about what you're earning. Life is about doing what makes you happy.
Energizer EcoAdvanced is the world's first AA battery made with 4% recycled batteries and is their longest-lasting alkaline battery.

Related