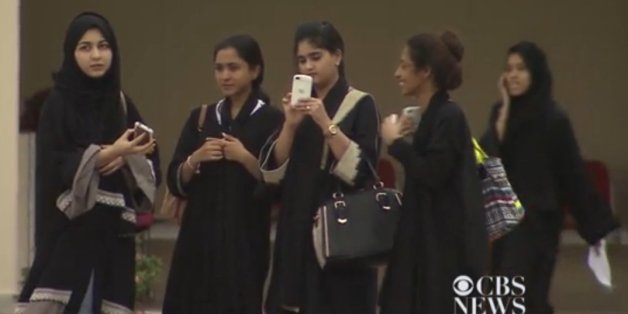 CBS News Foreign Correspondent Holly Williams was granted rare access into one of the most closed kingdoms in the world. In the piece below, Williams describes the remarkable transformation that's underway in Saudi Arabia in regards to women's education and a glimmer of potential ahead.
At Effat University's inner-city campus, students sprawl in the hallways, sip on take-away cappuccinos and wear the universal attire of college students -- jeans, Converse sneakers and t-shirts.

Effat is an all-women's institution that in just 15 years has transformed from a tiny teachers' college to an internationally recognized university that attracts faculty from around the world, teaches nearly 3,000 students and is graduating female engineers, architects and filmmakers.

On a recent trip to Effat, while on assignment for CBS News, one civil engineering major told me that she and her classmates intend to "invade the workplace" when they graduate in June.

"The future is open to them," the dean of graduate studies told me. "They think they can reach to the skies."

It would be an inspiring story pretty much anywhere in the world. What makes it surprising is that Effat is in Saudi Arabia, a country that still bans women from driving, and requires them to have a male relative's permission to work, go to university and travel overseas.

When the Western media look at Saudi Arabian women, they tend to focus on the problems, the restrictions and the abuses. That's hardly surprising. The ultra-conservative kingdom's male guardianship system means that Saudi women are never treated as full citizens of their own country. It's a state of affairs that elicits a mixture of disgust and sympathy from many in the West.

But what's being overlooked is a stunning transformation. Behind closed doors, in schools and on university campuses, there's a breakneck, education-led revolution unfolding that could define the country's future.

Saudi women are now graduating from university in higher numbers than men, and their government is actively encouraging them to join the workforce.

It would be premature to suggest that educational success has delivered political change. Outside the classroom, reform is still glacial. The male guardianship system has led to terrible injustices, including child marriage. The ban on driving is particularly restrictive for poorer Saudi women, who can't afford the chauffeur-driven private cars used by the middle class and the rich. And women still struggle to find employment, in part because of harsh regulations requiring sex segregation in the workplace.

But even the women who are pressing for change acknowledge the giant leaps that are taking place, and the possibilities they might open up.

Madeha Al-Ajroush has been taking part in women's driving protests since 1990. She's the star of countless YouTube videos showing her driving -- illegally, and often joyfully -- on the streets of the Saudi capital. "The car," she explained, "has become the symbol of wanting our voices to be heard, and our needs to be met."

Al-Ajroush is an American-educated psychotherapist who happily appeared on camera unveiled. But over cardamom-flavored coffee and sticky dates at her Riyadh home, she told me -- with tears in her eyes -- that her mother was illiterate. It's far from being an unusual story. In 1970 just 2 percent of Saudi women could read and write. Now the figure is around 80 percent, and women's education is widely regarded as a very good thing.

In a small town near Saudi Arabia's border with Iraq, I met Mousa Abdullah -- a Bedouin goat farmer who also works as a policeman. As we drove through the desert to see his family's traditional camp, he proudly told me that he wants his three daughters to go to university. "Progress", he said with a grin, "is nice." That's a sentiment that would have been utterly alien to his father.

The push to educate women and girls is being bankrolled in large part by Saudi Arabia's all-powerful King Abdullah. At Effat University, anyone in financial need who meets the academic standards -- which one professor described to me as "very low" -- gets a free ride, courtesy of the monarchy. Women are also winning a good chunk of the country's King Abdullah Scholarships, a multi-billion dollar program that's sent hundreds of thousands of Saudis to study overseas since 2005.

What is the king trying to achieve? As an absolute monarch, he doesn't have to explain himself, so we can only guess. But he must know that education can be transformative. And -- assuming he's the reformer that nearly everyone takes him for -- that's something that can help him.

The king and his family depend on the support of Saudi Arabia's ultra-conservative Islamic establishment to stay in power. Top down change has tended to be met with a backlash from hardline Muslims clerics and their supporters. When girls' schools were first opened in the 50s and 60s, religious conservatives led street protests.

But if change comes from within society -- is demanded by society -- a backlash is less likely, and the clerics will have little ground to stand on. It's difficult to imagine the women I met at Effat University accepting the restrictions imposed on their mothers. It's improbable that the hundreds of thousands of Saudis currently studying overseas -- both men and women -- will be content with the status quo.

"Patience" was the mantra of nearly everyone I spoke to in the Saudi government during a recent two-week trip to the kingdom.

"People need to be ready for reform," said Hoda Abdulrahman Al-Helaissi, a female member of the Shura Council, the body that advises the king. "We cannot push change if we want it to succeed, and if we want it to be for the long term."

Many in Saudi Arabia agree. They are wary of the clerics and willing to bide their time. But for others, change can't come soon enough.

"It's been 24 years," said Madeha Al-Ajroush, the veteran driving protestor. "They will change the law, but when is the question."
WIlliams' reporting will be broadcast on the CBS Evening News with Scott Pelley and CBS This Morning this week.