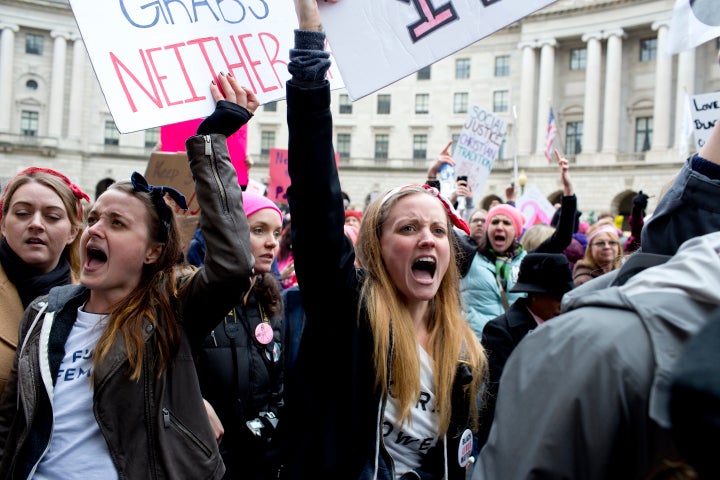 WASHINGTON ― Alissa Packer, a biology professor in Harrisburg, Pennsylvania, has been toting her laptop to the state Capitol on weekdays to edit her students' papers from a seat in the audience.
It's a curious place for a 44-year-old mother of two to be during the workweek. But ever since Donald Trump won the election, Packer has found herself drawn there. While responding to emails, she keeps an eye on the legislation being debated and occasionally stops by lawmakers' offices to offer a piece of her mind. Sometimes she brings her 10-year-old daughter to show her government in action.
"I didn't realize that all of these things were open to the public," Packer said. "I didn't know I could just walk into the Capitol and knock on someone's door. It's really an amazing introduction to how our government works."
Packer never felt this way about politics before. During the 2016 election, she supported Hillary Clinton and knocked on doors for her a few times. When Clinton's local campaign office asked her to work a phone bank on Election Day, she "hesitated to do it," she says, because she assumed Trump would be easily defeated.
It was only when he wasn't that something changed within her.
"Every day, when Trump issues a new executive order or threat to religious freedom, I'm more appalled and inspired," she said. "I feel like everything that has value about our country and our democracy is under attack, from free speech to separation of church and state to the civil liberties of marginalized groups."
In a matter of weeks, Packer has become a veritable activist. In addition to staking out the Capitol, she now helps organize "Tuesdays With Toomey," a female-led network of progressive activists across Pennsylvania who descend on the local office of Sen. Pat Toomey (R-Pa.) once a week to voice their concerns about Trump. And after watching her state representatives debate and pass a draconian anti-abortion bill last week, she's considering running for local office herself.
"I think we think of politicians as being exceptionally gifted or talented or special in some way, like they must be really smart, and we're intimidated by them," she said. "But I saw them in action on Monday, and... we need to be running."
The greatest domestic political fallout from Trump's election just may be the groundswell of women ― many of whom had never been politically motivated before ― taking an active role in the future of U.S. governance. It's a development that could have a profound effect on the coming midterm elections, as waves of new voters and activists are brought into the process.
Some, like Packer, have been driven by fear and opposition to the president's agenda, and by disappointment in congressional Republicans for failing to serve as a check on it. But others, like Madalena McNeil, a 24-year-old college admissions counselor in Salt Lake City, have been motivated by something even more fundamental: a profound sense of regret that they didn't do enough to prevent Trump's ascent in the first place.
"Every day I wish that I had done more to stop this from happening," said McNeil, who now organizes a group of local progressive activists called Utahns Speak Out.
"Societal privileges hinder people from recognizing the need for action until they feel their life personally affected, and that didn't happen for so many people until Trump was elected," she went on. "I do believe people were complacent, and I believe I fall into that category."
McNeil, who only recently moved to Utah and has no background in political organizing, now spends more time on organizing than on her day job in higher education. Her first action was to write a petition to Sen. Orrin Hatch (R-Utah) demanding that he return to the state to face his constituents in a town hall. The petition attracted more 2,000 signatures in two days. McNeil then organized a high-volume calling campaign asking Hatch to oppose the confirmation of Betsy DeVos for secretary of education. The campaign took on so much momentum that Hatch later complained in a Facebook post that "robocalls" were blocking his office phone lines.
"It's been a bit surreal, because I'm 24, and I started off petitioning the most senior member of Congress," McNeil said. "But people tell me that's inspiring them to be involved and make a difference."
Timing is everything
If Democrats are to rebound from this nadir, their success will depend on women like McNeil and Packer. But the party will first have to understand why this level of activism didn't exist prior to November, and why the chance to elect the first female president ultimately didn't motivate as many people as the pain of her defeat.
"I don't think it's that enthusiasm wasn't there, or anti-Trump sentiment wasn't there," said Jess McIntosh, who led communications outreach for Clinton's campaign. "I think the idea that he could win seemed incredibly far-fetched, which left the stakes seemingly lower than they really were."
Trump was "such a cartoon villain during the election that I think most women thought there was no chance this person was ever going to be given the presidency," she continued. "So now that that's happened, and it's not a hypothetical, I've been incredibly heartened to see that people are taking to the streets."
Many women didn't need Trump to win in order to become political. Clinton's candidacy inspired them plenty, as did ― for the opposite reason ― the prospect of electing a male president who called women "pigs" and bragged about grabbing them "by the pussy." After the results came in on election night, there was despair, then anger, and then, eventually, a renewed sense of purpose.
"I think that the chance to have a woman as president really woke so many people up," said Kathryn Jones-Porter, a 30-year-old photographer who now organizes "Utah Women Unite" in Salt Lake City. "They were excited at the idea. They started to really see the inequities that are rampant in our society due to gender. So, the dream was there, right within reach, and then it vanished. And in its place was this hot mess we are dealing with today."
Jones-Porter, who has a 9-year-old stepdaughter, said that organizing like-minded people in her community has become a form of "self-care" after a traumatizing campaign cycle. One hour after the election results were announced, she and her friends started a women's rights Facebook group that has since grown to nearly 7,000 members. On Jan. 23, the first day of Utah's legislative session, the group marched on the state Capitol and overflowed from the rotunda.
"We had people pouring into the streets during a blizzard," she said. "That was not something we anticipated on a Monday afternoon. Our expectations were absolutely blown out of the water."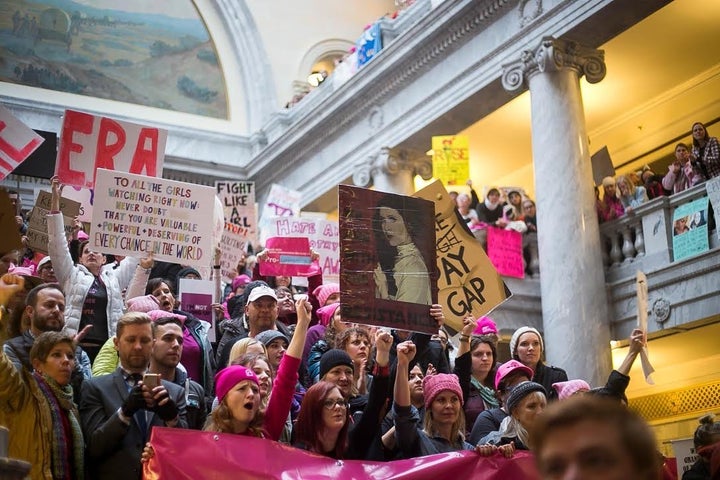 'We need somebody to stir the pot'
Underlying the rise of women activists across the country is a feeling of powerlessness that an agenda they find so alarming has no checks or balances to hold it back. It's been a motivating force in politics before: The anti-Iraq War movement became politically influential after President George W. Bush won re-election in 2004, paving the way for Democrats to gain control of the House and Senate in 2006. Three years later, as President Barack Obama pushed health care reform through a Democratic-run Congress, the tea party movement emerged as a powerful backlash. Republicans co-opted that momentum under the banner of firing House Speaker Nancy Pelosi (D-Calif.), and they flipped the House back to GOP control in 2010.
Still, the current moment strikes observers as unique. The rallies on the National Mall in opposition to Trump were better attended than his actual inauguration. The town hall protests targeting House members began almost immediately this year, much earlier than the protests that targeted Democrats began in 2009.
Professor Leonard Steinhorn, a political history expert at American University, argues that people are afraid not just of Trump's presidency and the anti-progressive policies ― on issues from reproductive rights to the environment ― likely to accompany it. They're also worried about the reversal of generations' worth of social progress on civil rights, women's rights, environmental protection, LGBTQ rights and general inclusivity.
"I think this was a shock to progressives, that this march towards justice and towards a more inclusive country was on some shaky ground because people could organize and pull it in the opposite direction," Steinhorn said. "A lot of people, such as religious conservatives and the white working class, felt they had been losing status in society and wanted to bend history back to a time when their traditions were the only traditions, and they didn't have to share them with other lifestyles or ways of thinking. And now progressives realize, wow, we do have a fight on our hands."
But the current moment also seems unique in how much it's being driven by people who were previously not political at all. Many women are concluding that the barriers of entry to local, state and national governance aren't that high after all.
"In the back of my mind, it was always in my 30- to 40-year plan to run for something," said Kate Agnew, 28, of Minneapolis. "But the way I think our country should go isn't currently being represented, and now I don't know what the country's going to look like in 40 years. So I think now is a better time than any to get involved."
Less than a month into the Trump administration, an unprecedented number of women ― more than 13,000 ― have expressed interest in running for office, according to groups that train women to be candidates. They're gunning for Congress and for local office; they're looking to take on Republicans who are too deferential to Trump, and Democrats who haven't shown sufficient backbone.
"You have these Democrats now ― they want to be quiet, they don't want to stir the pot," said Erin Tyler, a 35-year-old nurse in Baton Rouge, Louisiana, who just decided to run for state office. "Well, we need somebody to stir the pot. Let's go. Stop being so meek and timid. Open your mouth."
For people like McIntosh, who worked to elect women at EMILY's List for years before joining Clinton's campaign, it's a wonderful thing to watch. But it's also bittersweet. A career objective is playing out in real time. But it would have been nice if it had come half a year earlier.
"If there is a silver lining to Donald Trump being successful, maybe it is people realizing you don't have to be perfect to run for office," McIntosh said. "A whole lot of women woke up and said, 'Well, I'm more qualified than that, so I might as well run.'"
Sign up for the HuffPost Must Reads newsletter. Each Sunday, we will bring you the best original reporting, long form writing and breaking news from The Huffington Post and around the web, plus behind-the-scenes looks at how it's all made. Click here to sign up!
Popular in the Community