 Amanda Terkel, Jennifer Bendery, Ryan Grim, Eliot Nelson and Laura Bassett contributed reporting.
WASHINGTON -- Heidi Heitkamp, a Democrat from North Dakota, stood in the hallway of the U.S. Capitol on Thursday, just after being sworn in by Vice President Joe Biden as one of the record 20 female senators, and looked around.
"If you want to know about the number of women, look at the walls," she said to Bruce Mann, the husband of fellow new Sen. Elizabeth Warren (D-Mass.).
The Capitol is full of portraits, busts and statues of men. Outside the Senate chamber, more than 35 faces of white men look down on the hallways, from a large likeness of founder Ben Franklin that gazes down quizzically to a bust of former President Richard Nixon that sits, ironically, outside a room where Democrats meet for lunch.
One woman, former Sen. Hattie Caraway (D-Ark.), is represented on the wall, looking somber in a black dress along the west side of the Ohio Clock Corridor.
Of the nearly 2,000 senators in the history of Congress, only 44 have been female. The first woman in the Senate served for only 24 hours in November of 1922, and no woman was elected to the body until a decade later, when Caraway was chosen by Arkansas voters.
Now, there are 20 women senators in the 113th Congress -- still far from proportional to the U.S. population, but, according to the women, better than nothing. Ten of those women were sworn in on Thursday, four of them for the first time.
"Well, there need to be many more of us in here," said Sen. Mazie Hirono (D-Hawaii), who on Thursday became the first Asian-American woman in the body. "I am going to make sure that happens."
The women of the Senate meet about once every six weeks for a dinner on Capitol Hill, organized by Sen. Barbara Mikulski (D-Md.), known as "the dean" of the female senators. Mikulski is a trailblazer for female senators: she is the longest-serving woman in Congress and this year became the first-ever female head of the powerful Appropriations Committee.
Mikulski nearly cried on Thursday when welcoming Sen. Elizabeth Warren (D-Mass.) with an official U.S. Senate pin. Think of it, Mikulski says she told her, as "like the croix de guerre for all the battles we women have fought."
"Congratulations," Mikulski said, with her eyes watering as she beat her hand against her heart. "You stand here now in the footsteps of so many women who for so long would have liked to have been here, should have been here, but didn't get the shot. You've got the chance. You have a band of sisters. And we're going to not only make history, we're going to change history."
Sen. Claire McCaskill (D-Mo.) won reelection in a campaign that ended up being largely about women's issues, after her opponent decided to share his views on what constitutes a "legitimate" rape. McCaskill was spending Thursday with her family who came in from Missouri, and while talking with The Huffington Post, found out that her granddaughters had left her gifts at her desk: In big, pink, crayon-drawn letters, they had written VIP on the back of one of her business cards and "COOL" on the other.
"I'm hoping that means they think I'm a cool VIP, but you never know," she said.
McCaskill credits Mikulski's dinners with helping break some of the stalemate that has come to define Congress.
"We have a very, very respected rule that what we talk about there never leaves the room," McCaskill said. "So these are pretty free-wheeling discussions, and we have averted some legislative logjams by some of our discussions at those dinners. I think we're all determined to use those opportunities to try to move things along."
There were other firsts on Thursday. Sen. Tammy Baldwin (D-Wis.) is the first openly gay senator and the first woman senator from her state, and she momentarily basked in that victory during a reception with her friends and family.
"I am proud to have the honor to have been sworn in just ... an hour or so ago as the first woman from the state of Wisconsin and as the first openly gay member to serve in the United States Senate in our nation's history," Baldwin said to loud, sustained applause.
New senators were sworn in in groups in the main Senate chamber, with their fellow members looking on and standing to applaud as each set became their official colleagues. They hugged and kissed cheeks, with Warren particularly popular in her seat near the back of the room, where others gathered to walk down the center aisle to put their hand on a Bible or other text and repeat the oath of office.
Later, they filed one by one into the old Senate chamber, a small room that used to house the body until it became too big. Cameras snapped as they stood in front of red velvet drapes and again repeated their oath of office back to Biden, who grinned and hugged family members. "I'm so glad to have you back," he said to Sen. Maria Cantwell (D-Wash.), who was reelected last year. He complimented second-term Sen. Amy Klobuchar (D-Minn.) to her father. "You done good," he said.
Biden later stopped by the reception for Heitkamp, saying while it was wonderful there is a historic number of women in the Senate, it's still not high enough.
"The only thing that needs to change is get to the point where there are 51 women in the Senate," Biden said. "You know why? Not because you all are better or worse. Because everyone's going to figure out there ain't no difference, that everybody is qualified. It doesn't have a damn thing to do with gender."
Sen. Kay Hagan (D-N.C.), who is in the middle of her term, told The Huffington Post as she walked between receptions in the Dirksen Senate Office Building that she's happy with the number of female senators, but not satisfied.
"We're maybe halfway there," she said. "Now that we have 20, which is a remarkable number, and I think it's going to cause a lot of good thoughts and good political process to have these new women in the U.S. Senate."
"A lot of women, we work well together, not just with women, but obviously with men --" she continued, stopping to say hello to Sen. Rob Portman (R-Ohio). "Women have a tendency to work in partnerships, and that's something I think the American public would really appreciate us doing, working across the aisle."
The bump in the number of female senators is due in large part to the work of Sen. Patty Murray (D-Wash.), who specifically recruited women candidates in her role as chairwoman of the Democratic Senatorial Campaign Committee. She acknowledged that her efforts to target women were unique.
"I opened the door," Murray said. "Others would have left it closed."
Murray sat quietly in the back of the Senate chamber during the excitement of the swearing-in ceremony, appearing to take in the scene. She got up once, to don a lei and escort Hirono to the front to be sworn in by Biden. She told HuffPost later that the late Sen. Daniel Inouye (D-Hawaii) specifically requested that Murray be the one to walk down the Senate aisle with Hirono when she was being sworn in. Inouye wrote his request in a note to his wife in the days before he passed away last month, Murray said.
"That was really special," Murray said. Asked why she thought Inouye wanted her to have the honor, Murray paused for a second before responding, "I think Danny just respected the work that women do. I served on his Appropriations Committee and I think he respected that."
CORRECTION: An earlier version of this article incorrectly stated that Sen. Mazie Hirono is the successor to the late Sen. Daniel Inouye. Hirono won the open seat vacated by the retiring Sen. Daniel Akaka (D-Hawaii).

Before You Go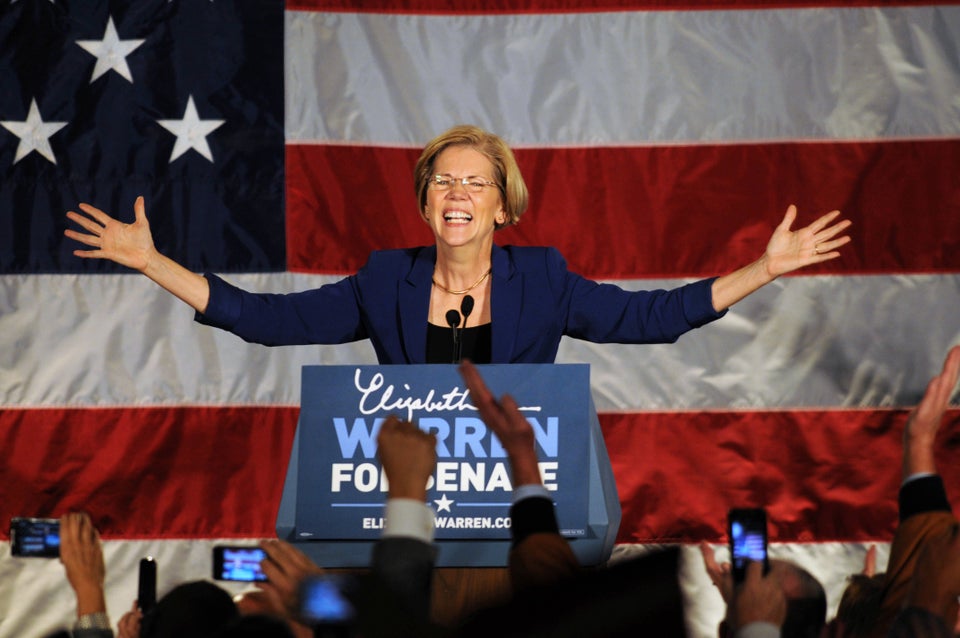 Women In The U.S. Senate
Popular in the Community