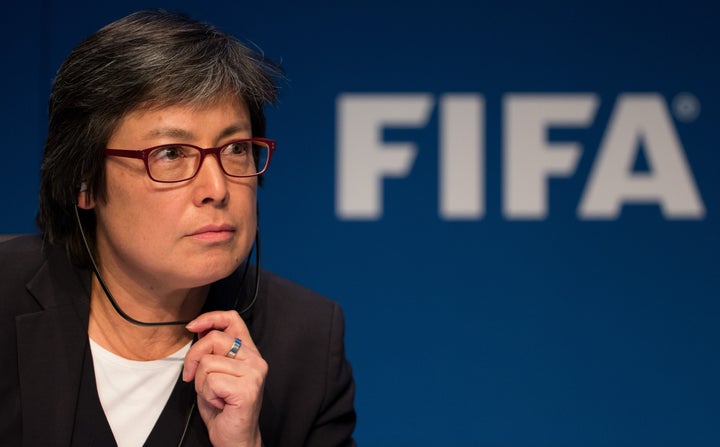 WASHINGTON -- Moya Dodd remembers what it was like trying to afford playing on the Australian women's national soccer team. She paid her own airfare to games. Her teammates once had to sew the Australian crest onto their track suits before a game because it was left off. They stayed in budget hotels with little to offer beyond a kettle and a tea cup, and when they needed to load up on carbs before a match, they brought their tea cups to Dodd's room and filled them with plain white rice, which Dodd brewed in an electric rice-cooker that she brought.
That was 25 years ago, and Dodd, who is now on the executive committee of the Asian Football Confederation, will be the first to tell you that professional soccer has come a long way in letting women into the game. But the same systemic barriers to growing soccer into a competitive sport for girls and women are still there: neglect, a lack of investment and a serious gender gap within the organization that oversees international soccer, FIFA.
That might be about to change, largely because of Dodd.
On Feb. 26, FIFA's legislative body (it has its own Congress) will meet in Zurich, Switzerland, to vote on a package of reforms at the organization. Tucked into that package is a proposal from Dodd that would increase the number of women on FIFA's top decision-making committee -- to six out of 37 members, versus today's one voting member out of 25 -- and put in statute that FIFA must develop women's soccer globally and promote the full participation of women at all levels of soccer, on and off the field.
"This is a market that's unexploited for the world's most popular game. You have half the world's population who haven't really been given a full opportunity to participate," Dodd said in an interview with The Huffington Post. "Is that a market opportunity? Absolutely it is."
"My wish is to see that asset developed and exploited with a focus and an urgency as if that was the only thing you owned," she said.
It's not exactly equality if female voting members make up 16 percent of FIFA's executive committee instead of 4 percent; Dodd originally proposed 30 percent, which was rejected. But for a male-run, 112-year-old institution that didn't even recognize women as part of the game until the 1990s, it's a significant shift.
"It will be a very big step forward, but not the last," she said. "What you're talking about here is culture change. That takes time."
FIFA is in desperate need of culture change. The organization has been engulfed in a massive corruption scandal for the last year. Several people in top leadership were convicted on charges of wire fraud and racketeering, and its president, Sepp Blatter, was forced out. As the chairman of FIFA's reform committee wrote in a December report to the executive committee, "FIFA is currently going through the worst crisis of its history."
That's where Dodd comes in. As one of the three women on the executive committee, she had plenty of ideas ready when FIFA created a reform panel last year to brainstorm proposals for cleaning up the organization. She submitted a detailed plan that laid out why it's smart, financially and culturally, to give women a voice in decision-making. The reform committee adopted some of it. So did the executive committee. It's now up to the Congress to pass it.
"Diversity at the decision-making table improves the quality of decision-making. It's crystal clear," said Dodd. "While it's the world's favorite sport, it's been played by men, watched by men, run by men for decades."
Wire fraud, racketeering and money laundering aside, FIFA could use some updating. Less than 1 percent of its voting members of Congress are women. National soccer boards are only about 8 percent women, and roughly 10 percent of FIFA players are female. Even on FIFA's reform panel, only one of its 13 members is a woman.
Meanwhile, the public appetite for women's soccer has exploded. In the U.S, for example, the 2015 Women's World Cup final was the most watched soccer match in U.S. history. Fans filled out stadiums in Canada. U.S. players like Abby Wambach and Carli Lloyd were hailed as heroes at the White House, and that was after a ticker-tape parade in New York City where the team was given a key to the city. Young girls in soccer jerseys showed up to the parade and talked about how they, too, wanted to play in and win the World Cup one day.
A major reason women's soccer has taken off in the United States is because of Title IX, the federal law that prohibits sex-based discrimination in federally funded education programs. That's exactly what Dodd had in mind when she drafted her plan seeking more FIFA resources for girls' soccer worldwide.
"There is no reason why women's soccer shouldn't be the biggest sport globally for women, with bigger wages, professional career paths, healthy returns for everybody in it," she said.
While Dodd has been leading the charge within FIFA, she's recruited some notable allies to help on the outside. Former U.S. women's national team players Julie Foudy and Mary Harvey have been publicly backing Dodd's effort. More than 140 pro athletes and coaches signed onto a letter urging FIFA to "right the institutional wrong" of denying women in soccer adequate representation and resources. Beyond the soccer world, former tennis pro Billie Jean King and former Olympic swimmer Donna de Varona have endorsed Dodd's effort.
Harvey, who was the first female director of development at FIFA, told HuffPost that the place is "a bit of a boys' club," and that letting women help guide the ship could save FIFA from itself.
"I love the sport. This is breaking my heart. I used to work at FIFA. We're better than this, and I think women can help," Harvey said. "We can actually be their saving grace."
Between now and Feb. 26, most FIFA members are focused on who will be elected to succeed Blatter as president. But Dodd said it's the reforms that are truly significant. Beyond her push for gender diversity, other items in the package include new term limits, a reconstituted governing board, independent members on key development and finance committees, and a mechanism to separate FIFA's political and management functions.
"It's more important to reform the institution and the system than it is to change personnel, important as that is," she said.
There's a pretty good chance Dodd's efforts will pay off. Even though only three of the 209 voting members of FIFA's Congress are women, some of the male voters are praising her plan -- U.S. Soccer Federation Sunil Gulati has been "fantastic," she said. Beyond that, even if a someone opposed diversifying FIFA (why?), he would have to vote against the entire reform package, a tough vote to defend given the organization's disastrous last year.
Really, all Dodd wants is the ability to sit around with old people and watch women play soccer on TV all day long. Is that so wrong?
"When I'm sitting in my retirement home, I want wall-to-wall coverage of women's soccer. Seeing athletes flourishing in the game, seeing women commentators, coaches," she said. "If that's the world we live in, I'll be happy."
Popular in the Community