 Nancy Wake died last year at the age of 98. The Germans once described this former World War II spy as "the white mouse" because of her ability to evade capture. She killed a Nazi officer with her bare hands. She ordered the execution of a fellow female spy, because she believed the woman was working for the Germans. Before her death, the United States awarded Wake the Medal of Freedom, Great Britain presented her with the George Medal and France gave her its highest military prize -- the Legion d'Honneur. As the New York Times reported, "Ms. Wake received so many medals for her wartime service... that she lived out her old age on the proceeds from their sale."
If only this were true of the other daring women who spied in World War II -- some 3,000 in Britain's SOE (Special Operations Executive), and an estimated 4,500 in America's OSS, or Office of Strategic Services, the predecessor to the CIA. In October, the head of Israel's national Intelligence agency stated, "Women have a distinct advantage in secret warfare."
Before the war, a good number of these women had been stay-at-home wives and mothers. But wartime found them going to work in Washington, D.C. or in England as code breakers and intelligence analysts, or dropped into France or Africa as couriers and spies. They worked with the French Resistance and the Allies to recover missing or captured agents or prisoners of war. They gathered invaluable, critical information. They helped downed pilots and Jews escape over the Spanish border. They hid precious works of art from the Germans. Before the war's end, many would be captured and executed by the enemy.
Yet most will never be recognized and too many of them are already forgotten. However, recently the spotlight has been cast on a few of these brave heroines.
On November 8, seven decades after the death of an Indian princess, a statue was unveiled in London. The statue bears tribute to the courageous and beautiful Princess Noor Inayat Khan -- Britain's only female Muslim war heroine -- who was the first woman radio operator dropped into France by the SOE.
She was the descendant of Tipu Sultan, the 18th century ruler of Mysore. Her father was Indian, her mother American. Noor Inayat Khan grew up in luxury and comfort, playing the harp and writing stories. She later studied child psychology at the Sorbonne. At the end of 1940, the family fled France (escaping to England by boat) before the government surrendered to Germany. Khan joined the Women's Auxiliary Air Force as a wireless operator, and was recruited by the SOE in 1942. She was sent back to Paris a year later. There, under the codename Madeleine, she sent vital messages to London while trying to evade the Germans. In October 1943, she was arrested and tortured, but she refused to talk. In September 1944, at Dachau, she was executed by the SS. She was 30.
England's Princess Royal dedicated the statue at Gordons Square not far from the house where Noor was living when she left on her last mission. Sir David Richards, the Chief of Defence Staff, said at the November 8 ceremony, "We owe our freedom to women like Noor Inayat Khan." A film of her life is now in the works.
In October of this year, George Clooney announced his latest project -- a movie titled The Monuments Men (based on the book The Monuments Men: Allied Heroes, Nazi Thieves and the Greatest Treasure Hunt in History by Robert M. Edsel), starring Daniel Craig, Jean Dujardin and Cate Blanchett as Rose Valland, an art historian and member of the French resistance.
Ms. Valland was an employee at the Jeu de Paume Museum in Paris. The Germans took over the museum in October 1940 and used it to store paintings and other works of art stolen from private French -- mostly Jewish -- collections. Valland was the only museum worker allowed to stay on. In the eyes of the Germans, she was nothing to worry about. She was quiet and plain, a dowdy spinster who followed instructions. But, unbeknownst to the Nazis, Valland spoke German, and because of this she was able to track the shipments of stolen artwork from Paris to locations throughout the Reich. On August 1, 1944, days before the Liberation of Paris, she notified the French Resistance that the Germans were planning to smuggle out five boxcars filled with art. The Resistance stopped the train from leaving Paris. Thanks to her efforts and her meticulous, covert record-keeping, hundreds -- if not thousands -- of pieces of artwork were located and returned to France.
Elizabeth Peet McIntosh grew up in Honolulu, where she learned Japanese and yearned to travel and have adventures overseas. Her father worked for the Washington Herald as a sports editor, and Betty, as she was called, soon followed him into reporting. She was working as a correspondent for Scripps Howard near Pearl Harbor when the Japanese attacked. She soon left Hawaii for the Scripps Howard bureau in Washington, D.C. In 1943, she was covering an exhibit of sleeping bags stuffed with chicken feathers at the Department of Agriculture (not exactly the grand adventure she'd dreamed of as a girl), when she was approached by an official from the OSS. He said, "Are you interested in a secret overseas assignment?" She didn't hesitate: "Yes."
At the OSS training facility in Bethesda, Maryland, she learned to shoot a .32-caliber pistol. She swore an oath never, under any cost, to reveal OSS secrets. And then she was sent to India. Her mission: to create deadly propaganda by concocting "fake but authentic-sounding rumors, news stories and radio reports to make the enemy citizenry think their troops were losing and that they should give up." From there, she was sent to China (with fellow spy Julia Child), where she unknowingly participated in a plot to kill Japanese soldiers, delivering a bomb disguised as coal to a Chinese secret agent. She was one of the few women assigned to the OSS division of Morale Operations.
After the war, she went to work for the CIA, authored a memoir and the book Sisterhood of Spies: The Women of the OSS. In March of 2012, the 97-year-old was honored as one of the 2012 Virginia Women in History by the Library of Virginia.
In an era when most women were expected to stay at home and tend to the house and the children, these were women ahead of their time. When the war in Europe ended in May 1945, there were 460,000 women in the military and over 6.5 million in civilian war work. In Nazi Germany, Hitler forbade women to work in German weapons factories because he felt that a woman's place was at home. Seventy years later, we continue to honor the courageous spying and flying women who -- thankfully -- did not agree with that.
At the recent ceremony for Noor Inayat Khan, Princess Anne said she hoped the new statue will "remind people to ask: Who was she? Why is she here? And what can we achieve in her memory?"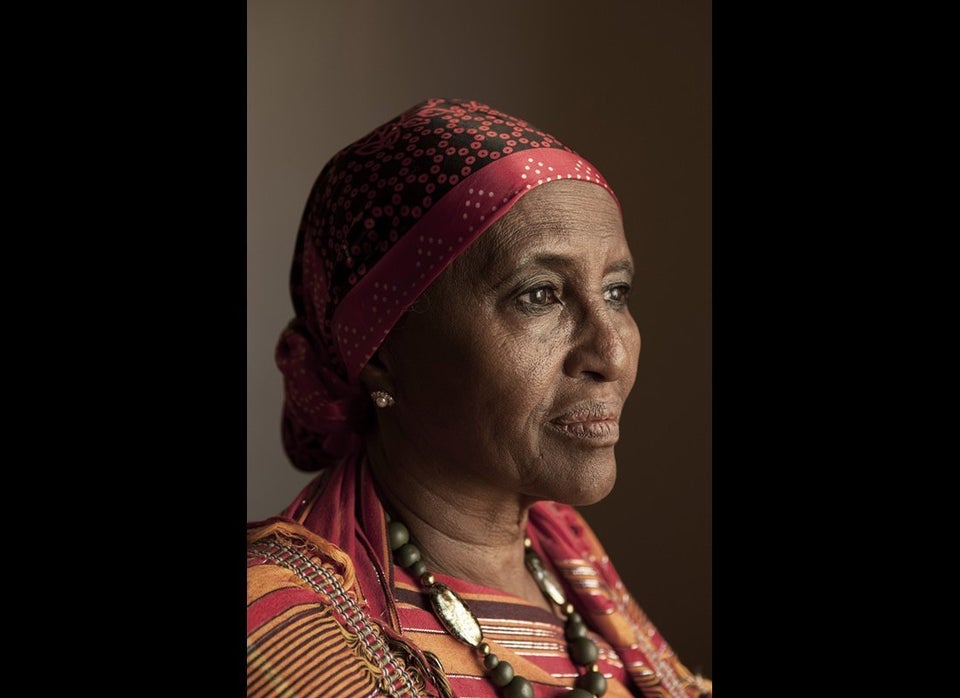 <HH--236SLIDEEXPAND--237834--HH>
Related
Popular in the Community