August 26 is Women's Equality Day, commemorating the day in 1920 when U.S. women gained the right to vote with the 19 Amendment to the U.S. Constitution. August 29 is the International Day Against Nuclear Tests, marking the 1991 closing of Kazakhstan's nuclear test site, this day is dedicated to permanently ending explosive nuclear testing.
These disparate commemorations are linked by a common thread that weaves together stories of women organizing movements with extraordinary impact. The inspiring story of women suffragists and their achievement in gaining the right to vote is well recognized. Especially with this election season, we see the significance and promise of women voting, participating, and rising up as elected leaders. The Women Strike for Peace story is not so well known, but there is indeed relevant significance and promise to be drawn from this story too.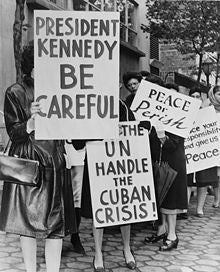 It starts in November 1961 when there was palpable fear of the nuclear threat. The Berlin Wall went up, U.S.-Soviet nuclear tensions were high, and deadly nuclear weapons tests were conducted in the atmosphere. As nuclear fallout from the tests rained down, alarmed parents sent their children's baby teeth to be checked for harmful levels of strontium-90.
Employing sophisticated organizing tactics for the time, including phone trees with rotary dial phones, Women Strike for Peace organizers galvanized upwards of 50,000 people to turn out for a one-day strike – the largest national women's peace protest of the 20th century. The women called for an end to nuclear testing, "an end to the nuclear arms race not the human race."
The movement continued with more demonstrations and intensive lobbying efforts. In 1963, there was a significant victory when the Partial Test Ban Treaty ended atmospheric nuclear testing. The treaty was seen as a major arms control agreement milestone. Ending the global nuclear fallout from atmospheric tests was a clear victory for the health of humanity and the environment, but there was a catch. Nuclear test explosions next went underground, literally under the earth, and fueled the arms race as countries used these tests to develop ever more deadly weapons.
Women Strike for Peace continued to call for an end to all nuclear testing and progress toward nuclear disarmament. Many newly activated women were also increasingly focused on Vietnam and the broader peace movement. They connected with rising 1960's movements, engaging with civil rights leaders like Coretta Scott King. Bella Abzug, a co-founding leader of Women Strike for Peace in 1961, went on to become the Congresswoman who passed the legislation first marking Women's Equality Day in 1971. Her legislation followed the National Organization of Women's 1970 Women Strike for Equality marking the 50 anniversary of the women's voting rights. This demonstration strategy was notably similar to the 1961 peace strike.
Years later, at a press conference marking the 25 anniversary of the Partial Test Ban Treaty, I listened as Ethel Taylor told the compelling story of her participation in the 1961 strike, documented in detail in her book We Made a Difference. She stressed that a comprehensive ban on all nuclear testing was the key unfinished business for Women Strike for Peace.
Since 1988, progress toward a nuclear test ban has been made: In 1991 Kazakhstan closed its test site. In 1992 President George H. W. Bush declared a U.S. moratorium on nuclear test explosions. Then with U.S. leadership, a movement pushed toward successful negotiations of the Comprehensive Nuclear Test Ban Treaty in 1996. Twenty years later, the treaty has been signed by 183 countries including the United States, but progress has stalled. Ratification of the treaty by eight countries, including the United States, is needed for it to enter into force.
While North Korea is the sole country to have conducted a nuclear test explosion in this century, the generally observed global moratorium is fragile and imperiled as long as the test ban treaty is left unfinished and countries seek to develop and advance nuclear weapons.
Meanwhile, despite soaring rhetoric about a safer world without nuclear weapons and a visit to Hiroshima, this President has laid plans to spend a trillion dollars over three decades on maintenance and development of the next generation of U.S. nuclear weapons. This will drive a response from the rest of the world. Though it seems that most of us don't pay as much attention now, the duel between a nuclear arms race and the human race continues.
Here are the lessons I draw from Women's Equality Day and the International Day Against Nuclear Tests:
1. It is time to get moving on the unfinished business of permanently ending nuclear test explosions.
2. We need women leaders to pick up the baton and move the human race toward peace and security.
Related
Popular in the Community