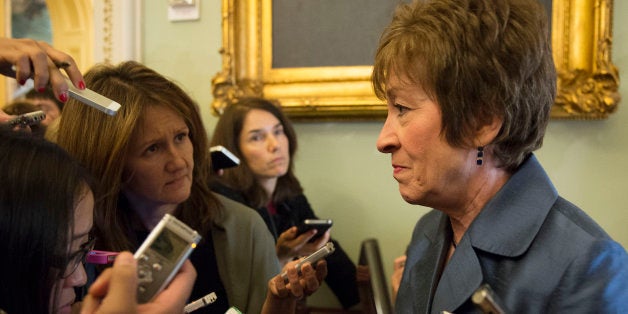 For the second time in three years, America was brought to the brink of financial default by hyper-partisanship in Washington. Yet, even as the political divide between the leaders of the two parties in Congress widened, shutting down our government and threatening the stability of our economy, women from both sides of the aisle stepped into the breach, coming together to lead our nation toward a solution.
Republican Senator Susan Collins of Maine, a Girl Scout alumna and the co-chair of our honorary Congressional Girl Scout troop called Troop Capitol Hill, was determined to lead through the gridlock. She was joined by her fellow Republicans and fellow Girl Scout alumnae Lisa Murkowski of Alaska and Kelly Ayotte of New Hampshire, forming the core of a collaborative effort that would eventually include a bipartisan coalition of 14 senators, six of them female.
Putting aside their ideological differences and standing firm against hardliners in their respective parties, these courageous female leaders helped the bipartisan group come together to find a sensible, workable solution that paved the way for an end to the impasse. In the words of Senator John McCain (R-AZ), leadership on the compromise came "primarily from the women in the Senate."
In both houses of Congress, women are beginning to exert more influence over negotiation and policy. The practical, collaborative approach women often bring to problem solving is restoring balance to the legislative process and ensuring that compromise truly means finding a solution that a majority can agree on.
As in business, science and higher education, Congress remains dominated by men. The fact that women were instrumental in shaping the agreement that broke through the gridlock demonstrates beautifully why we need more women in positions of leadership in Washington and around the world in order to bring insight and balance to our greatest challenges.
At Girl Scouts, we teach girls to exhibit courage, confidence, and character in order to make the world a better place. Through our ToGetHerThere campaign, we are recruiting the rest of society to invest in girls with us -- to help us develop girls into leaders and create the gender balance our world needs.
In order to become leaders, girls require role models -- people they can aspire to and emulate. This inspiration can come from anywhere: parents, siblings, teachers, friends. And now, clearly, government. Our female senators serve as a shining example of what can happen when women step into leadership positions. That they joined with their colleagues in the House and Senate to lead our country through this dark hour is deeply inspiring.
We at Girl Scouts look forward to working with all of society to balance the leadership of our world, and to a future where the talents and insights of girls are leveraged for the greater good.
REAL LIFE. REAL NEWS. REAL VOICES.
Help us tell more of the stories that matter from voices that too often remain unheard.