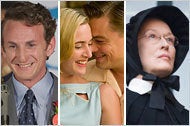 Before I started writing about movies I cared a lot more about the Oscar nominations. Now, probably because I spend so much time reading about pop culture and how women are treated, most of the excitement I had when I was just a fan is gone. I used to park myself in front of the TV and furiously write everything down, and yesterday I just went about my day and waited for the noms to be posted on the web.
So here's what I gleaned from the nominations yesterday:

None of the Best Films Feature a Woman as the Lead
Look at the best pictures noms: Frost/Nixon; Milk; The Curious Case of Benjamin Button; The Reader and Slumdog Millionaire. While both Benjamin Button and The Reader feature strong female performances, neither of them are about women. Frost/Nixon has nary a single female character of significance, Milk has one woman, and Slumdog has a young woman as the object of the star's affection.
Even last year with all the talk about how women were missing from No Country for Old Men and There Will be Blood we still had Juno. In previous years there was The Queen, Little Miss Sunshine, Million Dollar Baby and even further back there was Chicago and The Hours. After a great year for women at the box office, the lack of a film about a woman in the final five stings. The films with the strongest female roles like Doubt and Revolutionary Road were left off the best picture list.
Directing is Still a Boy's Club
Slumdog Millionaire has a female co-director which does not seem to get acknowledged publicly due to guild rules and the perception that there needs to be one person at the helm (except of course if you are the Coen Brothers.) It's interesting to note that the documentary category has no problem naming more than one director. The directors of the Betrayal Ellen Kuras and Thavisouk Phrasavath have been identified as co-directors throughout the awards season but now the co-director has been dropped and both are identified as director. A woman hasn't been nominated since 2004 when Sophia Copolla was nominated for Lost in Translation.
Meryl Streep Now Has the Most Oscar Nominations at 15
She has 12 leading actress nominations and two wins but hasn't won in 25 years. Is this her year? Will the snub of Doubt as a Best Picture contender propel her to the win?
Women of Color Dominate the Supporting Actress Category
Congrats to Viola Davis (Doubt), Penelope Cruz (Vicky Cristina Barcelona), Taraji P. Henson (The Curious Case of Benjamin Button). The best actress category is white and not a single of the male acting nominees are of color.

A Woman Still Has Never Been Nominated for Best Cinematography
Maryse Alberti for The Wrestler and Mandy Walker for Australia were getting noticed but neither was able to break through.
Where Are the Women Writers?
Last year we were celebrating Tamara Jenkins (The Savages), Diablo Cody (Juno), Sarah Polley (Away from Her), and Nancy Oliver (Lars and the Real Girl). This year we will have to settle with Courtney Hunt (Frozen River) and Robin Swicord (with a story credit on the Curious Case of Benjamin Button).
Frozen River Was Able to Sustain Momentum Even Though it was Released in August and Not Seen by Many.
First time writer/direction Courtney Hunt secured a best screenplay nom for her drama about a woman driven to the brink to support her kids. Love that it is completely a women's story. Veteran actress Melissa Leo got her first Oscar nom and this will hopefully signal bigger and better roles for her. Here's what she said to the LA Times: "Things will be different from now on. This morning, perhaps, my life has changed." We can only hope so. I bet we will see Frozen River back in theaters by next weekend.
Pray the Devil Back to Hell and Blessed is the Match Fall Short in the Doc Category
Heartfelt congrats to Ellen Kuras' The Betrayal (Nerakhoon) and Tia Lessin's Trouble the Water for their nominations but I would love to have seen those others acknowledged as well. And not to take away anything from the accomplishments of Kuras and Lessin because both of those films have co-directors, Blessed is the Match and Pray the Devil Back to Hell both had female directors and tell female stories.