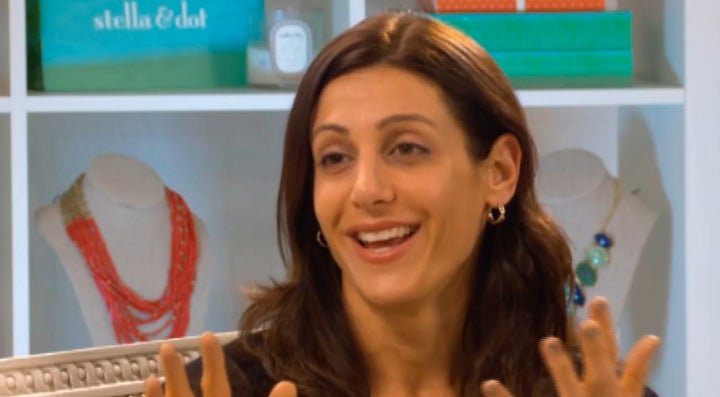 Jessica Herrin, founder of Stella & Dot, sells jewelry. In fact, she sells lots of it -- $100 million worth last year alone -- by combining personal service with an e-commerce platform and social media. Herrin calls it "social selling." But the hidden power behind Stella & Dot is the small army of stylists that Herrin has empowered to start businesses of their own. Herrin is one of an emerging group of women leaders in tech, part of my Bloomberg TV series "Women to Watch," who are founding, funding and managing some of the valley's hottest young companies.
This is the second successful startup for Herrin. She sold her first, WeddingChannel.com, to The Knot in 2006. "When I started to think about what I wanted to do next, I knew that it had to be more than just intellectually interesting or interesting from a business perspective," she told me when I visited their offices in San Jose. "It had to feel like a calling. And when I got inspired to create Stella & Dot it was because I wanted to provide a better solution for flexible entrepreneurship for women."
Stella & Dot offers stylists, as her sales reps are called, an entrepreneurial platform. For $199 they get a starter kit with the supplies and samples they'll need to sell jewelry and handbags at trunk shows or on their own e-commerce websites. Think of it as a "business in a box," she says.
It may come with all the high-tech tools, yet it's the high-touch aspect of Stella & Dot's sales technique that clearly resonates with women. At a trunk show at a stylist's home in Burlingame, I watched Herrin work the room -- piling bangles on the arm of one shopper and holding up a pair of earrings for another. It's the combination of new digital and mobile devices, e-commerce sites and the personal interaction that makes the shopping experience for women so vivid. As Herrin explains, "We like to browse. We like to discover as we shop. And we like to check in with you to make sure you like it to."
With a growth rate of 200 percent a year, Herrin expects Stella & Dot to be a billion-dollar business within the next three to five years. Despite that impressive top-line growth, Herrin says that she's most proud of enabling other women to become entrepreneurs. "We're about to pay out in excess of $100 million in accumulative commission -- and for us, that's such a point of pride. Because when you can see the story behind that, you can see that renovating a home, or putting a kid through college, or paying off debt. Or paying off medical bills. It's the amount of life change that is truly how we measure our metrics of success."
Watch Jessica Herrin in action:
Calling all HuffPost superfans!
Sign up for membership to become a founding member and help shape HuffPost's next chapter