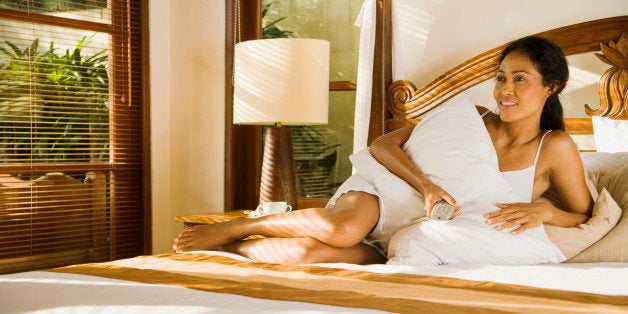 The video, which appeared to have been shot from a peephole in a hotel room's wall, had surfaced on the Internet but was ordered to be taken down by a federal judge. Within a month of the incident, the man who took the illegal video was arrested by FBI agents.
In March of 2010, Michael David Barrett was sentenced to 30 months in prison for secretly shooting the video of Erin Andrews in the nude and then posting it on the Internet. He also faced federal charges of interstate stalking for taking those videos with the dual intents of selling them to TMZ, a celebrity gossip show, and posting them on the internet for page click monetary compensation. Besides the sentence of 30 months, Barrett was ordered to pay restitution totaling $7,366.
That this can happen to someone in the news who believed her room was secure is disturbing. She was staying at a respectable establishment where she had every right to believe she was safe from this kind of assault on her privacy. Unfortunately, celebrities like Ms. Andrews are not alone as victims of this crime. It happens much more frequently than we know and it happens to private citizens.
Upscale hotels, resorts and even cruise ships are loath to release data that would drive their clientele away. Releasing this information would cost them billions in lost revenue. However, the FBI estimates that the crime of "peep-hole" voyeurs taking nude videos of average citizens is on the rise. Security, it seems, is hard-pressed to stop it. While anyone can be a victim of this crime, it seems to be directed mostly at young, attractive women and young couples. Hotels and resorts are staked out by these criminals and target victims followed. Sophisticated taping devices are installed in strategic places in or outside of a person's room. These are career criminals with a solid knowledge of surveillance technology usually reserved for FBI experts.
Many of the videos taken of people in their hotel room who are nude or engaged in sex with their partner are sold as porn. That alone is not only disturbing but frightening. Think of what you may do as a normal part of your day in the privacy of your hotel room; getting undressed, walking around nude, showering and making love. Then imagine that every minute of this "privacy" has been taped and sold.
As one hotel security veteran told me, "As technology becomes more sophisticated, some devices used for taping are as small as a pencil eraser. We try to keep on top of the latest gadgets but it is becoming more difficult."
Still there are some common-sense precautions everyone should take.
Select a hotel that has installed modern electronic guest room locks. The majority of these locks automatically change the lock combination with every new guest so there is little chance of someone having a duplicate key to your room. If you lose or misplace your key, ask to have your room re-keyed immediately.
Be aware of people standing next to you or listening to your check-in conversation.
When registering, sign only your last name and first initial. Don't use titles or degrees. This makes it harder to determine gender, marital status or profession. If you are a women traveling alone, you might consider booking your room as Mr. and Mrs.
Instruct the desk not to give out your name and room number and tell them to call you immediately if someone inquires about you.
Guest phones located in hallways and lobbies should not allow direct room dialing. Anyone using the phone should have to call the operator and request a room by guest name, not room number.
Make sure there are secure locks on windows and adjoining doors as well as well-lit interior hallways, parking structures and grounds.
Do not accept a room on the ground floor that has doors and windows that open to the outside. Hotels with interior hallways tend to be generally safer. For security in motels, avoid ground floor rooms off the parking lot. If you can't get a room on a higher level, take one facing the interior courtyard.
Remember that you do have rights and one of these rights is the right to sue your hotel, resort, or cruise ship company if you believe you are a victim of a voyeur.
In 2011, Erin Andrews filed a lawsuit over her September 2008 stay at a Marriott hotel Her lawsuit seeks $6 million from the Marriott Corporation. She contends that she was a victim of negligence on the part of the hotel and states that Barrett made calls to determine if she would be staying at the Marriott near Vanderbilt University. Marriott personnel at the front desk revealed her room location which enabled Barrett to request a room next door to hers.
Many of us need to travel for business purposes and all of us like to travel for pleasure. The best security we can give ourselves is to be aware, alert and cautious of our surroundings and the people in them.
© 2014 copyright Kristen Houghton all rights reserved.
Calling all HuffPost superfans!
Sign up for membership to become a founding member and help shape HuffPost's next chapter