WASHINGTON ― In the hours since explicit footage leaked of Donald Trump bragging in 2005 that he could "grab" women "by the pussy" because he was famous, women have been sharing their own sexual assault stories on social media to underscore the heinousness of Trump's admissions ― and the widespread culture of violence against women to which they contribute.
"I'll go first," Oxford tweeted. "Old man on city bus grabs my 'pussy' and smiles at me, I'm 12."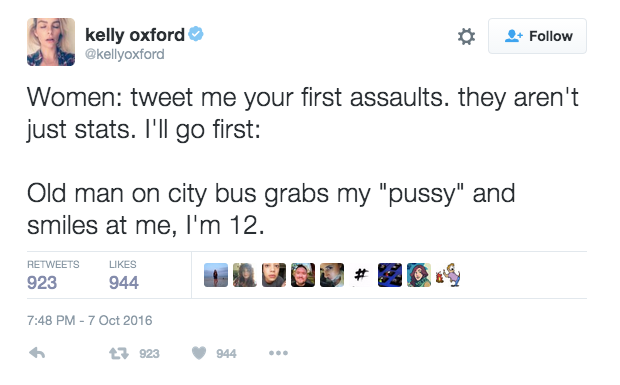 Thousands of women ― Oxford counted two per second ― replied to her prompt with stories of being groped or otherwise assaulted men, in many cases older or more powerful than they were.
"Soccer coach discretely groped my boobs while demonstrating how not to block someone in gym class," writer Kate Spencer tweeted. "I was 13."
"I was #grabbedbythepussy by a guy on a bike while walking down the street when I was 12," feminist activist Sarah Sophie Flicker wrote. "Was scared to wear skirts for a while."
"Guy in a bar tries to finger me while we are dancing," writer Jaya Saxena replied. "I push him away and he says I'm lucky he's nice or he'd hit me."
"My father. Drunk and wearing my mom's fur coat. I was 4," tweeted progressive activist Jessie Jessup.
"I just kiss. I don't even wait," Trump says in the recording. "And when you're a star they let you do it. You can do anything ... Grab them by the pussy. You can do anything."
The GOP presidential nominee has made many, many sexist comments in the past, including fat-shaming a former Miss Universe. But the new recording seemed to really strike a nerve with women, for whom unwanted touching is a common experience.
Related
Popular in the Community