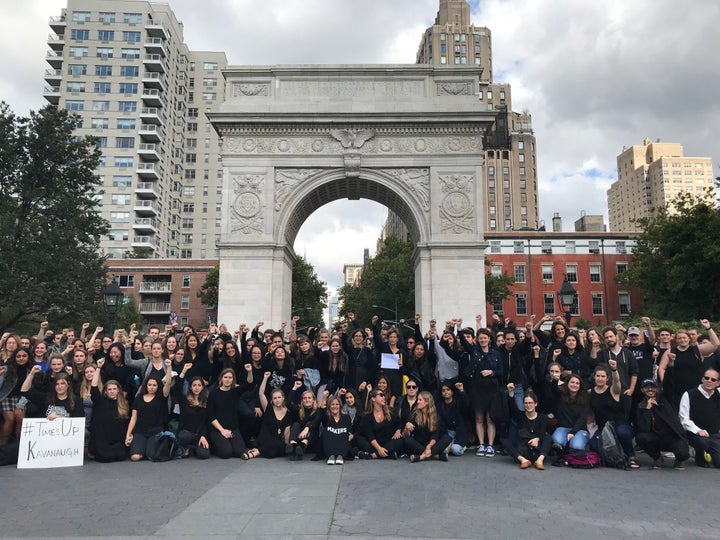 At 1 p.m. on Monday, supporters of the women who accused Supreme Court nominee Brett Kavanaugh of sexual assault walked out of their homes and workplaces.
The national walkout was promoted partially in response to the backlash these and other women face when going public with stories of sexual assault and rape. The anti-sexual-harassment organization Times Up tweeted on Sunday that "WOMEN MUST BE HEARD" in a "MOMENT OF SOLIDARITY" with Kavanaugh's accusers, Christine Blasey Ford and Deborah Ramirez.
It urged people to wear black and leave wherever they are in protest, using the hashtag #BelieveSurvivors on social media.
In New York, people dressed in black began to gather in Washington Square Park as the walkout began at 1 p.m. The crowd chanted "Believe survivors" and held signs that read, "#TimesUp Kavanaugh."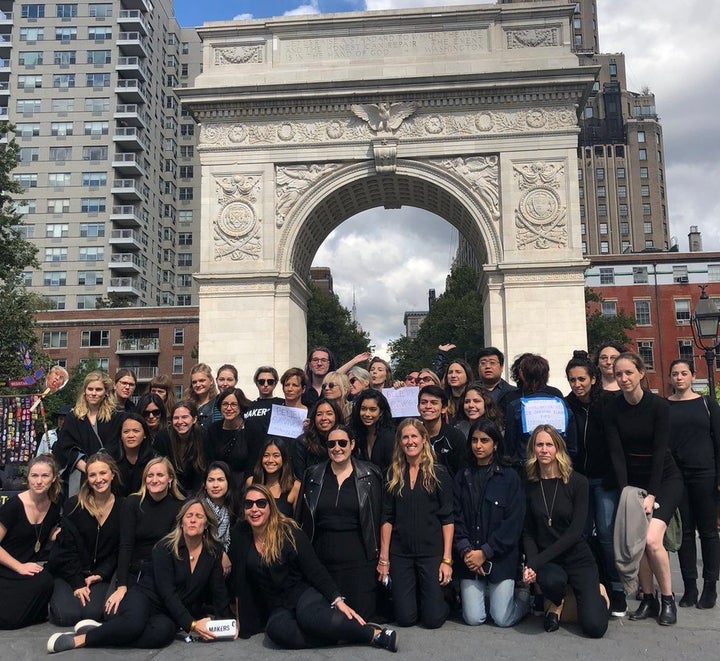 Lisa Femia, 25, on the board of NYU Law Women, joined other law students in the park and said she was excited about the number of people who showed up in support.
"We thought it was important to get the entire law school community involved in support of women and survivors," she said. "We want to make sure the Supreme Court represents women and has women's best interests in mind."
Comedian Samantha Bee walked out with the staff of TBS' "Full Frontal With Samantha Bee" "in solidarity with #MeToo" movement, she said on Twitter.
Oregon Gov. Kate Brown walked out with her staff, tweeting, "I stand with Dr. Christine Blasey Ford."
In Washington, D.C., protesters filled the Hart Senate Office Building's atrium:
In California, some Disney employees walked out, including those at Disney Music Group:
The demonstrations came on the heels of a blockbuster report by The New Yorker's Jane Mayer and Ronan Farrow, detailing allegations that Kavanaugh exposed himself to Ramirez and thrust his penis in her face at a party when the two attended Yale in the early 1980s.
On Monday morning, students filled the halls at Yale Law School in silent protest of Kavanaugh:
Last week, Blasey came forward publicly with allegations that Kavanaugh forced himself on her in high school.
Lawyer Michael Avenatti, who represents Stormy Daniels in her ongoing court battle with President Donald Trump, says he also represents a client with "credible information regarding Kavanaugh" and a classmate of his at Georgetown Preparatory School who was reportedly in the room where the alleged assault on Blasey took place.
Kavanaugh has denied the allegations. Several women's rights groups, including NARAL, Planned Parenthood and the Women's March, have called for the withdrawal of his nomination or a delay of his confirmation process.
Popular in the Community