From October 11 through November 8, PBS has showcased the five-part groundbreaking series Women, War & Peace -- an examination of the impact of armed conflict upon the lives of women. With narration by actors Matt Damon, Tilda Swinton, Alfre Woodward, and Geena Davis, each hour profiles individual accounts about Bosnia, Afghanistan, Liberia, and Colombia. The final episode presents an overview of how the landscape of war has shifted from combat between nations-states and their soldiers, to a scenario of "intimate killings" in which women "bear the brunt of small arms and light weapons" devastation.
Hogan, producer/writer on the Bosnian segment "I Came to Testify," and co-writer on the Colombian entry, "The War We Are Living," has a long track record in the documentary film arena. She served as series producer for the initial six seasons of WIDE ANGLE for PBS. This run included Ladies First, which chronicled women working to rebuild post-genocide Rwanda. When I asked Hogan about the intended goals for Women, War & Peace, her response evidenced her passion for women's issues and human rights. She spoke animatedly about the core motivation of the series: "To have a bigger footprint and to start a conversation."
Hogan outlined the genesis of her partnership with Disney and Reticker, explaining how the series concept "came out of three people having the same idea" -- an interest in "women in conflict resolution at the center of foreign policy as an underutilized resource." Their efforts were directing toward "shifting the paradigm to see women front and center with men."
With a clear understanding of the reach of social media tools, Hogan discussed how the team had crowdsourced funding and was currently working with a range of platforms to amplify the show's content, extending public awareness. Major financial contributions came from a group that took the name 40x50, signifying forty key "visionary" donors who each gave $50,000 to the initiative. A robust website was put into play, supplementing the broadcast by showcasing exclusive material, original reporting, interviews with journalists and scholars, and video from on the ground reports. It also features a link for educators, with tools to give structure to broadening the dialogue.
Hogan told me that they had been working with "hundreds of groups hungry for material." This activity has included both partnering with NGOs and law schools, as well as providing living room screening guides on how "individuals and groups can impact change." "The War We Are Living," which tracks displacement as a tool of war used to drive the Afro-Colombian population off their land rich in natural resources, has been shown in Washington, D.C. The intent is to educate those in Congress about the imperative to ensure that the Colombian government is "meeting their obligations."
In a personal anecdote, Hogan shared an experience that occurred at a St. Louis screening of "I Came To Testify," where there is a sizable Bosnian diaspora. A married couple, that had lived through the period of ethnic cleansing, informed her that the film had given them a starting point to discuss their experiences with their children.
In the finale, "War Redefined," the Hillary Clinton axiom from the Fourth World Congress on Women in 1995 that "human rights are women's rights and women's rights are human rights," is highlighted. Clinton is straightforward in her call for an end to "impunity against women" and for "stopping these heart of darkness activities." Equally eloquent and incisive on the challenges facing women is Leymah Gbowee, featured in Pray The Devil Back to Hell, the second installment in the series. She states, "All of the wars in our region now are fought on the bodies of women." Aware of the power that women can harness when they speak in unison, Gbowee notes with insight and a touch of irony, "When women gather, men get afraid." It is from her experience that she has learned that "women are able to start the dialogue, even if it is painful."
Women, War & Peace illustrates the power of women to challenge the male-dominated structure of the peacemaking process, formulating their own version of pushback. As Hogan told me, part of the evolution on her side of the camera included the realization about how overwhelming the strength of women is. She said, "We stopped using the word victim, and inserted survivors, leaders, and revolutionaries."
Melding journalistic reportage and visceral narrative, Women, War & Peace stands as an example of the power of film to ensure that under-recognized subjects become part of the permanent record.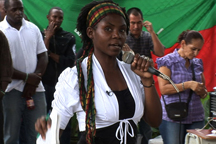 Photo: Francia Márquez, leader of the Afro-Colombian community of La Toma, Suarez, delivers a speech at a government meeting in which they defend their ancestral rights to the land (May 26, 2010). The community faces the threat of eviction due to authorization of mining licenses without their prior consultation. Courtesy Oscar Bernal
This article originally appeared on the website cultureID.

Related
Popular in the Community