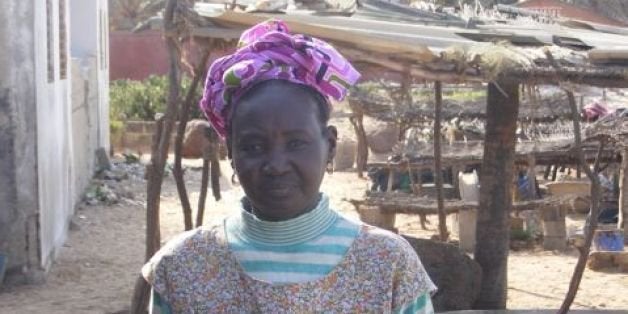 On a beautiful sunny morning, I went down to the beach near The Somone in Senegal to buy fresh fish for dinner. I made my purchase and handed them over to the fish cleaner to scale and clean, then sat down next to some children to wait until she had finished.
I pulled out one of our children's books from Tostan's new Reinforcement of Parental Practices (RPP) module and started reading in Wolof to the young children sitting next to me. They were surprised and delighted and one boy, who obviously was attending school, tried to read along with me. Soon, more children as well as three adults had also gathered to see something so rare -- a colorfully illustrated book being read in their own language -- and by a white woman! As the young boy was excited and seemed intent on reading, I let him continue alone by showing him first the picture, asking him to identify the animals, describe what was happening, and then try to read the text under the picture. Soon everyone was clapping after each caption as he was able to read more and more fluently.
Then the fish cleaner came over to hand me the bag of red snappers. When she saw the boy was struggling with one part of the text, she immediately jumped in to help him finish the sentence he was reading. Everyone looked up in surprise as no one imagined that the fish cleaner could read.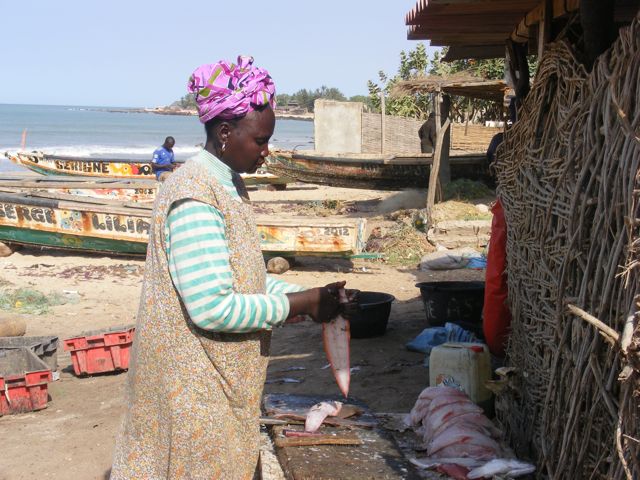 Photo Credit: Tostan
"Have you been to school?" I asked in Wolof.
"Not to French school," she answered, "but I have been to Wolof school and I know that book. You know, I have that book at home and read it to my grandchildren."
I then realized she must be attending the new RPP module, during which community members learn the importance of investing in a child's early development and how to interact with their children to maximize brain development. This new education module mirrors the same inclusive, holistic approach to learning as our core education program that has catalyzed positive change in hundreds of communities in Senegal through our partnership with Johnson & Johnson in recent years.
My sister Diane and friend Anne Charlotte who were with me came over to see what was happening.
Without prompting, the fish cleaner looked at us intently and said, "Did you know that the best time to teach children is from the age 0-3? Yes, when they are babies! That is why it is very good to read to them, to sing all kinds of songs and just talk to them all the time. I talk to my grandchildren while I am doing chores around the house and just explain what I am doing."
I translated what she said into English and told her what she said was really interesting and important.
"Well," she answered, "it's all about the brain. The brain is developing and neurons are connecting especially from 0-3. You need to stimulate the brain -- talk to babies all the time -- even before they can walk, before they can talk. By talking to your baby, you help to develop the child's brain and prepare her or him for learning later on. Your child will be more successful if you do that, you know. We are all talking to babies now in my house because of what I learned."
I asked if her daughter had also participated in the program. "No, she went to French school but she never learned about things like this. I was the one who taught her and now she realizes how important it is," she said proudly. Then she turned to the woman sitting with us and said, "You could learn about these things too if you would come to the Tostan classes!"
I never told her that I was with Tostan and I asked her if I could interview her some time and she said, "Yes. My name is Marième Diakhate and I am here cleaning fish every day. I would be happy to teach you what I know."
Those words will stay with me forever: "I would be happy to teach you what I know." Those words -- and indeed women like Marième -- embody the vision behind the work we do every day and inspire us to keep reaching more communities. Women like Marième surprise and inspire us all as they take new knowledge, share it with others and turn knowledge into action in their communities. The goal they have for their families resonates with all of us because it is a universal one -- to ensure that children are educated, safe, healthy and able to reach their full potential.
Share your stories of women who inspire you with Girls' Globe and Johnson & Johnson this month, and read the stories that we will be publishing here throughout the month!
Join the conversation using #WomenInspire and tweet us a story of a woman who inspires you! We will collect these stories to spread the inspiration that women and girls give us.
Editor's Note: Johnson & Johnson is a sponsor of The Huffington Post's Global Motherhood section.
Related