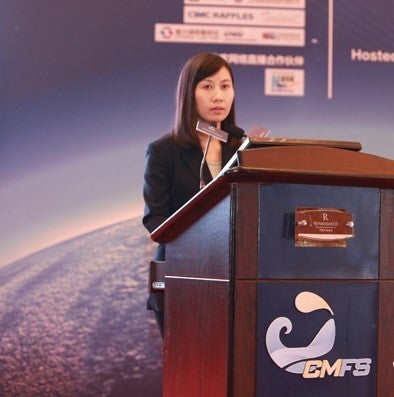 When reading biographies of famous people, we've always been amazed at how many things they could do during their lives and how they impacted other people around and the whole society. We admire such people because they are courageous, not afraid of challenges and believe in what they do. We are always surrounded by such people even though we might not always learn that they are creating the history at this very moment by making a huge impact on the society and spreading all their positive energy. Almost in every area of life, in every company when we talk about business, there's such a person, a born leader, who might not long for fame, but has a great influence in his or her own field through outstanding performance.
From an interview with Ms. He Min, a vice president of CM Leasing, located in China, talking about further improvements of the Chinese economy and the importance of keeping up with the high level of not only domestic but also international development, importance of financial leasing for such kind of development, we can see that such people are literally changing the society and the related industry for better through professional elite practice. Ms. He Min is not only one of the proponents of the development of shipping, aviation, healthcare and new energy development via leasing, but also an excellent talent in the area of the financial leasing. She is a member of "The first Chinese financial youth committee, "China Aircraft Leasing 30 Forum," "China Shipping Financial Club," "China Leasing Industry Association," from which "China Leasing Industry Association" is the only national-level industry association in the field in China, supervised by Ministry of Commerce.
During her career in the industry of financial leasing, Ms. He Min has constantly been exploiting the domestic and international shipping leasing business offering finance lease, operating lease, and charter business to world-class ship owners and operators. She has developed the relationship with the major international ship manufacturers establishing a shipping asset, which contains a fleet of more than 300 ships and is worth 25 billion yuan.
She is a model inspiration for a lot of women not only in China but throughout the world. Of course, having a daring purpose and suggesting new ways of economic growth requires a lot of work and professionalism, and Ms. He Min has proved that she is highly professional in the industry. She has been in charge of several major financial management projects; she has traveled to Gabon, Ghana, Cameroon, Nigeria, South Asia, Nepal and Pakistan more than ten times and successfully completed the assessments of government preferential loans, which all proved that professionalism comes from devotion to one's work, constant self-growth and the ability to overcome all the challenges.
Ms. He Min constantly participates in business forums and discussions, gives interesting interviews and offers practical solutions to the problems, showing that everything's in our hands, and everything's possible. Her interviews are always inspirational and make all of us believe that we can always do better and that every small step towards changing the society matters.
China now is on its way to further economic growth and development, and, of course, it's a challenging process. But only the people who believe in their country and offer practical ways of its development can make the impossible things happen. And Ms. He Min gives the impression of being such a person, a person who believes in her country and tries to make it better. She talks about the importance of shipping industry, the airport navigation, significance of having more helicopters for rescue purposes and the importance of the cooperation with the insurance companies, so that all the people can have an access to helicopter rescue services.
I think such people have the power and are already part of the history in his or her field. And I believe that all of us can make such an impact on our society, whatever little or huge; and I think we can be successful and highly professional only when we do what we love, and do it with the real love, just as Ms. He Min does.
Calling all HuffPost superfans!
Sign up for membership to become a founding member and help shape HuffPost's next chapter
This post was published on the now-closed HuffPost Contributor platform. Contributors control their own work and posted freely to our site. If you need to flag this entry as abusive,
send us an email
.