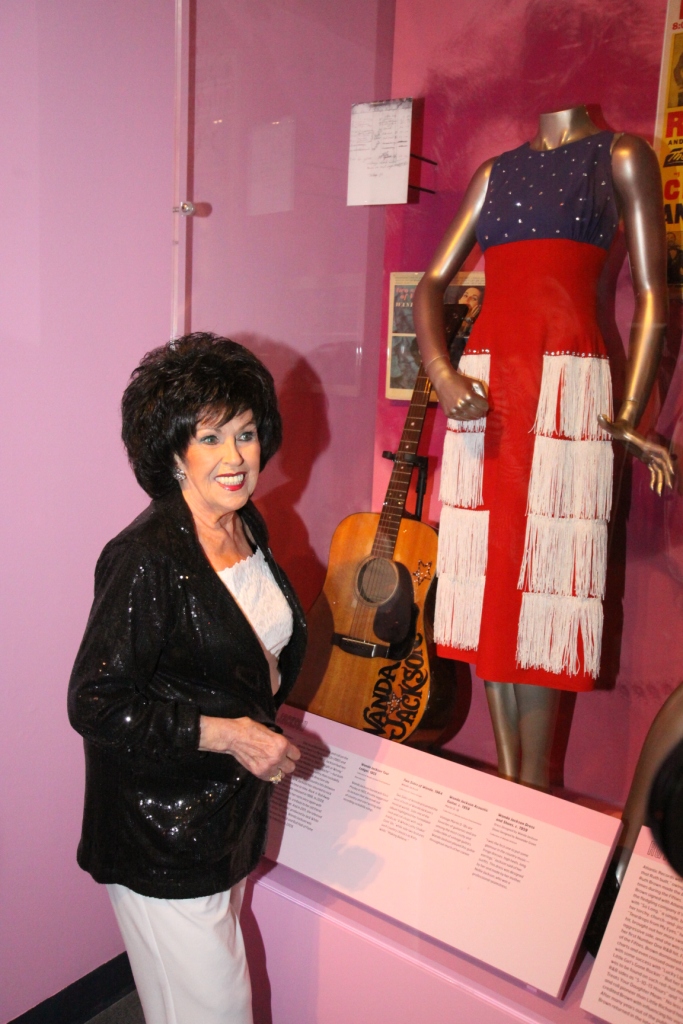 Justice delayed in LA has become injustice finally remedied in Cleveland for two of American music's essential voices. LA native Darlene Love and one-time LA resident Wanda Jackson have taken their rightful places as inductees in the Rock and Roll Hall of Fame, Jackson in '09, Love in '11. These two are game-changers that allow fans to reckon the authorship of the rock and roll genre with new clarity. Both women were present for the 5/13 opening of the Rock Hall's first tribute to Women Who Rock: Vision, Passion, Power. The exhibit is a must-see, with memorabilia including Grace Slick's fringe vest, Madonna's gold bustier, Meg White's striped drum, Britney's 2000 VMAs outfit, trippy Stevie Nicks chiffon, a flippy wig from the B-52s, a fake fur from Siouxsie Sioux, Kim Deal's bass, a Supreme's minidress bought off-the-rack on Rodeo Drive.
Alphabetically the tribute lauds artists from Adele to Winehouse. Chronologically, the show begins with Rock's Foremothers: Bessie Smith, Billie Holiday, Ma Rainey, Mahalia Jackson, Sister Rosetta Tharpe, Mother Maybelle Carter. Indie or R&B fans can register the coming together of folk music and blues as the heartbeat of rock and roll, a pairing with profound social implications. Country music did indeed engage in a love affair with blues, and Wanda Jackson embodies this passionate union. She is called the "Queen of Rockabilly" but that tag isn't big enough for her pivotal role in music history and in the exhibit. An esteemed country singer ("Silver Threads and Golden Needles") and a powerful performer of hymns ("How Great Thou Art"), Jackson was born one year after Buddy Holly. When listeners treat themselves to her versions of his "Rave On" or "Oh, Boy," they hear history in the making as Maybelle Carter's idiom turns instinctual, intense, and starts to rock. It is thrilling to hear Buddy Holly shake. But it is seismic to hear his gorgeous female peer in fringe do it because rock brings with it a mandate to speak one's mind, and an implied sexual self-respect, that were once unthinkable for women.
Her hot renditions of Little Richard specialties "Long Tall Sally," "Slipping and Sliding," and "Rip It Up" (from her Jack White-produced LP, The Party Ain't Over) trump even the Holly covers. Sexual and racial boundaries melt under fire from Jackson's genius. Stuffiness can't take the heat. Bob Dylan calls her "an atomic bomb in lipstick." Her own compositions like "Mean, Mean Man" show her to be a master of rock's bold energy. The 1950s world blew up when Elvis rocked his hips or Little Richard rolled his eyes. A girl doing the same was unimaginable then so Jackson didn't chart top hits like they did. But she's left an equivalent body of work in this brave, brazen style for the hard-headed world to catch up to. She's still recording, touring, auctioning off signed guitars to raise funds for the Rock Hall's programs. She's a trailblazer in all ways. In our interview, she acknowledged with pride her contributions to rock style, pencil skirts, long earrings, the famous fringe. She said, "When Wanda Jackson Way was dedicated in Oklahoma City, instead of a ribbon, they had me cut a long length of red fringe." Her four-song set at the Rock Hall's Benefit Concert was perfect. Fans can catch Wanda with Adele on tour.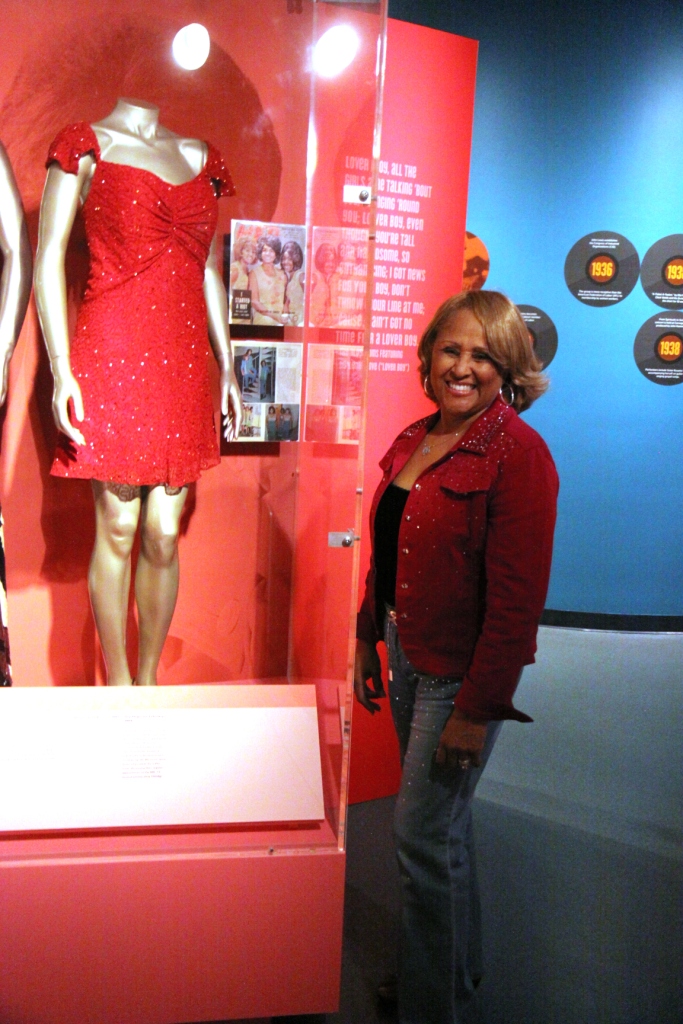 Darlene Love's LA life as a pastor's daughter who learned to harmonize in choir led her, as a teen with an indelible voice, to session work as lead singer for a girl group called The Blossoms. Love adores "the creativity of working with back-up singers, teaching harmonies, putting the elements of a song together." She excels at the organizational work behind the recording process. She sang behind Doris Day, Gene Autry, Nancy Sinatra, Cher.
Love's four years of contributions to songs recorded by Phil Spector involved both triumph and travesty. Her lead on "He's A Rebel," written by Gene Pitney and credited not to her but to Spector's pre-existing group, The Crystals, is, for me, the definitive female rock vocal. Love's beautiful voice has strength, resilience, and knowingness that remain fresh and edgy. Fans have for decades cherished the performance but it has taken time and effort to let them know the lead they worship on "He's A Rebel" is the work of Darlene Love. In our interview, and in conversation with Education V.P. Lauren Onkey for the Hall of Fame Series, Love showed gratitude to Spector for the songs she sang and regard for his skill as a producer. She's also sued him and won. Her voice was featured but credit was almost always withheld. She was prevented from creating name recognition and the fan following it brings. Payment was an inadequate hourly rate. Often not even that. After countless recordings, Love's Hall of Fame voice was silenced as she took jobs cleaning homes in Beverly Hills to make ends meet.
Springsteen helped save Love's career. He proposed a move to NY where she sang at the Peppermint Lounge and the Bottom Line. She starred in Leader of the Pack, a musical devoted to the songs of Ellie Greenwich, another honoree in the Rock Hall's show. She shone in Hairspray, reminiscent of her early experiences on Shindig. David Letterman saw her on stage, was awestruck, and has asked her to perform every Christmas for twenty-plus years. Ms. Love is one of the finest musical talents our culture has produced. Her induction into the Rock and Roll Hall of Fame ends the eclipse that exploitation visited on a seventeen-year-old LA kid with lots of talent and no say in how that talent should be compensated. With the induction of Darlene Love, and the long-overdue recognition for her artistry, the Rock Hall has displayed great justification for its existence as an institution. Love performed at the Benefit Concert, joining Cyndi Lauper, Mavis Staples, and Ronnie Spector.
Photo Credits: Rock and Roll Hall of Fame and Museum/Janet Macoska
REAL LIFE. REAL NEWS. REAL VOICES.
Help us tell more of the stories that matter from voices that too often remain unheard.