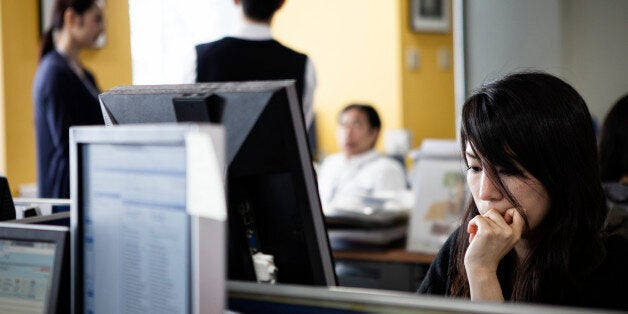 This article was written by Japanese Prime Minster Shinzo Abe for the opening of the OECD Forum "Resilient Economies, Inclusive Societies" held in Paris May 5-6. For more information, click here.
The year 1964, exactly 50 years ago, was marked by two events that symbolized Japan's completion of its recovery in the period following the Second World War. One was the Olympic and Paralympic Games in Tokyo -- their first time in Asia. The second was Japan's joining the OECD, again, the first Asian country to do so. The newspapers of the day ran the headline, "Japan finally joins the 'grown-ups,'" showing how accession to the OECD was emblematic of becoming a developed country.
For almost 20 years, Japan has suffered from deflation. However, the economy revived after I shot "three arrows": an aggressive monetary policy, a flexible fiscal policy and a growth strategy to encourage private investment. Japan achieved annual GDP growth of 2.6 percent in the fourth quarter of 2013. The ratio of employment offers to jobseekers, which once dropped to 0.42, rose to 1.05 this February, the highest ratio in six and a half years. Wages have also risen to their highest level in 10 years. Japan is overcoming deflation.
The key for revitalizing the Japanese economy is, as the OECD has pointed out, the third arrow, namely, the growth strategy.
I will create a society where women shine. Under my administration, women's active participation constitutes the core of the growth strategy, rather than social policy.
In this respect, we have decided that at least 30 percent of all national government officials employed next year will be women. I have also been urging listed companies to add at least one woman as a board member. By encouraging the advancement of women in society we will raise our growth rate and promote "womenomics."
Dynamic innovation will emerge through creativity in various areas, stimulated by a liberalized market. One major electricity company in each region has monopolized the whole process of generation, transmission and retailing of electricity in Japan. We will convert this system into a market based entirely on competition by 2020. Medical services will also be changed. I have already implemented regulatory reform in the area of regenerative medicine to take advantage of private sector dynamism.
The government will take initiatives to carry out dramatic regulatory reforms, particularly in the major cities that compete in the global market, followed by other cities. For this purpose, National Strategic Economic Growth Areas is about to be made fully operational.
In April, the government reduced the corporate tax rate by 2.4 percentage points. I will pursue further reform of the corporate tax system in order to adapt it to a time when companies conduct business on a global scale.
My endeavor for reform will never end. Accelerating negotiations on Economic Partnership Agreements (EPAs) is a pillar of my reform policy. Japan has recently reached substantive agreement on the EPA with Australia. The negotiation on the Trans-Pacific Partnership (TPP), which will build a single economic zone in the Asia-Pacific region, has entered the final phase. We will also be accelerating negotiations on EPAs with our partners around the world, such as a Japan-EU EPA and economic integration with Asian countries through a Regional Comprehensive Economic Partnership (RCEP), all at an entirely different speed than in the past.
Advancing the dynamic engagement of women, reforming our regulatory regimes, and promoting free trade are the topics for discussion at the OECD Ministerial Council Meeting in May under the theme of "Resilient Economies and Inclusive Societies." As the chair of this meeting, Japan looks forward to discussing with other countries how we can best utilize our growth strategy to contribute to the world economy, and the measures necessary for realizing "resilient economies and inclusive societies."
The OECD Southeast Asia Regional Programme is also scheduled to be launched at this year's Ministerial Council Meeting. I am truly pleased that the OECD is working to dispel the image by which it is at times referred to as a "club of rich nations," taking steps to deepen its involvement with Southeast Asian countries, which form the world's growth center.
Going forward, Japan will assume a role as a bridge that enables the countries of Southeast Asia and the OECD to forge a relationship in which they learn from each other.
Calling all HuffPost superfans!
Sign up for membership to become a founding member and help shape HuffPost's next chapter