Now I know why sportswriters gloat when their favorites win. I held my head a little higher after 17 year-old Claressa Shields of Flint, Mich. thoroughly outclassed Brazil's Roseli Feitosa, a 2010 World Champion and the vastly more experienced fighter.

Shields knelt in prayer in her corner before the match began.

"I prayed there would be no serious injuries for either of us and that the judging would be fair," she said.

The referee made the two women touch gloves, which they did with the bare minimum of warmth. Brazil's middleweight hopeful was a stocky blonde who had moved down from a higher weight. Shields was moving up, and I was nervous about her ability to handle the strength of older, larger opponents. I wasn't the only one worried; knuckles were white across the press row and among the assembled U.S. boxers behind us.

"Breathe, 'Ressa!" yelled Marlen Esparza.

"You go, babygirl!" screamed Franchon Crews.

Shields is everyone's favorite, really. She's so young, still undefeated, and has the most raw talent of anyone on the U.S. Team.

When the bell rang, Shields came out bouncing, her elbows in tight. The first time she let go with a combination, you could see that her handspeed was in a completely different league than Feitosa's. "Never give up speed," is an old piece of advice in the fight game. It's a bad idea to fight someone with faster hands; deficits of power or experience can be overcome, but speed is a hard thing to beat.

Not only did Shields score freely but she showed defense I hadn't seen in the trials, slipping entire five-punch combinations. Feitosa didn't know what to do.

When the final score of 29-11 was announced, photographer Sue Jay Johnson walked by me, shaking her head. We both had tears in our eyes.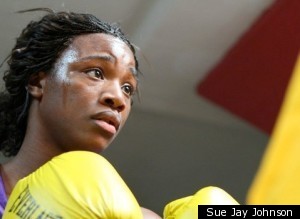 I asked Shields if she was surprised by how much stronger she was than her opponent.
"I know," she said. "I'm just 17. But it comes from turning my body into the punches."
And what did she think about tomorrow's opponent, Canada's three-time world champion?
"I'm not worried about Mary Spencer. She can go home tonight and Google some information about me."
Spencer's bout followed Shields', a 11-9 victory over the last remaining Dominican in the tournament, Yanebier Guillen.
It did seem boring, but Spencer is a very smart boxer who knows how to do just enough to win. Shields has never fought anyone on Spencer's level and I can't wait to see it play out.
The rest of the evening was a good one for Brazil and Argentina and a rough one for our host nation. In the leadoff bout, Marlen Esparza pulled out a close 16-14 victory over Canadian champion Mandy Bujold, using good hook and overhand right counters. She will face Brazil's Erica Matos in tomorrow's 112-pound final. Matos, a slick southpaw, played the matador to Puerto Rican Tiffany Perez's bull, winning 16-9.
In the bantamweight quarterfinals, Argentina's Yanina Benavidez stopped Araceli Nava of Mexico with three- and four-punch combinations behind a strong jab. This bout featured the same power hungry referee responsible for the bad stoppage yesterday; it's always bad when you notice the ref.
During this fight, I could see Coach Claudio Aires, an enormous man I privately refer to as "The Mountain of Brazil," warming up his fighter for her bout with Christina Cruz, and I started to get a little nervous for my hometown boxer.
Cruz never looked quite right in her bout against Clelia Costa, who sported purple braids and a thousand-mile stare. When I asked the Brazilian coaches if their fighters came from troubled backgrounds, they mentioned Costa, saying that boxing had given her a way out of poverty and the means to support her family. Something of this hunger showed in the way she went after Cruz, winning 18-14.
In the featherweight division, Canada's charismatic Melissa Guillemette and Argentina's Leonela Sanchez boxed a very close bout in which each fighter took a turn leading on points. Guillemette did better when she listened to her corner's impassioned plea for jabs but Sanchez was more active and took it 20-18.
Tiara Brown looked like she was in a trance as she stalked past the press row into the ring, and I felt like a lion had just walked by. She built the offense slowly in her bout, landing hard multiple punch combinations in the final two rounds to win 22-9. I doubt the Argentine can beat her.
In the Olympic lightweight class, Nineteen-year-old Dayana Sanchez of Argentina, whose kid sister Leonela had advanced to the featherweight final earlier in the night, defeated Canada's Sandra Bizier. A big finish by the brave Bizier wasn't enough to win it. The score of 30-22 seemed overly lopsided.
In a bout that proved what a high skill level women boxers can obtain, Adriana Araujo of Brazil upset the reigning Pan-Am champ, Puerto Rican southpaw Kiria Tapia, by a score of 11-7. Araujo is enormous for a lightweight and covered in tattoos. She grinned in a terrifying manner as she stalked her smaller, faster foe, pawing with her left to get distance. A cold stare down on one of the breaks made the whole US team go "ooh!" but the two women embraced at the bell and exchanged reminiscences as they walked together to Brazil's corner to pay respects.
"Is there such a thing as a Brazilian style?" I asked Igor Cruz, the strength and conditioning coach. I had cornered Igor in the cafeteria to try to get the scoop on why his team was so good.
"It's hard to say." He paused. "Every country has a way of being."
Other Brazilians came and joined us: Claudio Aires (a.k.a The Mountain of Brazil), whose neck is the size of my thighs; the cute assistant coach with the headband; team manager Cidinha Oliveira, who I learned was the first female referee in Brazil and is considered the mother of women's boxing there. Igor put my question to the table.
"Aggressive. Technical," said Oliveira.
"Not clinching," added the Mountain. Like most enormous muscle men he seemed quite gentle up close.
Some of the answer to Brazil's dominance may lie in Igor's own excellent work; the Brazilians appear to be the physically strongest team here and when I asked him what they had worked on, he reeled off an impressive list: "Reaction speed, anaerobic resistance, power, body mass composition." I also have a hunch that Claudio Aires, who has been in charge of both the men's and women's programs for the past three years, is a superb coach. And it doesn't hurt that energy giant Petrobras has taken an interest in the team, giving them three times as much money in the past year as they ever had before. They may have some surprises for the world at the Games.
USA Boxing needs to take a lesson from Brazil and put the best people in charge of our fighters. Recent Olympics have seen a steady decline in our performance, and I don't think it's due to lack of talent but lack of leadership. We're so close to London and yet nobody here in Cornwall even knows who the head coach will be! We have a great team of women, the strongest we have ever had, and they deserve better than a revolving door.
Calling all HuffPost superfans!
Sign up for membership to become a founding member and help shape HuffPost's next chapter