I dragged myself out of bed this morning to peep the 7 AM weigh-in. Each day's boxers must show up on weight or else forfeit their matches. Because there are only three Olympic weight classes for women, several of the fighters in this tournament are boxing outside of their comfort zone, but there haven't been issues thus far.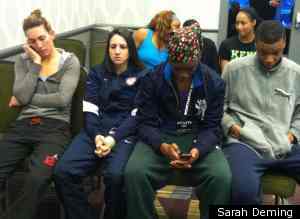 Sleepy boxers

"This has been the smoothest tournament I've ever worked," said the woman in charge of the scale. "At this level these girls are serious. I think one day one of them was over by a tiny bit, but she took off her underwear and made it."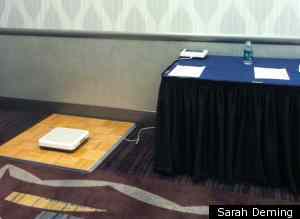 The scale has its own dance floor

I took advantage of the quiet morning to ask the sage Al Mitchell what he had taught Mikaela Mayer. A Philly native, Mitchell now runs the US Olympic Education Center at Northern Michegan University, where he has trained over two hundred national champions. When Mitchell talks, the other trainers lean over and listen.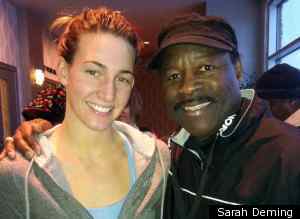 Mikaela Mayer and Coach Al

"When Mikaela came to me, her balance was terrible and she wasn't mentally tough. She'd had too many coaches - about nine different ones - and they all told her different things. I never pacified her. I'd handicap her, make her fight with only her left hand or only her right hand when the other guy could fight with both. But the most important thing I've done is work on her defense. Teaching defense is the hardest thing, and it takes the longest. But if you're a defensive fighter, you'll have a long career."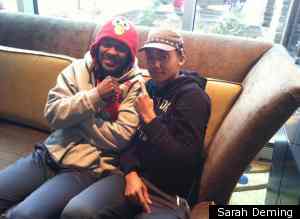 Tiara Brown (L) and Bertha Aracil (R)

Brown and Aracil were looking cozy just one day after their close bout that saw the latter's elimination.

"It'll take more than that to destroy this friendship," Aracil told me.

"What was it like to box such a close friend?" I asked.

Brown shook her head. "People say it's no big deal, but they don't know."

"I was sad," Aracil said. "I just wanted it to be over with."

After the fighters dispersed, I headed to the hotel restaurant for a crab omelet with complementary fry bread in a canoe-shaped basket. Then I went back to bed, where I dreamed that the twelve fighters remaining in the tournament were guests on "Jimmy Kimmel Live." I was in the audience in my underwear, and Jimmy Kimmel asked me out. When I woke up it was noon and someone next door was throwing punches.

There were six highly emotional bouts tonight. I got yelled at for cheering from the press row, but I've never believed in objectivity.

Marlen Esparza handled Christina Cruz just as she'd told us she would, winning 13-10 by picking off most of Cruz's rights and forcing her opponent to give chase. Cruz goes to the challenger's bracket, where she'll have to battle it out for the chance to rematch Esparza.

Tyrieshia Douglas roughed up Virginia Fuchs, who had her moments but was outgunned 31-19. I hope Fuchs goes back to Texas happy with her excellent showing. She's far better than anyone has the right to be who's only been boxing four years.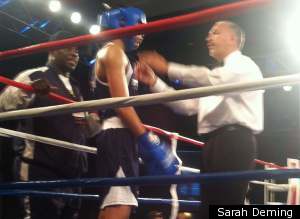 Nate the Snake Jones looks on as Angel Villarreal checks N'yteeyah Sherman's headgear

The charming Angel Villarreal, USA Boxing's chief of officials, took the ring to referee the Underwood-Sherman bout, like a butcher reserving the choicest steak for his own table. It's the best match-up of the tournament and resulted in a blistering battle that I believe Sherman won, but which the judges saw 25-24 for Underwood. I discussed the fight with my neighbor in the press row, who thought it was very close and could have gone either way. We agreed Underwood's punches were harder but Sherman was more active.

My neighbor shrugged. "You never know with this electronic scoring."

People talk about the electronic scoring system like it's an act of God. I was so mad about this decision that I didn't pay much attention the rest of the night, but Mikaela Mayer came through with a 23-18 victory over Tiara Brown, and Claressa Shields looked unusually tentative in her 23-15 win against Tika Hemingway. The victory wasn't commanding enough for young Shields, who acted miserable about it in the post-fight interviews.

Her coach shook his head. "Teenagers!"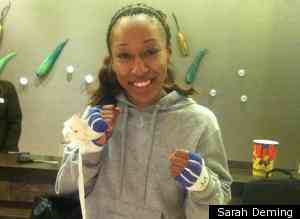 Raquel Miller

I missed the last fight interviewing Shields, but it was the upset of the night. Novice Raquel Miller of San Francisco defeated number one seed Franchon Crews, 26-15.

"She outboxed her with more straight punches," Al Mitchell told me.

I ran into the radiant Miller at the hotel front desk, unwrapping her hands. Miller told me she had dedicated this fight to the memory of her cousin Da'dream Thomas, who passed away one year ago.

"God is the only reason why I'm here," she said.

When the gauze came off, her hands were filled with words.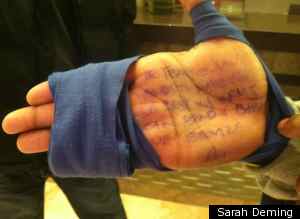 Psalms 18:34: He trains my hands to make war so that my arms can bend a bow of bronze.
REAL LIFE. REAL NEWS. REAL VOICES.
Help us tell more of the stories that matter from voices that too often remain unheard.