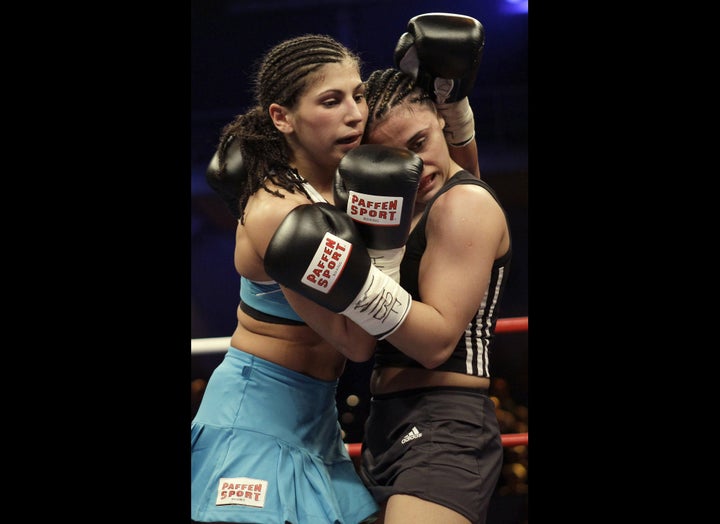 Fifty three women boxers in 10 weight classes are here in Cornwall, Ontario, competing for the right to call themselves the best in the Americas. Twelve countries are here, and it would have been 13 but Venezuela bought tickets to Ontario, California by mistake.
Scrappy flyweight Alex Love got the night off to a rousing start for the U.S. with a come-from-behind victory against Canada's Kim Klavel. Klavel countered well and looked like the harder puncher, but Love turned on the fire in the fourth round to take the 24-21 decision.
Love said, "Tonight I had my team's voice in my head."
So did I. The U.S. boxers who weren't in the ring or warming up sat directly behind the press row, cheering vociferously. This esprit de corps may have had something to do with the team's 5-0 sweep in tonight's bouts. Boxing is a solo sport, but it helps to have friends in the crowd.
The second flyweight bout was a sloppy affair with lots of holding by Dominican southpaw Maira Rodriguez. Claribel Cruz of Argentina did enough to win 14-6.
On to the bantamweights, where Yanina Benavidez of Argentina dominated Arilsleyda Santiago of the Dominican Republic. I liked the way Benavidez fought: a high guard, walking her opponent down, mixing hard body shots into flurries to the head. When the referee stopped the bout with only a few seconds remaining, Benavidez was up by over 30 points.
Christina Cruz, fresh off her record-breaking sixth New York City Golden Gloves victory, faced Canadian veteran Vicky Pelletier.
"Just do you, Tina," yelled Marlen Esparza.
True to form, Christina kept moving, waiting for the Canadian to lead so she could counter with hooks and right hands. When Pelletier seemed reluctant to take the bait, Cruz upped the aggression and pulled ahead in the third round, looking fresh and fast winning 12-6.
In the final bantamweight match, Brazil's Clelia Costa faced the only Jamaican in the tournament, lanky Felice Groves, who lacked experience and was easily outpointed 25-4.
U.S. Olympic hopeful Queen Underwood took the ring against Mexican Erika Rosalba Cruz in the sole lightweight bout of the evening. The Mexican was the first fighter I've ever seen in a skirt -- AIBA having recently ruled, amid a storm of controversy, that women may compete in either skirts or trunks. I had kind of pictured a cute A-line miniskirt, but Cruz's skirt was sack-like and vaguely creepy. Heterosexism aside, this outfit was a fashion faux pas and totally at odds with the Mexican's aggressive style.
It was another uncomfortably close fight for Underwood, who continues to have trouble accessing the form she showed in Barbados in 2010. Esparza screamed, "Throw what you wanna throw and then move," but Underwood kept letting Cruz do her excellent, rough work on the inside, including some headbutts and strategic holding. The U.S. was down by three points going into the fourth round, which seemed to me like more of the same. When the headgear came off, both women looked grim and exhausted. The 12-11 decision went to Underwood, a surprise to me and a big disappointment to the Mexicans. Maybe next time they'll put their girls in trunks.
Speaking of sexism, let me just say that the tawny Argentines are the most beautiful women in this tournament and have the best tank tops. Light welterweight Adela Peralta had a nose that looked like it had never seen a punch. Two semicircles of dark hair escaped from slots in her headgear, creating the illusion of teddy bear ears. Unfortunately this did not help her against Brazil's Roselaine Silva, who looked like the hardest puncher of the night and took it 26-17.
In the other light welterweight bout, Mikaela Mayer gave Canada's Melissa Redmond a boxing lesson.
"Let's get some money!" yelled Tiara Brown as her teammate landed beautiful, straight rights en route to an 18-6 victory.
But the fighter of the night for me was three-time World Champion Mary Spencer of Canada, who controlled every second of her 12-2 victory over Mexican Alma Nora Ibarra. I hadn't seen Spencer fight before and she was magnificent. She was having such an easy night that she boxed the entire third round with just her jab. In the fourth, Marlen Esparza yelled out, "Switch southpaw for me, Mary!" and Mary did it.
"I knew I would get in trouble with him," she said later, pointing to her chuckling cornerman. "If it was anyone else I wouldn't have done it, but I get along with Marlen."
Mary was fighting tonight without beloved trainer Charlie Stewart, who is recovering from triceps surgery.
"Charlie is smart," she said. "He teaches me how to fight on my own."
The big girls took to the ring for the final matchup at 178 pounds, a rough, physical fight in which Franchon Crews of the US pulled out a 17-12 decision over Brazil's Andreia Bandeira.
The U.S. and Brazil are the only countries to field full squads. Canada has everything but a heavyweight. The smallest teams are St Lucia, with a pair of boxing twins, and Jamaica and Honduras, each with a lone fighter.
Calling all HuffPost superfans!
Sign up for membership to become a founding member and help shape HuffPost's next chapter