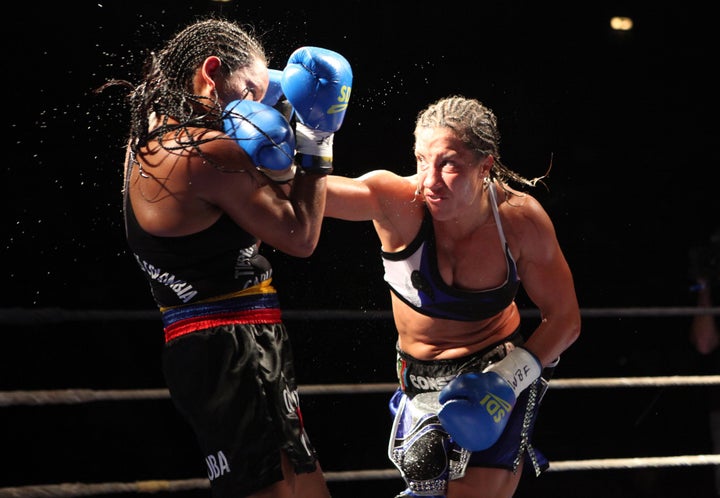 The U.S. boxers who didn't fight tonight got in a light afternoon workout, and I summoned the nerve to train alongside them. Champs is a tiny, sweat-soaked gym set incongruously amid suburban homes. When we got there, Franchon Crews found a recorder left behind by the documentary filmmakers.
"What should I sing?" she asked, switching it on.
"Something about boxing," suggested Mikaela Mayer.
Crews performed a moving rendition of "Hero" while her teammates looked on, grinning.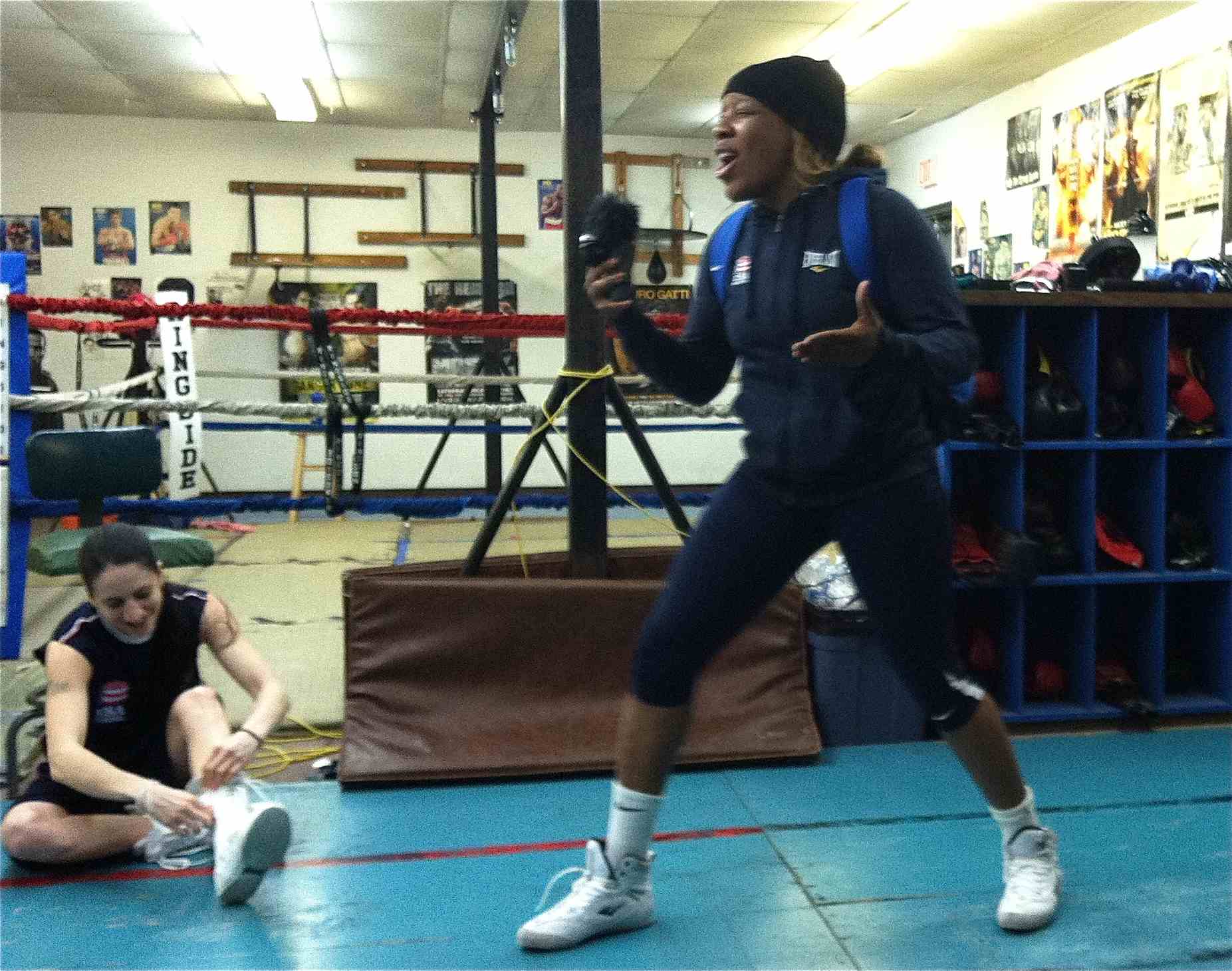 "Look at her stance!" Alex Love said. "That's the stance you need when you fight, Franchon!"
Love killed it on the punch mitts with coach Israel Acosta. She's a paragon of industry who admonished me for resting on the break when I jumped rope. It was a treat to work out with these elite women, who were all very kind about my geriatric stylings.
The first fight of the night brought a great performance from Marlen Esparza, the U.S.'s Olympic hopeful in the 112-pound division. Esparza outpointed the tall, left-handed Pamela Benavidez of Argentina in a textbook display of how to box a southpaw, keeping her lead foot outside her opponent's and circling left to win 21-10.
All the other 112-pound bouts were one-sided. Mexican southpaw Zaida Judith Enriquez looked very green as she lost a 24-2 decision to Canada's Mandy Bujold.
Stocky Tiffany Perez of Puerto Rico took apart Erika Cedeno of Ecuador 26-3, showing impressive aggression and balance.
Dominican Mildred Cruz dropped a 24-4 decision to Brasil's Erica Matos, a rangy southpaw with fast hands and a classic amateur style. The Dominican couldn't find her distance and was so discouraged by the fourth that she barely threw punches. Brazil's Matos might be the one to beat at this weight, but all four remaining women are excellent and tomorrow's semifinals should be thrilling.
The first of four featherweight matches pitted Barbados's Jenny Benedict against Canada's Melissa Guillemette. You can tell from the way certain girls fight that they would be fun to hang out with, and I felt that way about Guillemette, a switch hitter with the idiosyncratic rhythm of a white rapper. She saw all the openings and exploited them, handing her tall opponent three standing eights in a 26-10 win.
Questionable refereeing in the stoppage of Brazil's Elisangela Martinelli by Argentinian Leonela Sanchez. The two seemed evenly matched through the fast-paced opening rounds, and Martinelli was leading on points when the referee stepped in after a standing eight count in the second round and two in the third. At least one of these eight counts was gratuitous, and I believe the stoppage was premature -- Brazil was still landing punches and ahead on points.
Everyone was predicting a knockout for Tiara Brown in her match with St. Lucia's Edelma Jeffrey. I concurred, having run into the St. Lucian delegation around the compound and being unimpressed by their brittle bluster. Brown looked really scary as she walked down Jeffrey. The D.C. native can box beautifully, but she was all forward motion tonight, showing off her impressive power at featherweight. Three standing eights in the third ended it.
The final featherweight match saw the lone Honduran take the ring. Angela Beatriz Miranda's suitcase never arrived in Cornwall and she was boxing in borrowed socks. This was a very close bout between two wildish punchers but Mexican Melissa Esquivel took it 15-10.
The Olympic lightweight class took the ring next, led by Puerto Rican Kiria Tapia, the boxer with the best name in the tournament. We were treated to some extracurricular hijinks before the opening bell as Tapia's navel piercing was removed ringside by a perplexed trainer. This was the most exciting part of the bout. The reigning Pan-Am champion, Tapia is a southpaw with a good right jab and hook. She let the brave, babyfaced Gisela Alverado of Ecuador move forward throughout. Tapia circled, landing jabs and one-two's en route to a 26-11 win. Perhaps she was saving herself for tomorrow's match against the mammoth Brazilian Adriana Araujo, who won tonight on a walkover when her Barbadian opponent did not show, allegedly due to a treadmill-related injury.
The bigger St. Lucian twin, Delma Jeffrey, went up against Argentina's Dayana Sanchez. It took Sanchez about twenty seconds to make sense of Jeffrey's awkward style and start landing hard, straight head shots, one of which resulted in a true knockdown, rare in women's amateur boxing. Sanchez smelled blood and got the first round stoppage, and the announcer added insult to injury by mistakenly announcing the St. Lucian as the winner.
It's been fun to listen to the announcer's franglais. He pronounces the word "judge" in various ways of which my favorite is the one that rhymes with "spooge."
The next bout was the fight of the night and had the sparse crowd screaming. U.S. Olympic candidate Queen Underwood faced Canada's Sandra Bizier. It took me a while to realize that I'd actually fought Sandra 10 years ago in Quebec City. I'd also fought her coach, Danielle Bouchard, an excellent tactician and former world amateur champion. I'll always remember the awful way I could feel Bouchard figuring me out as we fought.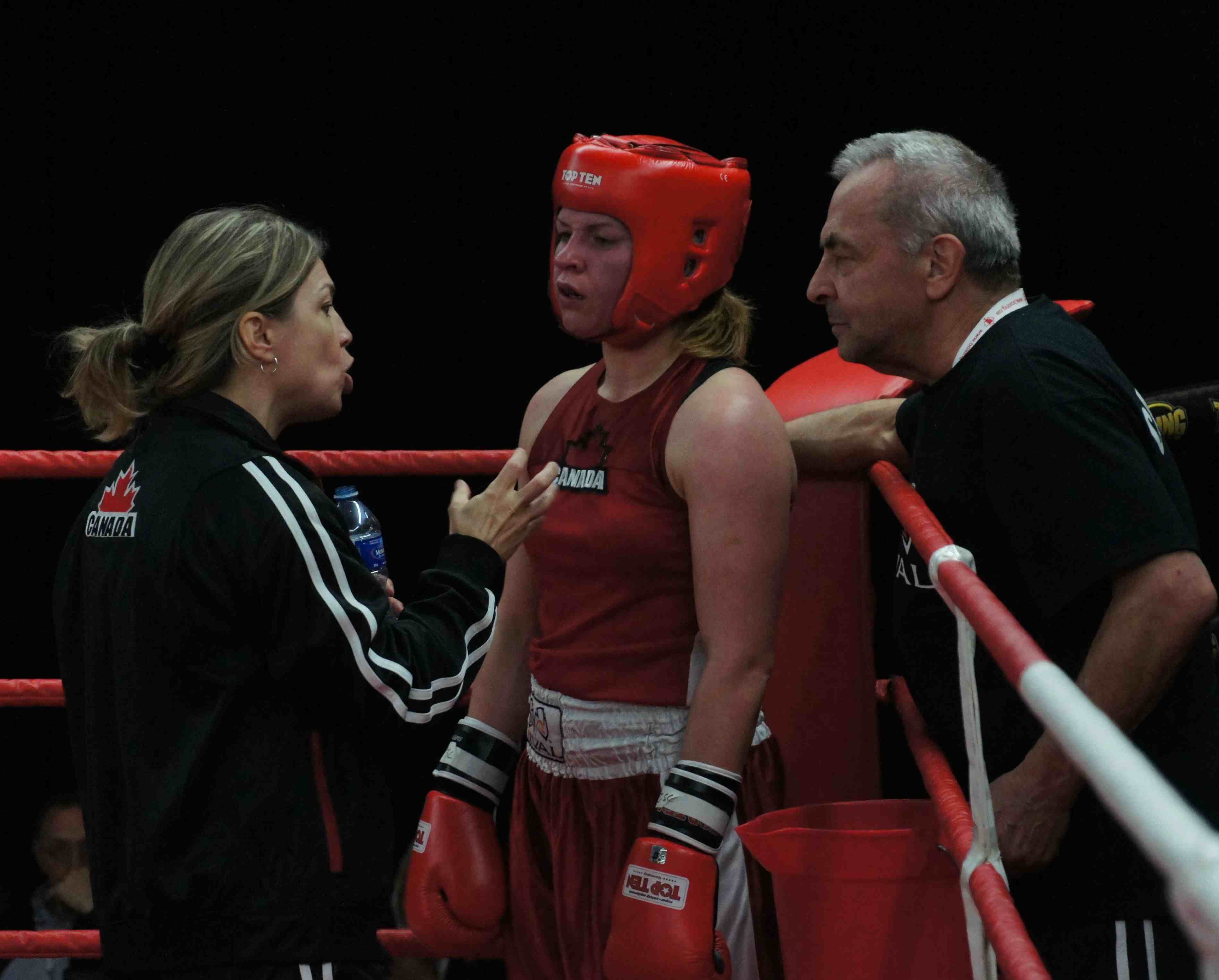 Boxer Sandra Bizier with Coach Danielle Bouchard and father Remy Bizier. Photo courtesy of Raquel Ruiz.
I found myself rooting for the Canadians, in part because I love Canada and would have moved here if a certain Quebecois romance had worked out and in part because I always want the people who beat me to do well so I feel like less of a loser.
The first two rounds were even. Underwood seemed way stronger than Bizier, who landed some good quick rights but ate hard shots when she got backed against the ropes. She admitted later that one of the rights hurt. In the third, Bizier pulled ahead by boxing and keeping Underwood at the end of her one-two.
"She never sees the right hand coming," Bizier told me, "I knew she would rush me in the last round but I also knew she was tired."
Bizier had an even better round in the fourth, pulling out a 24-17 victory, which seemed too wide of a margin for this thrillingly close match. Incredible heart from Bizier, who beat the more physically gifted woman through greater experience and power of will. Bizier works as a police officer in Quebec City and is the mother of a two-year-old. She was back in the ring seven months after giving birth.
The lovely Raquel Miller of San Francisco lost by a hair to Canada's Myriam da Silva in the final match of the night. Miller threw straighter punches but the Canadian was more aggressive through the first three rounds. A big finish for Miller in which she bloodied the nose of her opponent wasn't enough to win the 19-18 decision. Everyone ogled the odd scoring for this dramatic last round.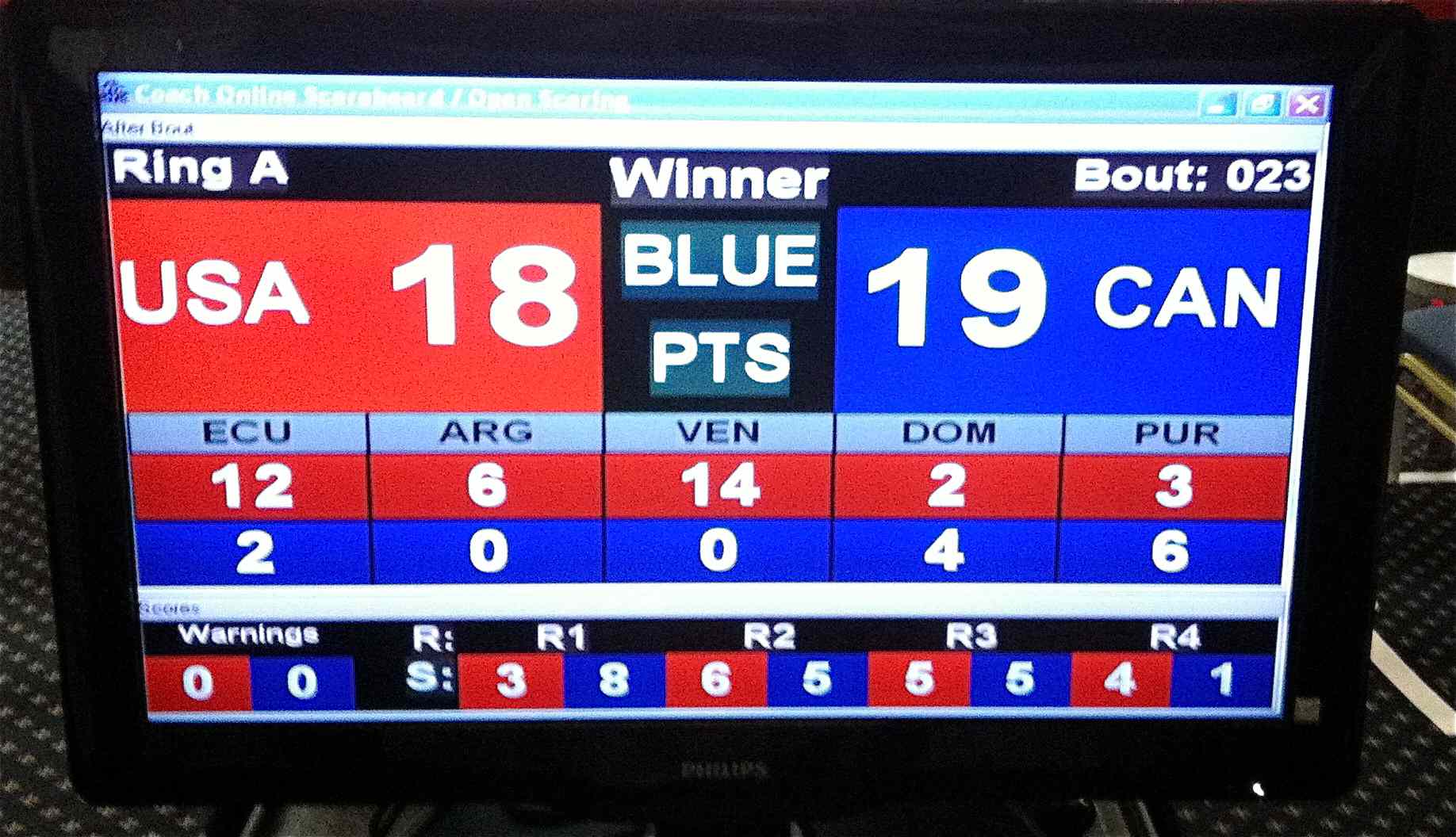 Afterward I asked Danielle Bouchard if she found coaching bittersweet.
"It has been," she said. "I was 10-2 as a pro. My last bout was a loss in Argentina for a world title. I was 40 and I thought: It's enough. It hurt to stop, and it took two years to get over it. But now I would not go back. Coaching makes me feel so much pleasure. When my girls win it's like I won."

Calling all HuffPost superfans!
Sign up for membership to become a founding member and help shape HuffPost's next chapter