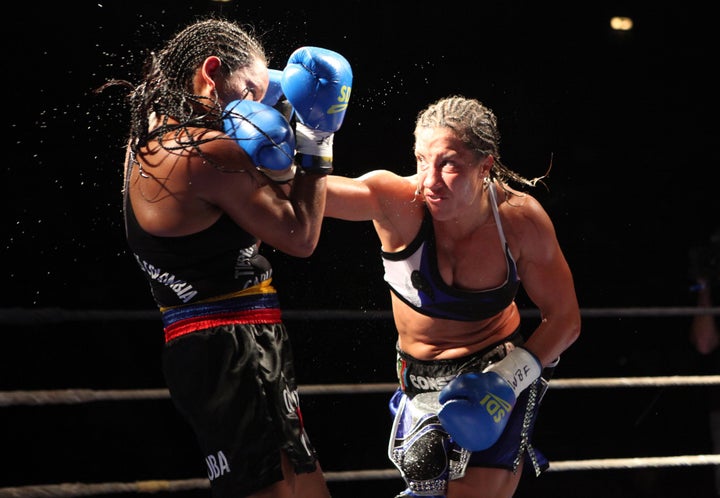 You can tell the Qinhuangdao Grand is not an American hotel by the gas masks in the closet and the cops in the hall. The cops helped me figure out how to use my card key; I hope the gas masks don't come in handy.
The 2012 Women's World Boxing Championships -- the sole women's qualifier for the London Games -- is the biggest thing to happen to this seaside city since the Olympics in Beijing. The gray streets are decked with petunias, and a bronze sculpture of two women boxing sits in front of the Olympic Sports Center. Hordes of college girls in white track suits steer the confused sports journalist from hotel to venue.
"I don't mean to offend you," says one of the girls, "but may I have your email address? I would like to be your friend."
I would like to be her friend, too, although the cultural gulf is the widest I have ever experienced. When I run up to get my coat and ask the girl to please hold the shuttle bus for me -- a bus, I might add, which is already five minutes late -- I return a moment later to a kerfuffle.
"It is she!" yells a man, pointing at me. "Hurry!"
I run to the press bus, where the man follows me down the aisle, saying, "In future, be on time."
"We were all waiting for you," adds another Chinese man behind me.
Mostly the men yell at you and the women smile, although there are some exceptions, such as the eccentric Chinese philosopher with whom I had breakfast with. We discussed the essential unity of matter and spirit, the Dalai Lama, Liu Xiaobo and genetically engineered foods -- which he is against.
"Not for us, but for our children," he said, showing me a cell phone picture of his sleeping son clutching a plush frog.
His translator taught me the proverb "Every fallen leaf will find the root" and a joke that goes, "If you can't understand something, just remind yourself that you are in China."
I remind myself that I am in China when I learn that the press seating is way up high, even farther away from the action than it was yesterday. I am all alone up there and it feels like a subtle form of psychological warfare, but then Christy Halbert appears and sneaks me down into VIP.
Today was a good day for the American team. Queen Underwood showed up in both matter and spirit for her match against Dayana Sanchez of Argentina, looking the best I've ever seen her. With this win, Queen may well have clinched her spot in London.
She needs to be the top lightweight finisher from the Americas, and the only other American lightweights still alive are Mexico and Brazil. The Mexican will likely be eliminated by China. Brazil's Araujo is a strong fighter but her bracket is a tougher one: if she beats Finland on Monday she will face the winner of the South Korea-North Korea match, which will be a very disciplined, technical boxer. Her bracket also contains China and the imposing southpaw Sofya Ochigava of Russia, who looked pretty unbeatable today against slick Kiria Tapia of Puerto Rico.
Queen has a clearer path to the quarterfinals with Gulsum Tatar of Turkey and England's Natasha Jonas as the greatest threats in her bracket. Jonas picked apart Rebecca Price of Wales, showing great lateral movement and body punching.
Tunesian lightweight Rim Jouini became the first fighter to qualify for the Olympics, her victory over Portugal ensuring her the top lightweight finish among African fighters. Since Olympic qualification is based on regional quotas, a boxer must place high relative to the other fighters from her continent. The New Zealand lightweight Alexis Pritchard also secured the Oceanian Olympic slot with a walkover win, her Australian rival was eliminated by the Ukraine.
In the middleweight division, Claressa Shields had very little trouble dispatching with India's Pooja Rani and will fight Savannah Marshall of England on Wednesday. Another standout among the middleweights was Hurricane Carter Rainbow Doyle of New Zealand, who was actually born with that name. Quite short for the weight, Hurricane has a sort of peekaboo style, getting inside with a hard, reaching jab and then unloading overhand rights and hooks. She's one of the most entertaining boxers I've seen and managed a stoppage of the technically solid North Korean.
Azerbaijan's Elena Vystropova looked slick and strong out pointing Belarus.
"Look at that explosiveness," said Christy Halbert. "You cannot teach that. A boxer has to decide she wants to do it."
Calling all HuffPost superfans!
Sign up for membership to become a founding member and help shape HuffPost's next chapter