Picture this: you walk into a room with about 1,000 people and before you can start looking for someone you know - you instantly see people you've heard of or read about. To your left is the most powerful executive recruiter in the world, Caroline Nahas of Korn Ferry International talking to Julia Stewart, the CEO of Dineequity about how Applebees and IHOP are doing in this economy. They're having a lively conversation next to Dr. Geraldine Knatz, the most powerful port Director (also, in the world) chatting it up with Kalika Yap - entrepreneur extraordinaire and inventor of the Luxe Link. They're talking about how important it is to keep your purse off the floor while not too far from them, Lubov Azria of BCBGMaxazria is telling a charming story to Lizanne Falsetto, CEO of thinkProducts, about design idea she had one day while taking a stroll in the park. A few steps away, CEO of Legalzoom, John Suh is paying close attention to Michael Lewis, Owner of RealD, as he explains how different the Avatar deal negotiations were from the Alice in Wonderland deal.
You take all that in and you haven't made it past the reception area. You realize, "maybe I should go get my name badge" and when you do, you realize you're standing in front of a sea of perfectly lined name badges of guests to arrive - nearly all of them are long time residents of the c-suite at Fortune 500 companies. You're a pretty important person yourself, but for a nanosecond, you think - maybe floating incognito is better because it seems like there's a lot of people who are a bigger deal than you.
So, under what circumstance are these incredibly powerful and unrelated people in the same room, smartly dressed and smelling fantastic? What brings the business elite together, forgoing the casual Friday, in a room at a hotel for lunch?
The Los Angeles Chapter of the National Association of Women Business Owners (NAWBO-LA) - yep, the most influential and engaging organization you've probably never heard of.
Every year, for the past 24 years, NAWBO-LA has held the Leadership and Legacy Awards Luncheon - the largest awards ceremony honoring the best of the best in the women's business community. Past honorees include some pretty incredible people - Jane Wurwand: Founder of Dermalogica, Peggy Churng: Founder of the Panda Group, Lynda Resnick: Chair of Roll International (Fiji Water, Pom Wonderful, Franklin Mint, Teleflora), and so many incredible women that you have heard of. Year after year, they bring together more than a thousand people to celebrate some extraordinary women over a pretty expensive chicken dinner in a pretty shwanky hotel.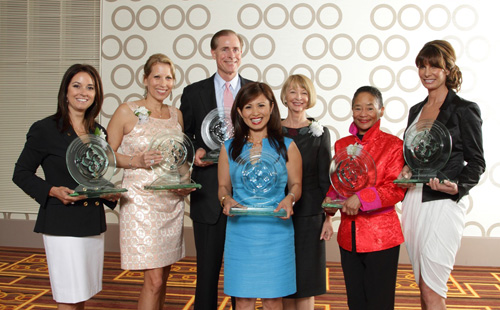 Honorees - Maelia Macin (Trailblazer), Paula Schneider (Inspiration Award), Peter Griffith (Man of the Year), Kalika Yap (Rising Star), Caroline Nahas (Legacy Award), Synthia SAINT JAMES (Hall of Fame, Lizanne Falsetto (Leadership Award).
So, why haven't you heard of this organization? Lack of PR, lack of sexiness, who knows? But there is no lack of awesomeness for a women's group that has been around for over 30 years and grabs the status quo by the collar and kicks it in the gut - the coolest thing you've never heard about the organization you didn't know about - is the fact that as a women's advocacy group, they took an enormous step out front and exposed themselves for who they really are and what they're really about - progress. 2010 marked the inaugural year that any women's business organization has specifically created a category for a man that has been an advocate for women in the business world. When the cynics said, "You're a women's group, why would you honor a man?" NAWBO-LA said, "Not too long ago, men were the one's who didn't let us in. Now there's a guy who makes sure we're included. Why wouldn't we honor him?"
The "guy" in question is Peter Griffith - Vice Chair of Ernst & Young LLP. To take one glance at him, you'd think - yep, he's definitely an accountant. But within 2 minutes of talking with him, you'll find a brilliant, funny and very well respected accountant formerly known as Peter and currently and affectionately known MOTY; a man who hears the guys on the board of directors say, "Get a W up there" and translates that to mean "Get a woman up there." Peter's courage has been demonstrative through his public position on why more women need to be on corporate boards and despite some criticism, this organization did what they knew was right and good for women business owners - find that guy that is making sure women have a seat at the table and prop him up because others will follow. It just illustrates why the annual theme has been about having the Courage to Lead. But that culture and mentality is anything but thematic - at NAWBO-LA, its part of the standard operating procedure and you know you're doing something right when you lead and the people who show up to support you are a much bigger deal than you are.
So you may be asking yourself now - who are these people in this organization I've never heard of? You could be asking the question I get a lot - "So, what does NAWBO-LA do?" While the short of the long is a lot, the real answer that makes us a unique organization is that no matter how much we're doing, we never feel like it's enough - that there is always something else we could be doing. Today, we are an organization that approaches the challenges of women business owners systematically and holistically. We build educational programs addressing the real issues that prevent women from growing their businesses and we make sure they're the best education you can get by partnering with the top accredited business schools in the region. We actively engage in advocacy efforts - fight against and collaborate with government to make sure the issues that are impacting women business owners are addressed. We make sure that our organization is an environment where our members build and develop real relationships and strategic alliances. Our members find friends, clients, customer, partners and advisors in the NAWBO-LA community. Our responsibility is not just about making sure we take care of all the things that impact women business owners, but to make sure we never forget that everything boils down to the people. No matter how big (or small) your organization may be, your culture must be authentic. When new people walk into your room full of your people, your reason for being should be palpable. We strive to accomplish that every day in every place that we go, and without a doubt - that's the very thing that smacks you in the face when you walk into the Leadership and Legacy Awards Luncheon. It's what causes new comers to say, "I can't believe I've never heard of this organization before."
Music to my ears; please, come in.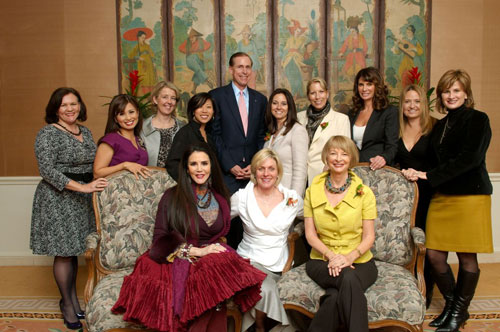 From the private NAWBOTea in January. Left to Right - FRONT ROW - Barbara Lazaroff (Spago's, Chinois on Main, Wolfgang Puck), Madelyn Alfano (NAWBO-LA President-Elect, Maria's Italian Kitchen), Caroline Nahas (Korn Ferry Intl)
BACK ROW - Brenda Zamzow (The Zamzow Group, NAWBO-LA Board Member), Kalika Yap (Citrus Studios - Rising Star Honoree), Daphne Anneet (Partner-Burke Williams Sorensen, NAWBO-LA Board President), Jane Pak (NAWBO-LA, CEO), Peter Griffith (Vice Chair Ernst and Young - Man of the Year), Maelia Macin (GM Univision, Trailblazer Honoree), Paula Schneider (CEO Mana Hotel Group - Inspiration Award Honoree), Lizanne Falsetto (CEO Thinkproducts - Leadership Award Honoree), Jennifer Kushell (Co-founder YSN.com, NAWBO-LA Board member), Wendy Mitchell (WM Consulting, NAWBO-LA Board Member)
Calling all HuffPost superfans!
Sign up for membership to become a founding member and help shape HuffPost's next chapter