He was the chief executive of the company, a large health care outfit in New Jersey. Married. Decades older. She was his executive assistant.
He seemed committed to those hugs, making a point to walk around her L-shaped desk every day to get his. If they skipped a day, next time he'd say, "I didn't get my hug" and make a grab for it. He sent her "flirty" text messages. One day when Susan was sitting at her desk, he messaged her from his office next door. "You look pretty in that dress."
"I felt uncomfortable that whole day," Susan told The Huffington Post recently. Susan rarely wore the dress again, fearing he'd mistake it as her trying to please him. She was creeped out. "I didn't feel safe." It felt like he was grooming her, Susan says now.
Still, it was those daily hugs that felt the worst; a personal affront, as though her boss felt he had the right to just pull her body close to his. "He had this air of arrogance."
Talking to human resources wasn't an option. The CEO was chummy with the guy who ran the department. The plan was to find another job and quietly move on. Then last Thanksgiving, she reached her breaking point.
Susan, who asked that we not use her name or reveal her place of employment while her lawyers work out her claims against her now-former boss and company, is one of many women who are feeling more confident about speaking up about sexual harassment, discrimination and assault in the workplace.
And in October, after a recording revealed boastful remarks Donald Trump had made in 2005 about assaulting women, more than a dozen women came forward with personal stories about how he had mistreated them. But despite those claims, Trump won the presidential election, and the message his victory sent ― sexual harassment allegations don't hurt men ― could've been utterly chilling to the many women who face discrimination and harassment at work.
Instead, the stream of stories about sexual abuse and harassment has hardly subsided. In the past few weeks, Susan Fowler, a former Uber engineer, published a blog post about how she was mistreated by her employer, launching an image crisis for the ride-hailing giant.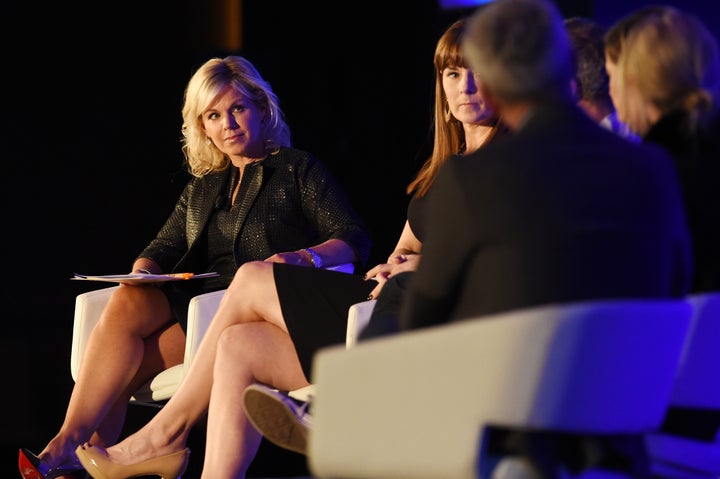 There's the Tesla employee who filed suit against the electric car maker last year and just recently starting speaking openly about her experiences to the press.
Sexual harassment claims filed with the Equal Employment Opportunity Commission have risen since 2014, but data since the Nov. 8 presidential election is not yet available. Still, Nancy Erika Smith, the lawyer who represented Carlson in her harassment case against former Fox News Chairman Roger Ailes, says more women have been coming to her with sexual harassment cases since November.
"Maybe [the election] has gotten a lot more people awakened, or woke, as they say," Smith says. "That might be something that can't be stopped."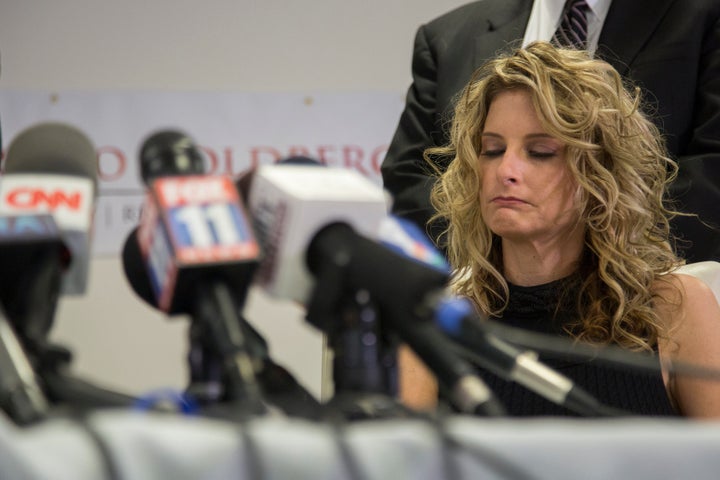 Instead of intimidating women, the election of a sexual harasser as president seems to have had an empowering effect for many women who had stayed quiet about being harassed and discriminated against at work.
"It was a teaching moment," said Kathleen Peratis, a partner at Outten and Golden law firm who has handled hundreds of harassment cases. She compared Trump's election to the 1991 confirmation of Supreme Court Justice Clarence Thomas despite former colleague Anita Hill's accusations of sexual harassment. The controversy ultimately led to more women running for office and is widely recognized as a turning point in the battle against sexual harassment.
Since then, the culture has changed, Peratis noted. Today's younger generation is more likely to take harassment claims seriously. In the Fox case, that meant James and Lachlan Murdoch, who head 21st Century Fox, actually launched an investigation into Ailes' behavior ― instead of sweeping it under the rug, as their 85-year-old father, Rupert Murdoch, might have done.
Peratis also made a key point that is at play right now: There's safety in numbers. In her practice, she's found that the more women who come forward at a single company, the more successful their claims will be ― and the more likely it will be that they are believed. That's what happened at Fox. Carlson's suit helped enable other women to come forward with their stories.
"Maybe [the election] has gotten a lot more people awakened, or woke, as they say. That might be something that can't be stopped."
But this strength-in-numbers thing also seems to help women in other organizations, too. When women see others publicly standing up and speaking out, they feel more empowered to act ― even if they're the only ones at their company brave enough to speak.
The media have become better about elevating those voices. When Smith and Peratis were starting out decades ago, business and politics reporters were overwhelmingly male. As more women have become journalists, more attention is being paid to cases like these, and they are covered with a heightened sensitivity. Many of us have been there in one way or another.
You'd likely hear about even more harassment cases if companies hadn't gotten so adept at keeping claims quiet, through methods such as closed-door arbitration. Sophisticated HR departments are also better about education and training, Peratis said, so claims don't escalate.
Ultimately, though, there is no simple answer for why more women appear to be coming forward. The decision about whether to speak up is particular and personal. And the pressure to stay quiet is overwhelming. It's part of the air women breathe: He didn't mean anything. He's just being friendly. It's something I did. I just need to be less friendly, dress differently, act professionally.
Though the culture has warmed to the idea that sexual discrimination is real, there's still a lot of pressure on women to just live with it. Susan's mother and sister suggested she try to apologize to her boss for not hugging him. What's wrong with a little embrace, her mom wondered.
Peratis said that the instinct to disbelieve women who come forward can be strong. "There's practically a genetic predisposition to disbelieve claims having to do with sex," she said, adding that until the 1970s you couldn't bring a rape case to court if the only witness was a woman.
The one thing that seems to unite these women is a clear sense of right and wrong. A strong belief in justice. Fowler writes in her blog that the way she was treated at Uber was "bizarre." Another way of putting it: The treatment wasn't right.
"Until somebody stands up, nothing is going to change."
"Until somebody stands up, nothing is going to change," AJ Vandermeyden, the woman who is suing Tesla, told The Guardian in a recent interview. "I'm an advocate of Tesla. I really do believe they are doing great things. That said, I can't turn a blind eye if there's something fundamentally wrong going on."
Susan told HuffPost over and over that she felt like what happened to her wasn't right. She finally stood up for herself just a few weeks after the presidential election, after six months on the job.
Over Thanksgiving, her boss texted her while she was home for the holiday. Was she making the meal for her family? When Susan said no, her mother was preparing Thanksgiving dinner, he typed, "Good. You're too cute to cook." He then added how grateful he was that she worked for him. "Thank you for all you do," he wrote.
The presumptuousness of his texts infuriated her. She couldn't take it anymore. When she returned to work on Friday, Susan couldn't bring herself to hug him.
"I knew there would be consequences," she says. "I don't have to hug a man every day to come to work. This is not a job requirement."
Apparently, for her boss it was. When he didn't get his hug, the CEO locked eyes with Susan, she says. It was only for about 30 seconds, but it felt longer. "His whole demeanor changed. I knew something was coming. It was like how you feel when you disappoint [a parent] or you break a rule and you know a consequence is coming."
Seven days later, Susan was fired. The human resources department said it had found her interpersonal skills to be lacking. Coming with no warning about her performance and just days after her boss had thanked her for her good work, Susan knew this was about the hugs.
She packed up and left, and, before she drove out of the parking lot, she sat in her car and stewed. "I knew it wasn't right."
She found a lawyer who is working on settling Susan's case with her former employer and believes there's a chance the CEO may be fired, her lawyer told HuffPost.
"Sometimes people do get justice," Susan said.
Before You Go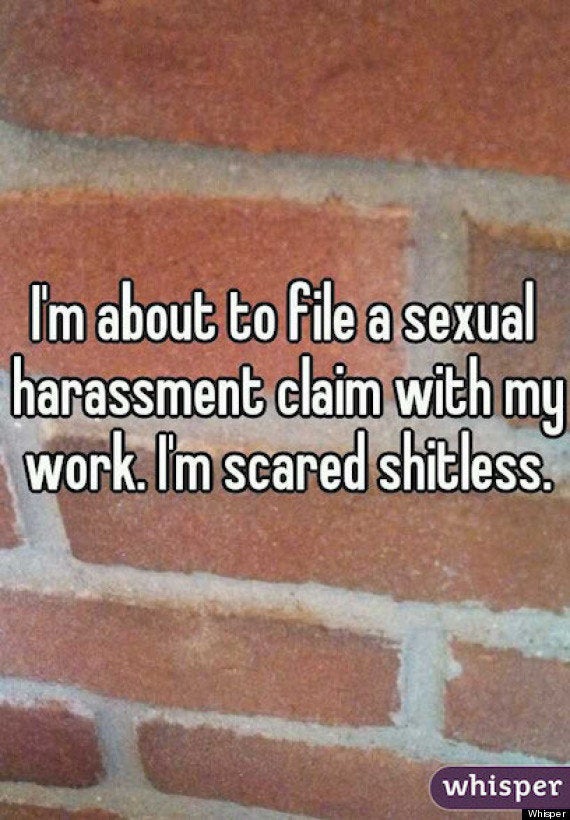 Women Who Reported Sexual Harassment
Popular in the Community