In many parts of India, girls in poor families are the last to eat.
First, the logic goes, comes the wage-earner; then the future wage-earner (the son); then their providers (the mother) and finally, the useless little girl, whose very birth, particularly in some northern agrarian provinces, is not likely to be celebrated with the usual round of sweets showered by families on neighbors and friends when a little boy - a strong, future farmer -- is born. The joylessness accompanying a girl's birth isn't even half the story: in some provinces, it seems that many unborn or newborn girls are denied the right to life.
The situation for those who do survive is dire, and the prevalence of anemia is one measure. Anemia afflicts between 50-80% of mothers and more than 95% of pregnant women, 30-40% of whose newborns are low birth weight, imperiling their lifetime health, learning and productive potential.
Dhan Foundation, a 30-year-old non-profit operating in a dozen Indian states, has set about remedying this perverse privation among Indian girls, who, after all, bear the nation's future. In partnership with WomenStrong International, the Government of India and local health authorities, Dhan Foundation reached out to and screened 4,243 girls last fall in the slums of Madurai, 87.5% of whom were found to be anemic, a fourth of whom were severely anemic and referred for emergency treatment. Dhan distributed government-issued iron folic acid tablets to all those with mild or moderate cases, along with vital information to raise awareness about health and nutrition among the girls and their families.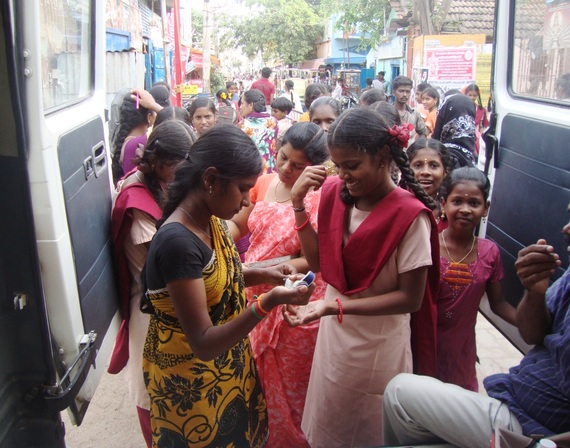 Once screened, the girls were offered the opportunity to organize themselves into kalanjiams, Dhan's term for the "Self-Help Groups" that it and other Indian development organizations use to foster sisterhood and what WomenStrong International calls "circles of strength" within and between poor communities, usually beginning with savings or microfinance programs aimed at enhancing economic empowerment.
The 325 adolescent kalanjiams comprised of the screened girls are now receiving training in hygiene and reproductive health, job skills and programming focused on school retention. This sort of programming cuts to the heart of the missions of both Dhan and WomenStrong: to help girls and women access the health, educational and economic resources they need to lead healthful, fulfilled lives. The education component is key: every additional year of schooling is known to delay marriage and childbirth, resulting in fewer and healthier children with better educational outcomes, and in an increase in self-esteem, vocational skills, and earning potential. Education creates girls who see themselves as powerful leaders in their families and communities.
Among adult women, Dhan uses Self-Help Group savings programs as an incentive to bring together female homemakers, laborers and elderly to discuss and address a wide array of issues, from the lack of enforcement of legal entitlements and inheritance rights, to gender-based workplace discrimination, domestic violence and the rampant alcoholism among their men and boys. With their savings, the women purchase health and life insurance, obtain essential legal documents and start up small businesses. It was through the trust built within and among women's Kalanjiams that Dhan was able to identify the girls believed to be at risk for anemia in 13,000 Madurai families, many of whom had heretofore been quietly hidden away at home, whether out of fear for their safety or shame at their unhealthy condition. By listening carefully to the mothers, Dhan was able to help them help their daughters emerge from the shadows and gain access to resources they may not have realized were available to them.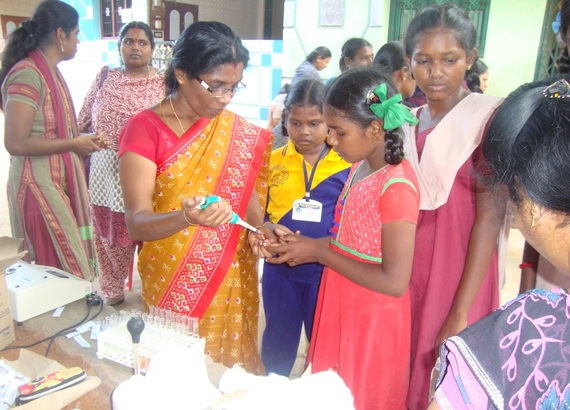 The mothers of Madurai, like mothers everywhere, don't want their daughters to endure the privations that they themselves endured. Whether through schooling, economic opportunity, or simply the freedom from illness, psychic pain or physical violence, they seek escape routes for the next generation. Demonstrations advocating for wage parity, safe buses, clean public toilets, and girls' right to an education mark arenas where women are raising their voices. Dhan Foundation's intrepid engagement and screening of Madurai's thousands of hidden, at-risk girls is another. These efforts, and others like them, must be sustained, until impoverished girls and their mothers across India and beyond are finally acknowledged, valued and free to decide who will be first to eat.
WomenStrong International is a consortium of non-profit organizations in five nations supporting women-driven solutions to extreme urban poverty. Through its members in Ghana, Kenya, India, Haiti and Washington, DC, WomenStrong helps thousands of women and girls meet their 6 Essential Needs: for health, shelter, safety, education, economic empowerment and a functioning urban environment. WomenStrong believes the path out of poverty and toward a more just and prosperous world can be found by making women strong.