I confess my heart sank as I walked into the auditorium and saw a drum on every seat. Haven't we suffered enough this week? But I put aside my repressed Englishness and joined in with gusto as the Drum Cafe led a workshop that was actually fun and up lifting. And empowering, actually.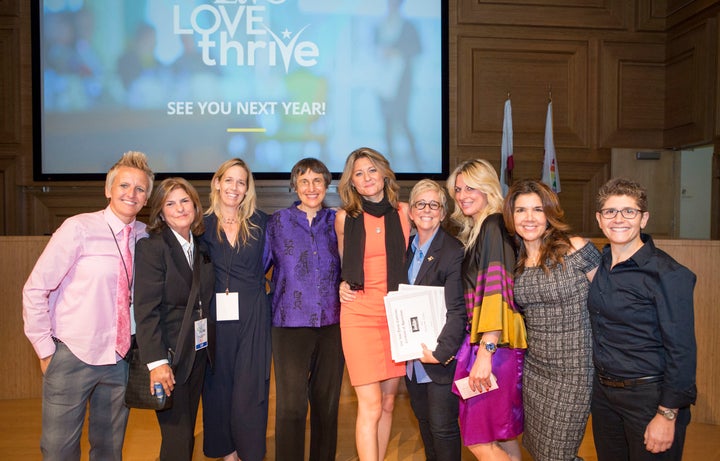 A series of superb speakers (Really. Not one weak one) entertained, informed and inspired. Leadership coach Dani Rukin urged us to connect with our life's purpose, claim who we are and live a life we love.
Tabby Biddle explained how to share our truth via a TEDx talk. "There's a freedom that comes with telling your story," she said. "Fear of judgment holds us back."
PR expert Rita Hollingsworth urged attendees not to regret the things we didn't do. Rather, find out who needs us and how we can be of service.
Jo Englesson, Creative Peacemaker and CEO Gratitude Training, said that gratitude is the foundation of abundance. Her experience of accidentally knocking an old man over as she rushed to board a plane at an airport then being happily surprised when he got up and laughed off the incident instead of berating her, inspired Englesson to see that by changing our mindset and how we react to events and situations could actually bring about world peace, starting with ourselves.
Englesson invented the TOFA token, a token of appreciation given to someone who makes a difference in your day. The tokens are uniquely numbered and can be tracked online as they are paid forward.
The talk I was looking forward to the least as I thought I knew everything there is to know about publishing was actually brilliant and helpful. Literary Advocate and CEO of Author One Stop, Randy Peyser, helps writers find the right agent and publisher.
The main sponsor of the event was Honda of Downtown Los Angeles. Carolyn Olavarria climbed the ranks of Honda DTLA to become its General Manager, the first female Latin American to become a GM at Honda.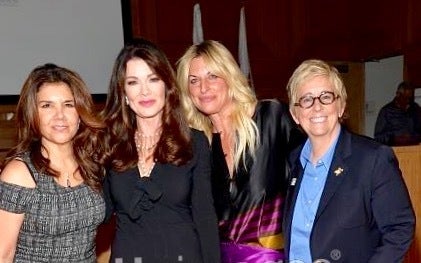 Entrepreneur, philanthropist, animal and LGBTQ activist and Reality TV Star Lisa Vanderpump and anti-bullying activist and producer Nicole Ehrlich (pictured above with event organizer Catherine Gray (right) and Emcee Michelle Pollino) were honored for their services to women's empowerment.
"We chose Nicole and Lisa because they are examples of what a 360 Karma Women is - a successful woman who pays it forward and gives back," said Gray.
Wealthy women shared how they use their money to help others. As CEO and Founder of Face Forward, Deborah Alessia's mission is to provide pro-bono physical and emotional reconstruction for women, children and men who are victims of domestic abuse, human trafficking and other crimes.
Philanthropist and volunteer Annette Shapiro is the most successful fundraiser for non-profit organizations in Los Angeles having raised millions of dollars for worthy causes.
But success is not about being rich or famous. Business Growth Consultant Kathleen Ronald reminded us, "It's not always easy to get up, get out and get a life. If you are in joy regardless of what you are doing, it can be enough that you raise the vibration of a room when you walk in."
Too many speakers, panelists and inspiring triumph over adversity stories to mention them all but the conference served as a reminder that there are no excuses, we can all make a positive impact on humanity and the world a better place.
The Live Love Thrive Women's Empowerment Conference was an amazing opportunity to meet and mingle with like-minded people who want to perpetuate women's equality, and to create a positive, seismic shift in the world.
Catherine Gray has announced that all the sponsors of this event have said they will support Women's Empowerment Conference 2017.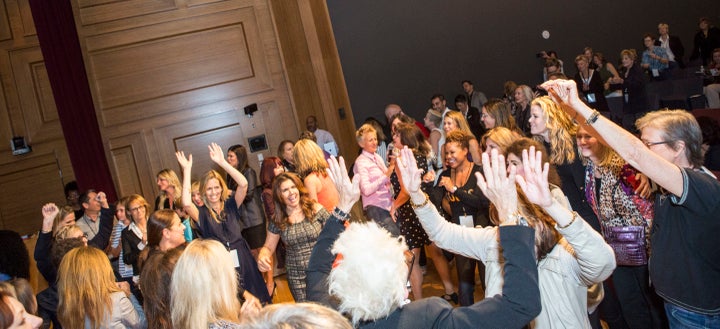 "I think our eclectic line up of amazing speakers really impacted people and the musical close of "we are family" as we showed the video of outstanding females of the past century was a joyous celebration as everyone came down and danced together on the stage. It was nice to see so many women come together in such perfect harmony and loving energy," said Gray.
At the start of the conference, Dani Rukin quoted the Dalai Lama who said in 2009, "the world will be saved by the western woman." Not this time, but a woman will one day be President of the United States.
Related
Popular in the Community