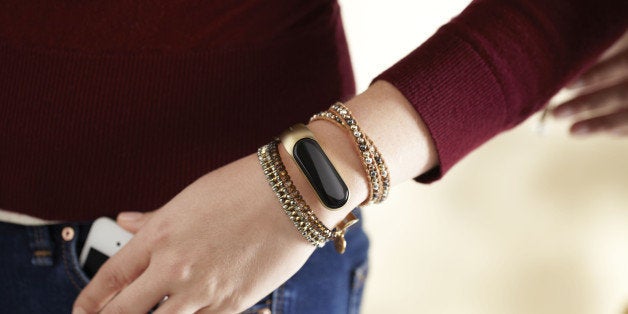 Fitness trackers like the Nike Fuel Band, Jawbone Up and FitBit have been pegged the "it" gifts of this holiday season. Now a newcomer to the market aims to break out of that crowd by living up to a simple promise: Make wearable tech actually wearable -- for women.
Mira Fitness, the Chicago-area company behind the forthcoming Mira band, knows there's plenty of demand. U.S. consumer awareness of wearable fitness devices -- evolved pedometers which can track everything from calorie consumption to blood pressure -- soared from 30 to 70 percent between November 2013 and July, NBC reports. It's the supply part Mira intends to address.
"With wearable tech, it's sort of a one-size-fits-all field," Mira's director of marketing Lindsay Slutzky told The Huffington Post. "And with wearable tech being such a male-dominated industry, we wanted to offer a solution that was suited for women."
Slutzky said the Mira band and its companion app target women who are fitness-minded but not necessarily hard-core performance athletes. To be a truly wearable piece of tech, Mira is designed to be more adaptable and versatile than competing devices that can be either too sporty for more glamorous getups, or too glitzy to be gym-appropriate.
Designed to sit on bracelet available in two finishes, the Mira tracker looks more like jewelry than technology. For the gym or other more casual looks, the tracker detaches into a discreet clip.
"Getting it into the mainstream is not the challenge — it's making it stick," Slutzky added. "We don't want this to end up in a drawer unused."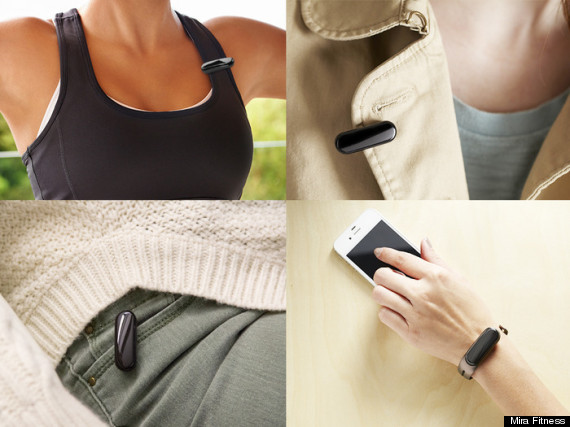 The Mira fitness band tracker detaches from its bracelet, so it can be worn as both a fashion accessory and a discreet workout or casual-wear device.
Elise Oldenburg was an early adopter of wearable fitness trackers. The Chicago-based 26-year-old customer service manager told The Huffington Post she had the original Jawbone Up band, but now only uses it to track her sleep at night.
"The bands look nice when you're wearing jeans and a sweater, but not so much when you're wearing a dress to work," Oldenburg said. "If it's not a bracelet that you could wear with your outfits everyday, why would you wear it every day?
"I'm still looking for an alternative," Oldenburg said.
Sarina Klein, meanwhile, owns both a FitBit and a Jawbone Up. She wears the latter every day.
"They both have equal pros and cons for me," the 32-year-old Chicago teacher said. Style isn't her prevailing concern, though she admits the sporty nature of her FitBit can "look weird" when going out at night.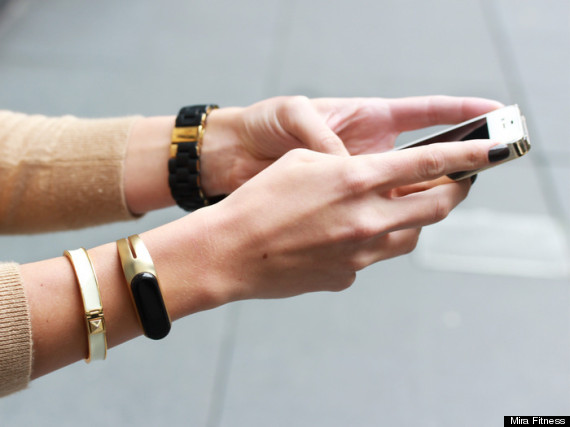 Mira's creators said they wanted to make a device for women that integrated seamlessly into their lifestyle -- and didn't scream "technology."
For Mira or any other device to succeed in the women's wearable fitness market, Slutzky said products have to change the conversation to make wearable tech more about lifestyle.
Mana Ionescu, a 37-year-old self-described "device nerd" who founded social media marketing firm Lightspan Digital, told The Huffington Post she saw Mira's $10,000 fundraising campaign on Kickstarter and was "tempted" to buy -- but has yet to make up her mind.
"I walked into Best Buy on Black Friday and they had a whole aisle on fitness trackers," Ionescu said. "I think the marketplace is pretty saturated right now."
To shore up the support angle, Slutzky said the Mira app pushes out funny reminders and motivations to drink more water or take more steps.
"A lot of the women we worked with wanted a little push, but it had to be motivating and not intimidating," Slutzky said.
And when it comes to time, Slutzky said the few devices do a good job of contextualizing all the data they collect.
"A lot of these fitness wearable apps feed you tons of data, and a lot of our users don't know what to do with that," Slutzky said, "So what if i walked 10,000 steps? How does that fit into my larger fitness achievement?"
As Mira works to hone in on its target audience of young to middle-aged professional women, Slutzky predicts the next generation of wearable fitness trackers will follow her company's lead and zero in on one audience.
"Wearable tech needs to start being more targeted and there's a place for lots of different targets," Slutzky said. "Women, children, you're going to see all these different niches."
Calling all HuffPost superfans!
Sign up for membership to become a founding member and help shape HuffPost's next chapter
BEFORE YOU GO
PHOTO GALLERY
Best Fitness Apps 2014