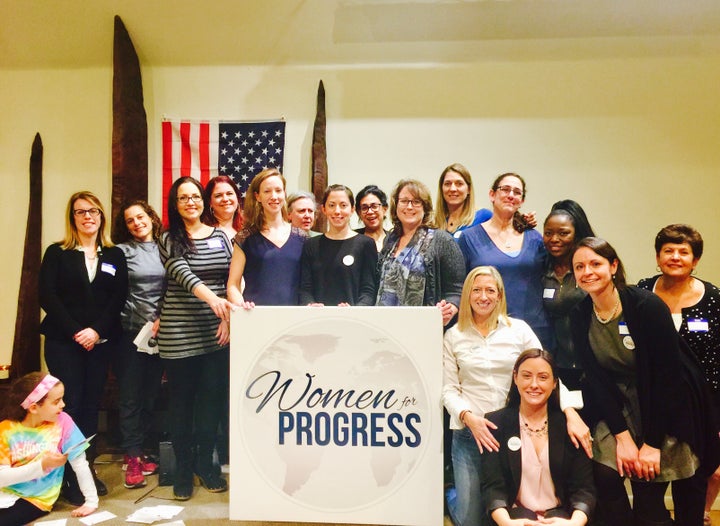 On a rainy and cold Wednesday evening, in a church in the town of Ridgewood, New Jersey, 250 women gather for a Women for Progress meeting. All over the country, grassroots groups of women just like this, are gathering to show up for the human, civil, and environmental rights they feel are at risk under the current administration.
One of the great stories to come out of this election are the number of women choosing to lead at this moment and stepping up for the causes they care about. Women are creating and joining communities to become involved in advocacy work, while others are inspired and want to learn more about what the processes are for running for public office.
Women for Progress is one of these groups. Founded by Erin Chung, Women for Progress started as a Facebook Group that organized quickly after the election, marched locally in a Women's Sister March in Wyckoff, NJ, and whose leadership turned all of the group's motivation and fast-growing membership, into creating action-related events like the one I attended on Wednesday. The meeting was a member meet and greet, and postcard writing event with guest speaker, Bergen County Freeholder, Tracy Silna Zur.
At the meeting they learned about the goals of the organization, while they sat around tables together armed with books of stamps they had brought with them, to collectively write over 2000 postcards advocating on behalf of accountability issues to state and federal legislators, to private companies, and other civic-related issues they felt strongly about. The issues being written about are represented by the organizational committees that make up the organization: Women's Health Issues, Equality for All, Education and Gun Violence Prevention, Climate Change and Environmental Issues, and Progressive Politics.
As we've seen with other women's groups who have organized during and after the election, many of these communities started on Facebook. With Women for Progress, as the group grew, many of the members wanted to do more and desired face-to-face connection and discussion, increased learning about the issues they cared about, and action-oriented events that would help move the needle on the agenda items they deeply cared about.
At Wednesday's meeting, I saw women from all walks of life in attendance, exercising their democratic rights and asking to do more, telling me they were encouraging other women in their social circles to join them at the next gathering; excited that a space had been created locally where they could convene.
"The most surprising and wonderful thing has been the incredible energy of the women coming forward, many of whom tell me they have never been political in their lives, but now they feel like they have to stand up and have a voice," said founder Erin Chung.
While working on the postcard campaign, they also heard from guest speaker, Bergen County Freeholder, Tracy Silna Zur, who spoke passionately about women coming together for the change they wish to create, and also about the significance of finding and respecting that moment that moves you to step up and take action.
Will this recent uptick in women's groups move more women to continue advocating for the causes they care about and to run for public office; taking on greater leadership roles within their communities and beyond? Only time will tell, but if Wednesday's meeting was any indication of interest, energy, and momentum, then we can expect to see and hear a lot more from these young organizations and the motivated women within them.
Related
Popular in the Community