Back in 2004 a friend and coworker at JANE magazine threw up her hands at Halloween. Frustrated by the lack of costume options available to women at the time, she donned a full-on Gorilla costume. Though she was uncomfortably warm, she gave the costume industry a big, furry "F you."
This year the topic of scantily-clad women running around on Halloween is as hotly contested as ever (though to be honest, most of us are more interested in cleaning up our lives post Hurricane Sandy than debating feminism's role in Halloween). But the question remains, what are women's options when it comes to Halloween costumes? Is this one of the few times that we are expected to publicly flaunt our sexuality in a "Sexy Fill-In-The-Blank" outfit?
I'm not saying that it's wrong to wear these highly sexualized costumes, in fact, I'm guilty of it myself. One year, after giving birth to my first child, I went as Britney Spears in a blonde wig, short skirt and not much else in an effort to show the world that having a baby didn't completely desexualize me.
PHOTO: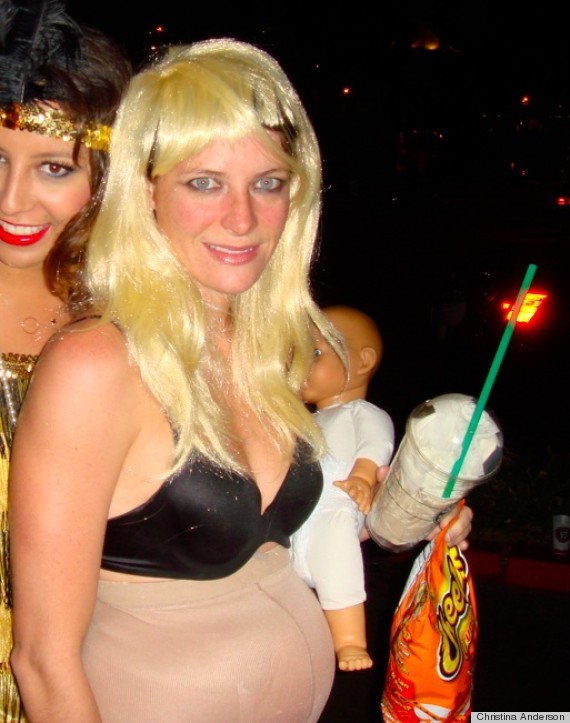 But the turning point -- for me, at least -- came this year, when my daughter and I sat down to look for a Halloween costume. My daughter is nearly six years old and, like many little girls, is entranced with all things princess. Much to my dismay, Dylan pointed to a mermaid costume and said, "That's what I want to be." I was shocked to see how sexual this costume was (on a website in the 'Children's Costumes' section), and my reply to Dylan was, "Let's take a look this weekend in the shops." We found a Cinderella costume that Dylan and I are both happy with, though whether or not it suits my feminist leanings is still up for interpretation.
I guess feminism is all about having a choice and having power and control of your own body. So if your choice is to wear something more revealing than normal, that's your choice and I won't judge. As for me, I'll say, "thanks, but no thanks." I'll be donning my full-coverage ghost costume. And just in case you're still searching for costume ideas, here are some celebrities for inspiration.
PHOTO GALLERY
Celebrities In Halloween Costumes 2012
Want more? Be sure to check out HuffPost Style on Twitter, Facebook, Tumblr, Pinterest and Instagram at @HuffPostStyle.
REAL LIFE. REAL NEWS. REAL VOICES.
Help us tell more of the stories that matter from voices that too often remain unheard.