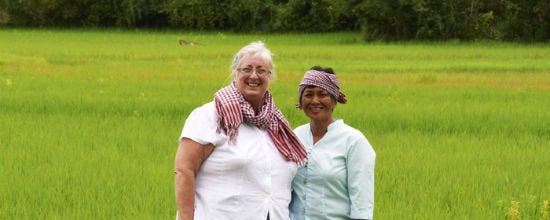 This post is part of the Global Mom Relay. Every time you share this blog, $5 will go to women and girls around the world. Scroll to the bottom to find out more.
I sit in a remote rural community in Cambodia, without power, trying to get this message to you from women who have very little voice in the world. I was invited to come to Cambodia by an inspirational midwife called Chong Nai Hy. When this woman left the camps at the end of the Pol Pot regime, she committed --along with two other midwives -- to support the women of Cambodia whilst they birthed their children.
Chong Nai Hy is driven by the tragedies and atrocities she saw supporting birthing women: As they walked for one month across the mountains to freedom in a refugee camp on the border of Thailand; during the 10 years she lived in the camp; and for the last 20 years whilst they attempt to find their way. We are still part of that process.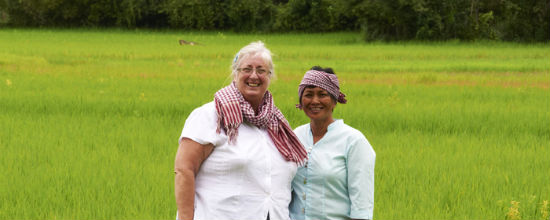 Denise Love and Chong Nai Hy
The women I share my life with in these remote villages are inspirational in their life styles and their struggle to survive. It is with great joy I have this opportunity to show the amazing mothering skills I have watched in the years I have been here.
I asked them about the idea of giving and receiving advice from other mothers, and dreams for their children. It is not easy for the women here to dream. Survival and living day to day are about all they have the capacity for most of the time. But I would love you to meet some of the mothers' whose lives I share, and hear the values of motherhood they cherish most:
What is the best advice a mother gave you? Make sure your children go to school; you want them to be good people. Raise your children to be good. They should learn many languages so that they can get good jobs.
What advice would you give a mother yourself? Sleep when the baby sleeps, eat good food and drink lots of water to make lots of milk so your baby can eat and be strong.
What would you hope for your children and all the children around the world? Good health, to grow strong, to have good jobs for their futures. One mother said she wants her children to finish a lot of school for a profession like being a doctor. Another mother said she wants them to be good at business, to have good business ideas so maybe they will have businesses in another country.
Many children in our province of Cambodia do not go to school past age eight. We have five village schools and are trying to provide a pathway to a stronger, healthier future.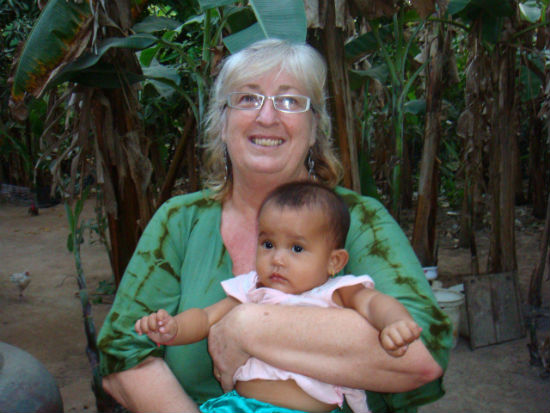 My own life as a mother and grandmother is more special than I can describe. My grown up children and grandchildren are my greatest teachers, and my husband works so hard to finance our project here in Cambodia. He is equally committed to the human rights issues of freedom to life with water, sanitation, adequate health support and happiness. Whilst I live in the villages here, far from my original home, my family shares me with all my sisters in Cambodia.
The simplicity of life here makes my heart sing, yet the challenges each and every person faces daily makes my heart heavy. When I came to Cambodia, I committed to bring kindness in my work. As I have lived that commitment, the kindness of volunteers and donors who support me in this work, and the kindness these incredible women comes back to me in full circle. Together we are striving to reach our full potential and to create something different for the next generation.
Each time you share this Global Mom Relay piece on Facebook, Twitter, or Email, or donate $5 or more through clicking on the above graphic, a $5 donation (up to $62,500 per week or $125,000 every two weeks) will be donated by Johnson & Johnson and the Bill & Melinda Gates Foundation to the Mobile Alliance for Maternal Health (MAMA). Join us by sharing it forward and unlock the potential for women and children around the globe. For more information, visit www.unfoundation.org/globalmomrelay. The United Nations Foundation, Johnson & Johnson, BabyCenter, The Huffington Post, and the Bill & Melinda Gates Foundation created the Global Mom Relay, a first-of-its-kind virtual relay with a goal of improving the lives of women and children around the globe.
Related