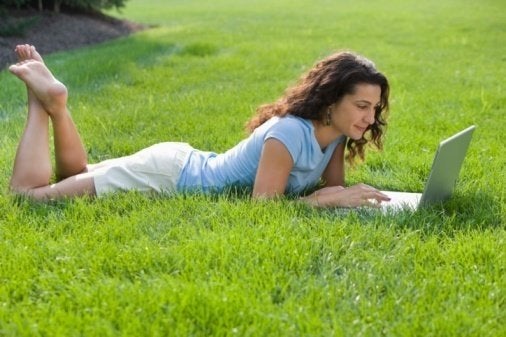 Looking for some good news about women? The latest statistics swirling about social media is that women are the majority of individual users in this booming networking movement. So forget those assumptions that social networking is dominated by single, young, white men -- and women, start smiling. Our cyberspace platform is on fire -- as individual women or in highly organized groups, women are advocating for change and supporting one another outside any previously prescribed gender boundary or identity and in numbers that are staggering.
The power of social media has never been as clearly visible as it is today. Cyberspace is flooded with opportunities to donate, petitions to sign, breaking news reports and stories to share and real time updates. Women's digital literacy is a source of great pride and power. Coree Silvera, on Forbes.com in January 2010, gave us a great list of the best marketing and social media blogs by women (http://ow.ly/Y5gV) and each month brings more dynamic and diverse voices to add to the mix.
Nowhere is our newfound ability to mobilize and activate more necessary than in the area of women's global health. Many of the health issues women face around the world are preventable, curable and unacceptable. The health and safety challenges of women are commonly shared across all parts of the globe. The solutions to improve conditions and save lives are more possible now than ever before.
Many of the issues women are confronted with are inseparably linked to larger problems of poverty, globalization, unemployment, and climate change. When a community suffers, the women and girls in the community often become the victims of the unfortunate trickle-down effects that include hunger, domestic violence and human trafficking.
A recent report at Women's News Network (WNN) by Kenya Correspondent, Charles Njeru on the recent trafficking of young Maasai women and girls is a powerful and heart wrenching example of the impact that communal challenges have on women. Charles reports:
"As climate change intensifies, the impact for families to find food brings desperate measures. Families are now seeking any solution to survive. The selling of daughters into slave markets is one of the solutions, causing young women, girls to be swept away by what many guess are modern slave traders."(http://bit.ly/9txjQy)
For years, coalitions of women activists have been working to put an end to the trafficking of women and girls from within the regions of Eastern Europe and Southeast Asia. But we know that women and girls in Africa and elsewhere have also been at high risk for being trafficked and that their plights have not until recently, been exposed.
Social media networking has had an impressive impact on the illumination of real-time issues and created limitless opportunities for activism and immediate entry points for change. The power of social media was palpably visible during the outpouring of support and concern we witnessed for the people of post-earthquake Haiti. In a matter of hours, cyberspace was filled with ways to donate, up-to-the-minute news reports of the disaster and personal updates.
The "Say No to Violence" Unite Campaign (http://www.saynotoviolence.org/), a global advocacy signature campaign, records what individuals, organizations and governments worldwide are doing to end violence against women. This campaign is another perfect example of the impact and potential of women's social media networking. Launched in November 2009, the Say No social media campaign attracted thousands of people by using Twitter, Facebook and by sharing YouTube videos initiating interactive discussions around their issue. Individuals, corporations and even government leaders have signed on through the social media platform.
Information about the latest studies on women's health, whether it be new recommendations for mammogram testing or warnings about toxic nail salons is now available at the click of a link or a tweet. No more searching the internet to find out what is happening. The news now comes to you -- how convenient.
And let us not forget the power of the individual to make a profound difference. Within our influential social media networks, each one of us can strive to be an accurate source for women's global health news, advocates for change and catalysts for positive action and solutions.
The delicate balance of desired flow of content and total brain drain overload has yet to be discovered. There are so many pressing issues and only 24 hours in every day. Social media networking has made it easier to connect to causes that matter and provided ways to drop into conversations and take action without leaving your desk. I would like to believe this cyber forum is just a dynamic adjunct to women's most meaningful endeavors -- whether on a small farming collective, mid-size production company or large metropolis -- that is, women working side by side together to make the world a safer, healthier place.