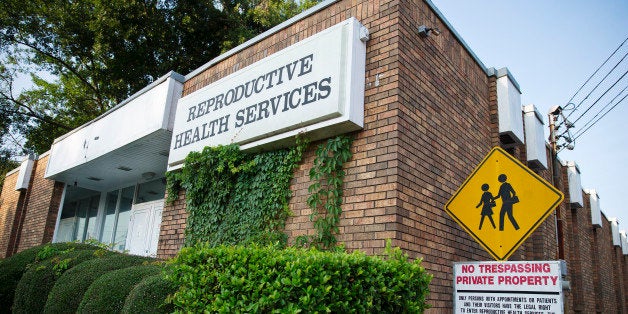 Where you're from can determine a lot about you, like if you speak with an accent or say "pop" instead of "soda." But location should not dictate your rights. Our basic freedoms do not know state or city borders, and do not change as you move around the country. That is, unless you are a woman.
In today's America, a woman's right to choose what she does with her own body depends on her zip code. That is inexcusable. And soon, it could be illegal.
Unable to deprive women the right to abortion outright through the courts, the anti-choice movement has adopted a different strategy. Under the guise of "women's health," some states have enacted legislation that would make it almost impossible for a woman to have access to a safe, legal abortion -- a tactic that is actually harming women by forcing them to make unhealthy choices like seeking unlicensed and unsafe abortions.
A recent example is Texas, where they required that doctors performing abortion procedures to have formal admitting privileges at a hospital within 30 miles of their clinic. Instead of doing anything for safety, this has had the predictable and intended effect of forcing clinics around the state to close their doors. And for Texas women, this meant longer waits, higher costs, and canceled appointments. Many had to travel over 150 miles just to get to the nearest clinic.
These laws are being challenged through the courts, but women should not have to wait for the courts to decide on a case-by-case, state-by-state basis. It is time to stop playing whack-a-mole. We need a national standard that defends the right of all women, no matter where they live, to make choices about their own bodies. That is why I, along with Reps. Marcia Fudge (OH-11), Lois Frankel (FL-22), and Senators Richard Blumenthal (CT) and Tammy Baldwin (WI), introduced the Women's Health Protection Act.
This bill will finally put us on the offensive by preventing states from restricting access to abortion if they cannot actually demonstrate a benefit to women's health. Roe v. Wade, which was decided 42 years ago this month, finally put an end to the era of dangerous back alley abortions and put women in control of their own health choices by affirming the right to abortion. And just as we would not tolerate a handful of states instituting poll taxes or restricting your ability to pray where you wanted, we cannot allow states to curb the right to abortion either.
It is time that we put women's health and safety first, not politics.
Calling all HuffPost superfans!
Sign up for membership to become a founding member and help shape HuffPost's next chapter