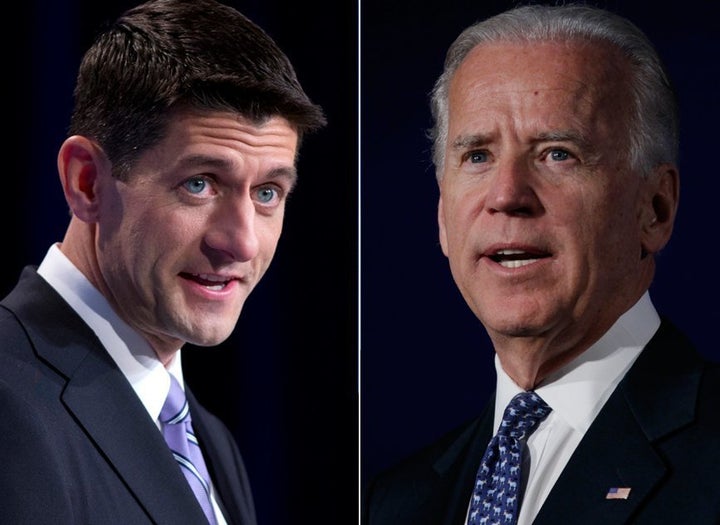 Last week, millions of women across the country tuned in to the first presidential debate, expecting to hear Mitt Romney answer questions about his views on women's health. I was there in Denver and, like many women, was shocked that not a single question came up.
Fortunately, tonight there is another chance to see what a Mitt Romney administration would look like when Romney's vice-presidential pick Paul Ryan takes center stage with Vice President Joe Biden in Kentucky.
Especially in the context of Romney's misleading comments this week regarding his intention to restrict safe and legal abortion, it is extremely important to remember that, like Romney, Ryan has a long record of supporting policies that undermine women's health.
The fact is Paul Ryan would be Romney's point person when it comes to pushing policies through Congress that would hurt women -- as president of the Senate, Ryan could even be the tie-breaking vote in favor of dangerous legislation to restrict women's access to health care.
Ryan voted to end funding to Planned Parenthood, which would have denied women and men access to birth control and cancer screenings that Planned Parenthood health centers routinely provide. Ryan also drafted a plan that would dismantle Medicaid, jeopardizing the well-women exams, lifesaving cancer screenings, and birth control that millions of women rely on.
In a recent campaign speech, Ryan went even further -- saying on day one of a Romney-Ryan administration they would get rid of the Affordable Care Act birth control benefit.
New data from the Contraceptive CHOICE Study, conducted by Washington University in St. Louis, shows why that would be a terrible policy four our country.
Not only does providing preventive health care like birth control with no co-pay have economic benefits for women and their families -- on average, women spend up to $600 a year on birth control -- it leads to significantly fewer unintended pregnancies and could dramatically reduce abortion rates, according to the data published online in Obstetrics & Gynecology.
When cost wasn't an issue, women used the most effective contraceptives, which many women are unable to afford on their own. The study of more than 9,000 women in the St. Louis area provided access to no-cost birth control. Importantly, it found significantly fewer unintended pregnancies among women in the study, abortion rates less than half the regional and national rate, and a teen pregnancy rate less than a fifth of the national average.
When cost is no longer a factor in women's ability to use birth control, when women are educated about the differences between birth control methods, and when women are able to select from the full range of birth control methods, they are able to select the best and most effective birth control method for them to improve their health and plan for their future.
The researchers estimate that if this study is replicated nationally, it could prevent 41-71 percent of abortions annually in the U.S.
What does that mean, exactly? It means that by eliminating co-pays for birth control, the Affordable Care Act -- already the biggest advance for women's health in a generation -- could dramatically reduce unintended pregnancy and the need for abortion in the United States.
Unfortunately, if Paul Ryan and Mitt Romney had their way, those millions of women who will benefit from the Affordable Care Act's birth control benefit will be out of luck.
The bottom line is both Mitt Romney and Paul Ryan claim they want to help ease the burden on middle class Americans. Yet, they both support out-of-touch policies that would take this country back in time and would harm women's health and economic well-being.
It's something to keep in mind when Paul Ryan takes the stage in Kentucky tonight.
Dawn Laguens is the executive vice president for policy, advocacy, and communications for the Planned Parenthood Action Fund. The Action Fund is the leading advocate for Planned Parenthood's health centers.
REAL LIFE. REAL NEWS. REAL VOICES.
Help us tell more of the stories that matter from voices that too often remain unheard.