Written in collaboration with Annie Chen, M.P.H, M.B.A
Mother's Day is a celebration of life and reflects the importance of women to their families, communities and countries. However, worldwide HIV/AIDS robs women and girls of their potential and health. Historically, women have been neglected in HIV/AIDS research, treatment, and prevention efforts in America and around the world. There are multiple biological, social, economic, and environmental risk factors that increase a woman's likelihood of acquiring HIV. Globally, HIV/AIDS is the leading cause of death of women of reproductive age. Women represent 49 percent of people living with HIV/AIDS worldwide. In the U.S. alone, women account for an estimated 25 percent of the 8,102 new AIDS diagnoses in 2011. Women of color in the U.S. are disproportionately affected by the disease, with African American women accounting for nearly two-thirds (64 percent) of all estimated new HIV infections among women, while representing approximately 13 percent of the female population in 2010.
Every year, an estimated 1.5 million women with HIV become pregnant, yet only 57 percent in low- and middle-income countries received the recommended treatment regimen by the World Health Organization for prevention of mother-to-child transmission (PMTCT). As a result, an estimated 330,000 infants globally became infected with HIV from their mothers. While there has been great success in preventing mother-to-child transmission of HIV in the U.S., intensified efforts are needed to protect the health of HIV-positive mothers worldwide. In FY 2010, the saved lives of more than 600,000 HIV-positive pregnant women due to prevention of mother-to-child transmission represents a triumph of the safe motherhood and AIDS prevention movements, but 37,000 deaths from HIV/AIDS annually in this high-risk group represent a tragic, preventable loss that must be redressed. Prenatal care and delivery is an entry point for women into the health care system and an opportunity to treat women who are infected with HIV, as well as provide women with options to choose treatment combinations that work for them. Improving women's health will also enhance the health of families, communities and countries. Yet support for lifesaving women's HIV/AIDS programs globally is now in jeopardy.
Though foreign aid, including global health funding, represents less than 1 percent of the U.S. federal budget, a recent Kaiser Family Foundation poll found that Americans believe that the United States spends too much on international assistance, with concerns that more money should not be spent on health in developing countries because of America's serious economic problems at home. Furthermore, only 32 percent of poll respondents consider AIDS to be a global emergency today, and the number of people ranking this disease as the most urgent health problem for developing nations dropped from 44 percent in 2010 to 28 percent in 2012. What the public needs to know is that these relatively small investments in global health pay significant dividends as a critical component of our nation's foreign policy by helping to save lives, strengthen bonds between nations, build health systems infrastructure, and promote political stability.
That's why the recent proposal for cuts to the U.S. federal government's FY 2014 budget will put women's health at risk worldwide, with reductions in funding for HIV/AIDS programs through PEPFAR, decreases in AIDS treatment services in the United States as well as reduced support for AIDS research at the National Institutes of Health (NIH). These cuts seriously jeopardize the significant progress that has been made in recent years toward achieving an AIDS-free generation for women and girls.
To illustrate the human impact of the proposed Fiscal Year 2014 sequestration budget cuts, amfAR, The Foundation for AIDS Research, developed a graphic (see below) that compares the Obama Administration, U.S. House of Representatives and U.S. Senate budget proposals. For example, the U.S. House of Representative's FY 2014 budget proposal represents a $5 billion decrease to the International Affairs budget, which includes vital HIV programs, representing an 11 percent reduction from the 2012 budget. This translates into an estimated 85,860 fewer women receiving treatment to prevent mother-to-child transmission of the infection (PMTCT) and 523,560 fewer people receiving life-saving HIV/AIDS treatment.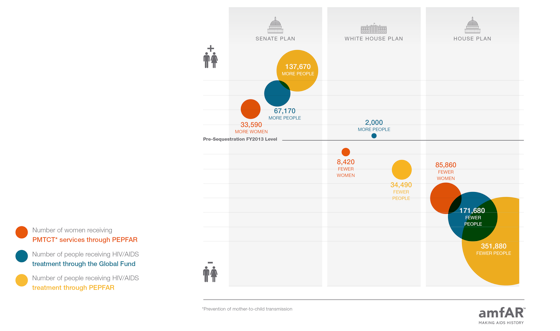 In recent years, a new national focus on women's health in America as well as international programs supported by PEPFAR, the Global Fund to Fight AIDS, Tuberculosis, and Malaria, and private foundations combined with initiatives in other nations, are today providing many women worldwide with the services they need to prevent and treat HIV/AIDS.
However, this progress cannot be sustained with the significant sequester cuts being proposed. What is urgently needed, instead, are intensified efforts to save the lives of women, including those who are pregnant and new mothers, employing a comprehensive and multifaceted approach. This strategy must involve preventing HIV infection in all women and their partners, testing and early treatment of HIV, expanded treatment of women with anti-retroviral medications before and after they give birth, reducing stigma, as well as improving the economic status, educational opportunities and the empowerment of women worldwide. There is also a critical need for more research on women and HIV/AIDS, data collection by gender, and service delivery and prevention programs must be designed to target women's unique needs. Furthermore, the strong focus on women and girls in the Obama Administration's Global Health Initiative must be maintained.
The enormity of this epidemic in many countries means that addressing HIV/AIDS is central to advancing other health and development goals, including reducing maternal mortality. With the heavy burden of HIV infection on women worldwide, the proposed fiscal year 2014 U.S. federal government budget cuts to national and global HIV programs undermines the significant progress that has been made in eradicating the disease in recent years. We are at a tipping point where an AIDS-free generation is within reach. However, ending AIDS will only happen if increased investments are made in treatment and prevention tools as well as building strong health systems, which are cornerstones of PEPFAR. Insufficient funding for HIV/AIDS initiatives will shortchange those who are most vulnerable, particularly women, who now represent half of all people living with HIV/AIDS worldwide.
So starting this Mother's Day, let's strengthen our work together to deliver a world to women that is free from the threat of HIV/AIDS.
Rear Admiral Susan Blumenthal, M.D., M.P.A. (ret.) is the Public Health Editor of The Huffington Post. She is the Senior Policy and Medical Advisor at amfAR, The Foundation for AIDS Research in Washington, D.C., a Clinical Professor at Georgetown and Tufts University Schools of Medicine, and Chair of the Global Health Program at the Meridian International Center. Dr. Blumenthal served for more than 20 years in senior health leadership positions in the federal government in the Administrations of four U.S. presidents, including as Assistant Surgeon General of the United States, the first Deputy Assistant Secretary of Women's Health, and as senior global health advisor in the U.S. Department of Health and Human Services. She also served as a White House advisor on health. Prior to these positions, Dr. Blumenthal was Chief of the Behavioral Medicine and Basic Prevention Research and Chair of the Health and Behavior Coordinating Committee at the National Institutes of Health. She has chaired numerous national and global commissions and conferences and is the author of many scientific publications. Admiral Blumenthal has received numerous awards including honorary doctorates and has been decorated with the highest medals of the U.S. Public Health Service for her pioneering leadership and significant contributions to advancing health in the United States and worldwide. Named by the New York Times, the National Library of Medicine and the Medical Herald as one of the most influential women in medicine, Dr. Blumenthal is the recipient of the 2009 Health Leader of the Year Award from the Commissioned Officers Association and was named a Rock Star of Science by the Geoffrey Beene Foundation. Her work has included a focus on HIV/AIDS since the beginning of the epidemic in the early 1980s.
For more articles by Susan Blumenthal, M.D., click here.
Annie Chen is currently an Allan Rosenfield Health Policy Fellow with amfAR, the Foundation for AIDS Research in Washington, D.C. Annie earned her Master of Public Health and Master of Business Administration (MPH/MBA) from Johns Hopkins Bloomberg School of Public Health and Johns Hopkins Carey Business School.
Related