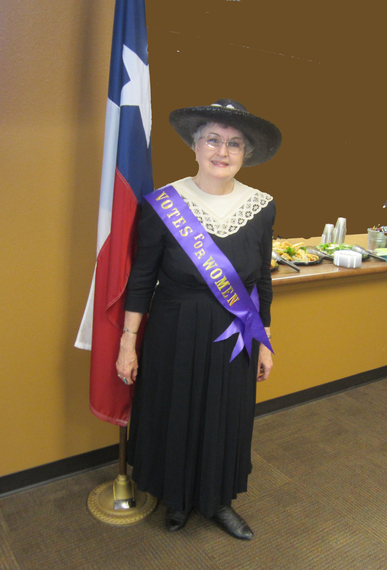 I spoke about Women's History on April 29 at a lovely luncheon at the Tye Preston Memorial Library in Canyon Lake, Texas. The library was launching a wonderful exhibit on the History of Woman Suffrage in Texas.
I gave a brief history of the U.S. Woman Suffrage movement, a bit about British women's struggle, and the story of Texas women's fight for suffrage.
When it passed in 1972, Congress placed an arbitrary time limit on the Equal Rights Amendment's ratification. Women and men are working to get Congress to remove that time limit so the last three states can ratify the amendment.
I want to share a few statistics I gathered for my talk: Men gave themselves the vote and full rights when our nation was begun, 239 years ago. It took 143 years of struggling and fighting for women to win the right to vote. But women are still not included in our own constitution.
It took more than 50 years to get Congress to pass the Equal Rights Amendment, and it has been more than 40 years since its passage -- another 100 years!
In a land which promises equality for all -- this is a dismal record!
The U.S. insisted that all countries drafting constitutions after World War II must include a statement that prohibits discrimination on the basis of gender. Yet our own constitution does not include this statement!
The U.S. signed the international bill of rights for women, CEDAW (Convention for the Elimination of All Discrimination Against Women)... but it did NOT ratify the bill.
Do you see a pattern here? You do just enough to make people think you have passed equity for women, but you do not follow through with actually doing it.
We only need three more states to ratify this vital amendment. Only then women will be fully and completely covered by our Constitution.
We must all contact our elected officials.
Tell them to support the bill that would remove the time limit on ratification so women can finally -- after 239 years -- be full and equal citizens in America!
I concluded my talk with this sentence, "In a land that promises equity for all, we must ratify this vital amendment."
I also urge concerned people to sign my MoveOn Petition here.
Calling all HuffPost superfans!
Sign up for membership to become a founding member and help shape HuffPost's next chapter