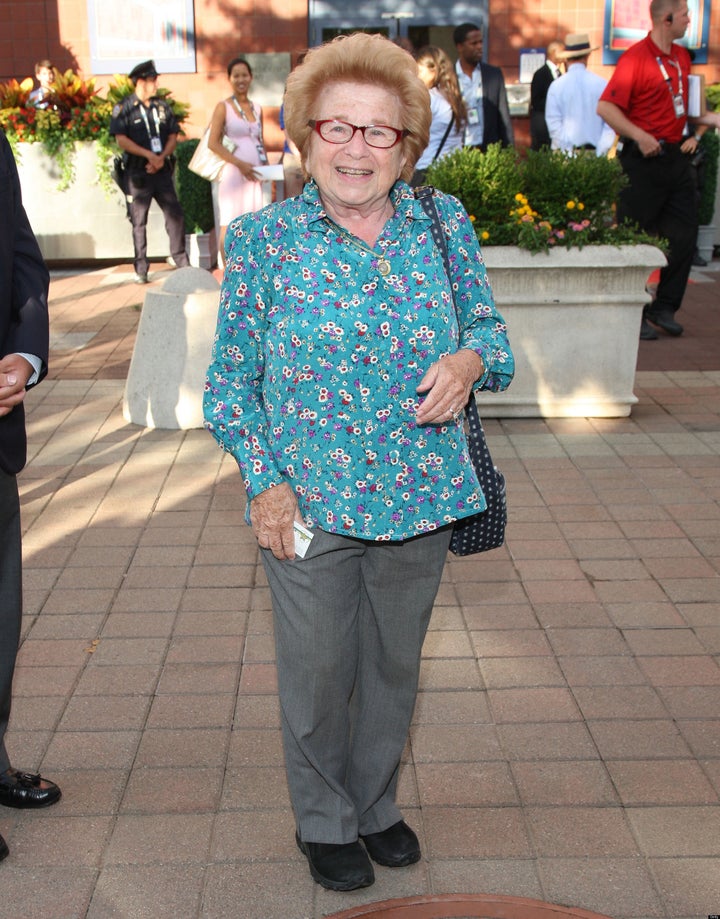 I have a great job. Being a host on Broadminded for the last six years has allowed me the good fortune to meet and speak with some of my lifelong idols; it has also introduced me to some remarkable people from all walks of life that I may have otherwise never met. During this year's Women's History Month we had many extraordinary women on the show.

The Trailblazer: Thanks to Rush Limbaugh and his incendiary comments about Sandra Fluke and women's sexuality and contraception, March started off on a rather controversial note. It only seemed fitting, then, that our first interview to kick off Women's History Month was with the illustrious Dr. Ruth Westheimer. I truly believe we, as women, would not be able to speak as openly about our sexuality had it not been for Dr. Ruth paving the way. Because Broadminded is on satellite radio we can, and often do, talk about anything, including our sex lives (or lack thereof), so being able to speak with Dr. Ruth freely was entertaining and enlightening. And at 83 years young, she is still going strong!

The Legends: There are only a handful of people who have won the "Grand Slam" of show business, the EGOT -- Emmy, Grammy, Oscar, and Tony. And only one of those recipients is Hispanic. I'm referring, of course, to the incomparable Rita Moreno. Throughout her amazing career she has been paving the way for other Latino entertainers by proving talent and perseverance always wins!
I was thrilled to interview Valerie Harper. Talk about a lifelong idol! Who didn't love "Rhoda Morgenstern" on "The Mary Tyler Moore Show"? In the 1970's the show was groundbreaking, proving that a single woman in her 30's can have her own career and live alone and it didn't mean she was destined to be an old maid. Speaking with Valerie was like speaking with one of my best friends. And when she realized I'm a sexual assault survivor, she made it a point of telling me how proud she was of me for not allowing it to define my life. Moments like these are when I feel so blessed to have this job. You can listen to my interview with Valerie http://www.youtube.com/watch?v=JDTiILiiIk0" target="_hplink">here.

The Spokeswomen: I have always admired celebrities who have chosen to use their fame in positive ways. Fran Drescher will forever been known as "The Nanny", but thanks to her "Cancer Schmancer" organization, she is bringing cancer awareness to the forefront of people's consciousness and is no doubt saving lives by doing so.
Actress Maria Bello is a cofounder of We Advance, an organization that was developed after the 2010 Haiti earthquake which is empowering Haitian women to collaborate towards making healthcare a priority and putting an end to gender-based violence within their communities. I can't think of a better way to use your fame than by bringing awareness to deserving causes.

The Humanitarians: This year's theme for Women's History Month was "Women's Education - Women's Empowerment". We were honored to speak with two amazing women who have dedicated their lives to helping other women around the globe. Zainab Salbi is the Founder of Women for Women International. It is a grassroots humanitarian and development organization helping women survivors of wars rebuild their lives. Hibaaq Osman is the Founder and CEO of Karama, which launched in 2005 and is an initiative fueled by a coalition of partners as constituencies to build a movement to end violence against women in the Middle East and North Africa.

The Upstart: At just 29 years old, Lara Setrakian is a Dubai based reporter for Bloomberg Television. Prior to joining Bloomberg, Lara was a reporter for ABC News in New York. This young remarkable woman has accomplished more in her 29 years than most people accomplish in two lifetimes. What an amazing role model this young woman is!

Power Women: To wrap up Women's History Month I attended the Radical Women's Conference in DC. The conference, founded by Doreen Rainey, has expert speakers who are armed with their experiences, successes, failures and life lessons to keep you growing into the life you deserve. This year, I had the opportunity to interview three powerhouses: Ali Brown, who started a multi-million dollar business with just $20 dollars in her pocket; Jillian Michaels, "America's Toughest Trainer" and financial guru Suze Orman. All three of these incredible, self-made women started from nothing, created their own brand and are now household names, yet their goal now is to share their knowledge and empower and encourage other women to be the very best they can be!

Who says there aren't any good role models for girls anymore?
REAL LIFE. REAL NEWS. REAL VOICES.
Help us tell more of the stories that matter from voices that too often remain unheard.