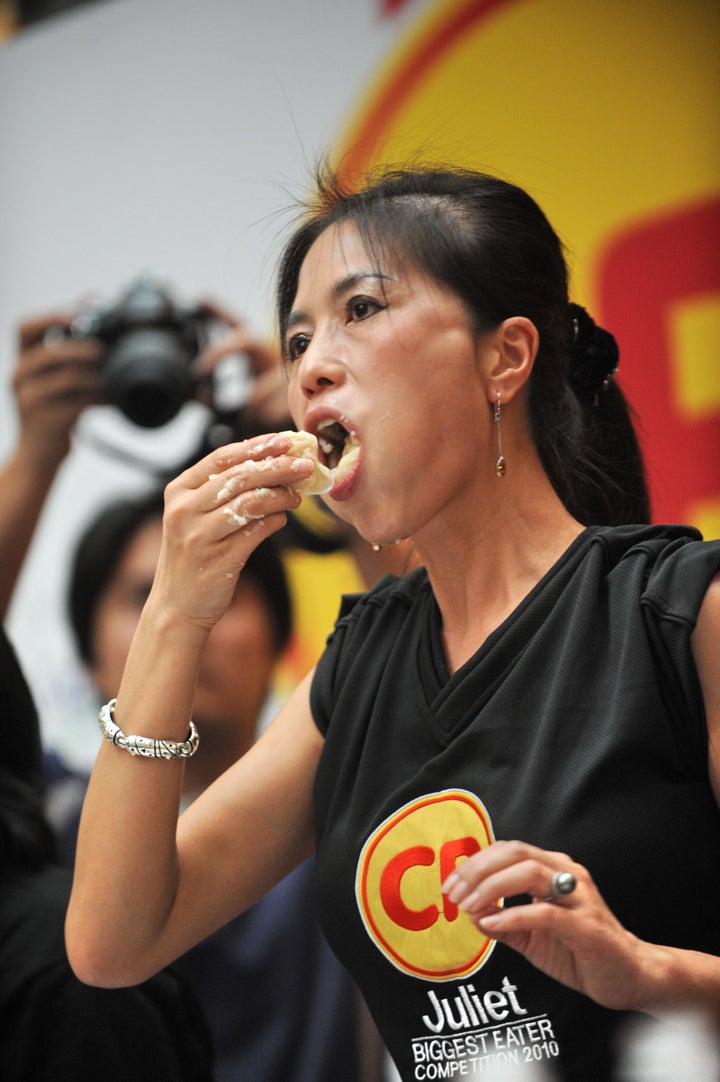 On July 4, the world's finest female competitive eaters will declare their independence.
For the first time ever, top-ranking female hot dog eaters will have the table to themselves in a women-only competition at the Nathan's Famous International Hot Dog Eating Contest in Coney Island, N.Y.
Though many see competitive eating as a man's game, female competitors have long eaten alongside men -- occasionally even besting stars like Joey "Jaws" Chestnut and Tim "Eater X" Janus in contests. But this year, officials from Nathan's Famous and Major League Eating, the organization that oversees most exhibitions of professional gluttony, made the not uncontroversial move to host separate contests for men and women.
It's a decision that doesn't just guarantee a woman a coveted Mustard Belt -- but could forever change the male-dominated sport, according to organizers and eaters themselves.
"These are suffragettes for a new era," Major League Eating President George Shea told AOL Weird News.
"When we went out on the circuit looking for female competitors, we had no idea what kind of response we would get and it's been really terrific," said Shea. "In a way, this has opened up the sport to women."
Top female eaters like Sonya "The Black Widow" Thomas and Juliet Lee have celebrated plenty of victories eating against men, but women remain rare in a sport some consider unladylike. In fact, female eaters account for just 3 to 4 percent of all Major League Eating competitors, according to Shea. But with a victory in Coney Island -- the sport's biggest stage -- female contestants see a future where women will be lauded for eating huge portions.
At least that's what challenger Larell Marie Mele -- a 47-year-old, 133-pound Long Pond, Pa., resident who works as a personal trainer -- hopes.
"To me, this excitement is similar to when women were given the right to vote," said Mele. "This is a monumental event for competitive eating. The door is opening for women."
Mele believes "most women look at it as a man's sport," though she hopes that will change as female eaters gain more recognition.

"For the most part, women wouldn't even entertain the thought of being gluttons like that," said Mele. "But now that they are acknowledging the women, I think it's gaining more interest among women."
Though female eaters like Thomas and Lee have performed well in past Nathan's contests, they remain far behind Chestnut's record of 68 hot dogs and buns. But in a women-only event, victory -- and prize money -- is far more accessible.
"I feel good about it -- it gives me more chance to win," said Lee, 45, who has competed at the Nathan's Famous contest for the past five years.
Limiting the field to women only could give Lee, or the predicted favorite, Thomas, a first taste of victory in the famed hot dog contest.
"Sometimes, women and men are equal, body-wise," said Thomas, 43. "In other sports, they have women's divisions and men's divisions. This is one sport where they should have different divisions."
Thomas, like Lee, lists her weight as 105 pounds. For comparison, Chestnut weighs in at 230 pounds.
Considering her impressive fourth-place finish competing against men last year, it's no surprise that Thomas is looking forward to a women's-only contest.
"The pressure is off a little bit," she said. "Right now I am very confident in myself. I have to watch the other women, but there is much less pressure."
There might be less pressure, but there's still plenty of competition, thanks to the amount of money at stake.

When Nathan's Famous and Major League Eating announced the women's competition, they promised a top prize of $2,500 and a total purse of $5,000 for female eaters, compared to a top prize of $10,000 and a total purse of $20,000 for men.
Almost immediately, the hot dog makers found themselves being grilled by fans and the media.
"Honestly, I thought of other sports where the women's money is less than the men's money," explained Wayne Norbitz, president of Nathan's Famous.
"We set the number at less, but a number of people contacted us and said we weren't being fair to women and that the numbers should be the same," Norbitz said. "So we responded to them."
According to Shea, the hot dog makers and eating contest organizers quickly realized their mistake.
"We felt, wrongly, that since this was the first year of the contest this was an appropriate initial prize," said Shea. "It didn't seem wrong to us, but we were wrong. When there was an uproar, we listened to the fans. They were right, and we made change."
Now with parity in prize money, competitive eating insiders see the July 4 event as a turning point for female contestants.
"Every other sport has separation -- why doesn't eating?" said former competitive eater Ed "Cookie" Jarvis. "Why shouldn't women have a shot at making some money?"
"I think you are going to see some new women on the scene," said Jarvis. "They have a shot now."
Major League Eating officials expect a field of a dozen female eaters, including four competitors who have consumed more than 20 hot dogs in 10 minutes.
More important than fame and cash prizes, some eaters say this year's contest could inspire future generations of female competitive eaters.
"This year alone we've had more females coming into the plate because of the opening of the division," said Mele -- who hopes to put away 17 dogs in her first Nathan's contest, but acknowledges she'll only win if the top female eaters all experience a so-called "reversal of fortune."
But even with the extra fanfare and the broadcast deal (the women's contest will be shown online on ESPN3 and incorporated into the ESPN telecast of the men's contest), Mele admits it will be a challenge to topple the social stigma that many women associate with competitive eating.
"Women are definitely more concerned about putting on weight and what's going to happen to their waistline putting 15 or 20 hot dogs down their gullet," she said. "Men can carry it more."
It's not easy for women -- or men for that matter -- to maintain their figures while gobbling frankfurters.
"If I gain 5 pounds or 8 pounds during contest week, it's going to take me a week or two to take it off," said Mele who admits she has gained weight since she started competing last year. "That's a real mind game for a woman."
Still, Lee remains confident that this year's women's contest will help the sport find female fans.
"This definitely will encourage more women to get involved," said Lee, who hopes to one-up her personal best of 34 hot dogs. "I think a lot of women don't [get involved] in this kind of sport because it's not a pretty contest. But I think it's a different kind of beauty."
Calling all HuffPost superfans!
Sign up for membership to become a founding member and help shape HuffPost's next chapter