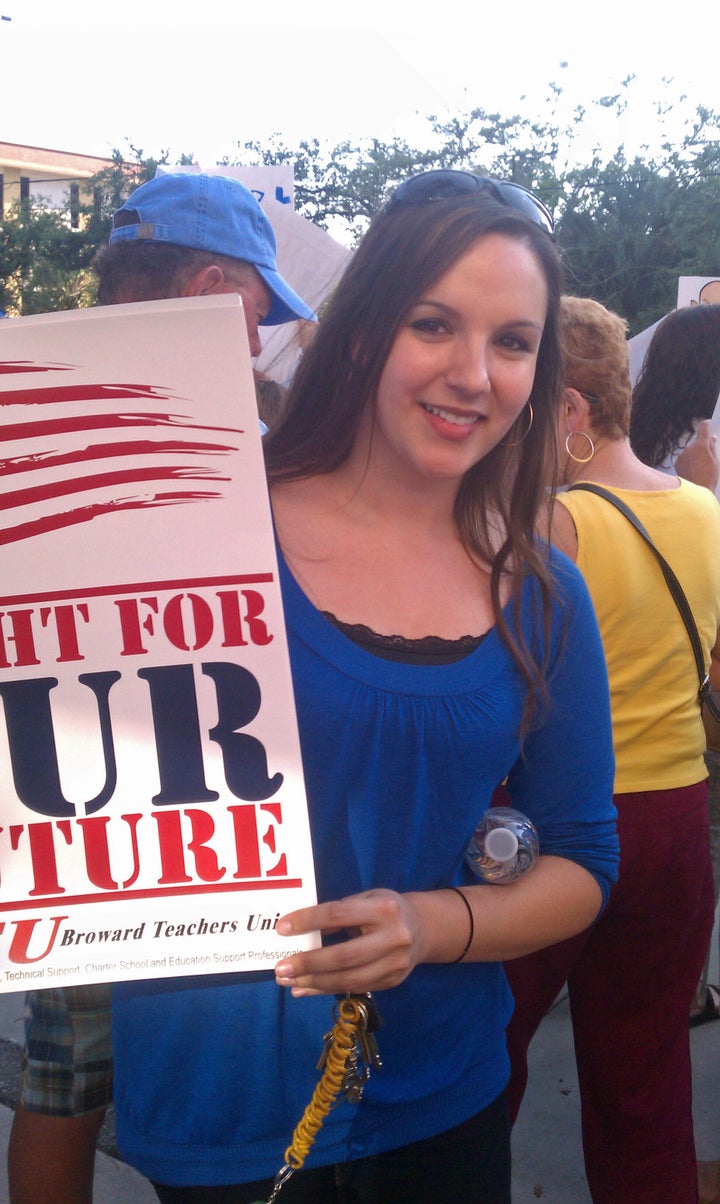 One Sunday last May, Cherine Akbari moved into her new townhouse in sunny Oakland Park, Fla. The next day, the 27-year-old went to work doing what she loved, teaching high school history in Broward County Public Schools. On Friday morning, the faculty council presented her with a windbreaker as a token of Teacher Appreciation Week.
Later that afternoon, she was laid off after only one year on the job. And she wasn't alone. A total of 667 first- and second-year teachers in the district were also laid off -- and 70 percent, or 467 of them, were women.
This is a nationwide scenario. At a lopsided rate, women like Akbari are losing their government jobs -- including teaching, executive administrator and child-care posts -- and finding it harder than men to secure new work in the private sector.
While reports a couple years ago talked about a "mancession," the picture has now dramatically shifted -- and not to women's advantage.
As the incipient recovery gains momentum, women are being left out. They suffer disproportionately from cuts in social services, and the return to employment for women continues to lag that for men, budget experts say. They point to two main culprits: weak state revenues, which are further depleted by the end of federal stimulus aid, coupled with sluggish job growth for women in the private sector.
Recent statistics underline the situation. In June 2009, the unemployment rate for women age 20 and older stood 2.3 percent lower than that for men. But by March of this year, the two rates had nearly converged at 7.6 percent for men and 7.4 percent for women. What's more, when the economy added 120,000 jobs last month, only 38,000 of those went to women.
Akbari is one of the lucky ones; she beat the odds. After five and a half months of applying for jobs, she found public relations work just an hour's drive away from her home. She is fortunate to have limited debt and no family to support, she said, admitting that by the end of her job search her bank account had dipped to $300.
"That was really scary," she said, "because I didn't have enough to make my next mortgage payment."
NO MORE STIMULUS At the start of the recovery in 2009, women constituted 57.2 percent of the public workforce. But as cities and states imposed austerity plans to balance budgets, women experienced 69.1 percent of the job cuts in government, losing some 396,000 jobs in the public sector from June 2009 to March 2012.
The story of women's job losses in the public sector is a tale of states and cities, faced with declining revenues and diminishing federal aid, tightening their belts. By law, every state has to balance its budget, with the exception of Vermont, which has almost always balanced its budget. That means states generally must raise taxes or cut services when they encounter a shortfall. And when states choose either alternative, they can unintentionally drive themselves deeper into recession.
Anticipating the potential for a continued downward spiral in state budgets, the architects of the 2009 Recovery Act set aside $87 billion for Medicaid, $49 billion for education stabilization aid and $4.3 billion for a welfare emergency contingency fund.
The point of the stimulus aid, said Elizabeth McNichol, a senior fellow at the Center on Budget and Policy Priorities, was to make sure that states didn't end up further undermining their financial status in this recession.
But now that the stimulus money is running out, states are hitting a wall: In fiscal year 2012, states have faced -- or are still grappling with -- a collective $102.9 billion in shortfalls. To make up for that, almost all states -- at least 46 last year, according to the Center on Budget and Policy Priorities -- cut budgets for social services and education. And it just so happens that those cuts are hitting women the hardest. 'THEY SUFFERED, I SUFFERED'
"As employees, [women] have disproportionately lost jobs in the public sector," said Joan Entmacher of the National Women's Law Center. But women also "disproportionately rely on a lot of the services that states provide," she added.
Women, for example, make up two-thirds of the adult recipients of Medicaid. They are also the primary providers -- and primary recipients -- of child care assistance, which is generally supported through a mix of federal and state funds.
But many states have recently cut child care support and Medicaid funding to balance their budgets. When Minnesota's officials looked at the 2012-2013 budget last summer, they found that the loss of federal dollars meant that the "finger in the dike" was gone, according to state Rep. Nora Slawik.
Minnesota Gov. Mark Dayton, a Democrat, shut down the government in the hopes that he could raise support for his plan to hike taxes on the wealthy. He eventually negotiated a compromise with the Republican-dominated legislature. Their agreement staved off some cuts but resulted in the imposition of others -- such as a reduction in child care assistance by $7 million over two years, for instance.
"Cuts to kids became a number," Slawik said. "It's how much money do you cut; it wasn't about the faces and the services and the kids."
That $7 million was a paltry sum compared with the overall budget, but the cutbacks have had immediate effects. The waiting list for child care assistance in the state has climbed from 3,728 families in March 2010 to 7,490 today. The same pattern is playing out across the country.
And child care is overwhelmingly a job done by women, which means government-subsidized providers like Terry Bicknell of St. Cloud, Minn., have had to shoulder the cutbacks. Cuts reduced her client load to four from the usual seven, she said.
"I took a big hit, and I'm still struggling," Bicknell said. "I'm not getting my crown for my teeth because we're so far behind."
Her husband lost his job polishing granite countertops three years ago when the bottom fell out of the housing market, so Bicknell provides her family's sole source of income. With her take-home pay halved because she's lost so many clients, the family missed its February house payment, she said.
The cuts have also hit the single mothers who used the state assistance money to send their kids to her. Of the three clients no longer using Bicknell's services, one was forced to move in with her grandmother. Another had to quit school. A third just went on welfare, so "now, we're paying for all of it," Bicknell said.
"Long term, it's not going to help anybody," she added. "They suffered, I suffered."
$50,000 IN DEBT AND PLAYING A 'GUESSING GAME'
Even with the hesitant recovery, states will probably continue to cut budgets for years to come. State revenues often lag after the end of a recession, which means that the cuts in the women-dominated public-sector professions could keep coming. In September the White House estimated that 280,000 more teachers -- 78 percent of them women -- would lose their jobs if those cuts continue.
To stave off the cuts, the White House would like to pass something along the lines of its proposed American Jobs Act. But deficit-leery members of Congress -- both Democrats and Republicans -- have said the bill would add to the government's already large debt burden and are opposed to it.
At the state level, some have proposed or enacted measures to raise taxes on the wealthy. In New York, Gov. Andrew Cuomo successfully championed the passage of one of the so-called millionaire's tax bills in December 2011 and the state has avoided doomsday layoffs. In California, Gov. Jerry Brown supports a ballot initiative that would raise income taxes on people earning more than $250,000 a year; some of the proceeds would go toward stopping teacher layoffs.
Florida has taken a different tack. The legislature there cut aid to school districts by 10 percent but is restoring some of it this year, now that revenues are starting to rise.
Rep. Marti Coley, a Republican who chairs the PreK-12 Appropriations Subcommittee in Florida's legislature, said that states need to be frugal as they wait for a recovery to arrive. "The citizens are having a tough time, too," she said. "You certainly can't ask them for more when they're already struggling. We all need to learn to live within our means, and that's exactly what the state of Florida has done."
But Jean Ross, the former director of the nonprofit California Budget Project, said lawmakers should consider what happens when women are forced to jump into the weak market for private jobs or the even more challenging scramble for public sector jobs.
"You want your policy choices to mitigate and not exacerbate the problems caused by a weak economy," Ross said. "This is a group that has few options available in the labor market due to broader forces. So don't make matters worse."
Danielle Casimiro, 23, a first grade teacher in San Francisco, will be closely watching an upcoming vote on a ballot measure in California. In mid-March, Casimiro and more than 20,000 other teachers in California were given pink slips by her school district. (Casimiro is slated to be laid off not because of poor performance but because of seniority rules.)
The layoff notices are preliminary and the extent of any downsizing depends on whether school districts are able to find some way of plugging their budget gaps -- and whether, for instance, Gov. Brown's initiative passes.
"It's pretty much a guessing game," Casimiro said.
If she is laid off, "not only will I be competing with people fresh out from school," she said, "but people who have years and years of experience more than I do." Like many of the other teachers facing a potential layoff, Casimiro is young and not supporting a family -- but she does have $50,000 in student debt.
A return to the classroom is doubtful for Florida teacher Akbari. Her experience in Florida, she said, has left her disillusioned.
"It's a shame, but I wouldn't want to be a teacher now; it's not a stable career," Akbari said. "If I did it again, I would be on unemployment in six months."
Popular in the Community