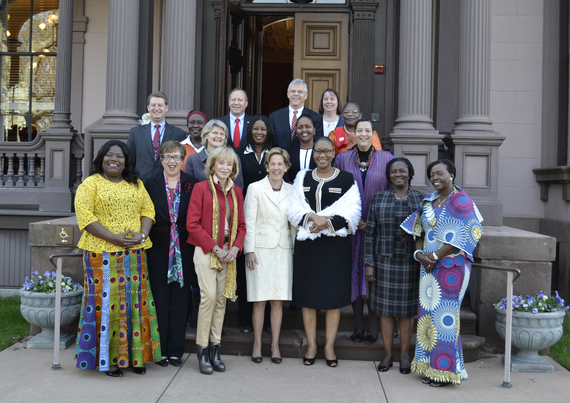 By Elizabeth H. Bradley, Faculty Director for the Yale Global Health Leadership Institute and Rachel Brown '15, Yale University
In their Forum for Strategic Impact, Yale University recently convened a group of African women in top leadership roles to further the effectiveness and influence of women across Africa and the globe. These women are helping to lead efforts with a valuable and necessary exchange of ideas that shine a spotlight on the need to increase women's political and economic power. Over time this network of women will have a multiplier effect, influencing their peers and younger generations they mentor.
Yet, when women are in leadership positions, their influence confers advantages at every level -- whether in business, government or communities. In a four-year study of 353 Fortune 500 companies, firms with the largest shares of women in top management experienced 35% higher returns on equity than firms with the lowest shares of women in leadership positions. Women in governmental positions in low- and middle-income countries are more likely than their male counterparts to invest in public goods such as drinking water, sanitation, roads, and violence reduction efforts. In the U.S., five of the first senators who broke with their parties and cooperated to end the October 2013 government shutdown were female. In families, women's leadership also bestows benefits. Female wage earners reinvest 90 cents of every dollar into their families whereas male wage earners reinvest just 30-40 cents. Placing a woman in charge of her family's savings account can shift a greater share of income toward the needs of children as well. It is not surprising that women have become the center of many new development initiatives.
So, how might we break the bottleneck between women's strong representation in the classroom and weaker representation in leadership globally? One answer might be to use those same classrooms full of rising women students in support of established women leaders. Universities can help facilitate capacity building and promote gender diversity not just within their walls, but also in their engagement with senior leadership in business, government and communities. Universities can convene current top female leadership to develop leadership skills, and more importantly, cultivate networks through which role models can influence younger women. Through such programs, women could be exposed to opportunities and authority structures that would equip them with the skills to lead later in life.
We see a great example of this convening, capacity-building and network activation in the recent forum with African women leaders organized by Yale in partnership with the Women for Africa Foundation and with support from Banco Santander. The program brought together 10 senior cabinet ministers, parliamentarians, and civic leaders from Ghana, Kenya, Mali, Morocco, and Nigeria to explore governance and policy issues vital to the social, political, and economic development of their countries and the continent. These 10 outstanding women are the first cohort of an ongoing program and sustained network of leaders.
Such programs work best if embedded in the context of larger strategic problem solving initiatives and are ongoing as long-term investments in women's leadership globally. For maximum impact, program participants benefit from not only convening in universities to expose women to the latest thinking on pressing global challenges but also working on field projects that apply thoughtful strategic approaches to real-world problems and objectives. This way, programs influence aspiring female leadership and contribute to a broader constituency simultaneously. Working on practical problems in business, government, and communities connects academic and practitioners to tangible problems, bridges the chasm between theory and practice, and reinforces the application of education to effective leadership.
None of this is easy. And prompting greater focus on gender diversity is not without obstacles. In Norway, for instance, where boards are comprised of 40 percent women by quota, one study found that while women contributed significantly to the board's overall functioning, their presence also led to new tensions, reduced bonding at the outset, and a slower decision making process. Such evidence suggests that to fully capture the benefits of increased gender diversity, we need to be prepared to adapt to challenges in expression, group norms, and approaches to decision making.
In the end, achieving marked improvement in the quantity, authority and effectiveness of women in leadership will require concerted efforts by both men and women. Such seismic shifts cannot be made by women alone and cannot be grounded in ideology. Rather, efforts must be rooted in a recognition of the practical benefits that female leadership can bring - not just for women, but for all.
Related
Popular in the Community