Coauthored by Ambassador Melanne Verveer, co-author of Fast Forward and co-founder of Seneca Women
During a recent conference on women's role in leading change, journalist Christiane Amanpour noted that women bring dignity and resistance to regions and countries in conflict. The challenges we face around the world affect all of us - women and men alike. "If there's no equality between women and men," she said, "there is no progress."
Christiane raises an important point. There is growing recognition that women's empowerment is vital to our global economy. The United Nations this year announced the first high-level panel focused on improving economic outcomes for women and their leadership in advancing sustainable and inclusive economic growth. The announcement came during the World Economic Forum in Davos, where women leaders made up 18 percent of the participants - more than ever before, but still falls short.
Thirty-seven percent of all businesses worldwide are owned by women, and nearly one billion women are poised to join the workforce globally. McKinsey Global Institute estimates that if women around the world were fully engaged in the labor force, as much as US$28 trillion would be added to the global economy by 2025. It's clear what were once considered "women's issues" are fundamental economic imperatives. But equally clear is that women help countries facing humanitarian crises and unrest rebuild and move forward. From participating in peace talks to advancing stability through their businesses and economic development, women help drive progress.
Women like Velma Šarić, from Bosnia-Herzegovina, who established the Post-Conflict Research Center to foster sustainable peace in the Balkans, including engaging young people as the next generation of citizens. Or women like Ahu Serter, president of Farplas Group and founder of Arya Women's Investment Platform, who is helping train women to be entrepreneurs and creating a global network of women investors. These women recently participated in the Global Ambassadors Program, an effort by Bank of America and Vital Voices Global Partnership to advance women's economic empowerment through mentoring.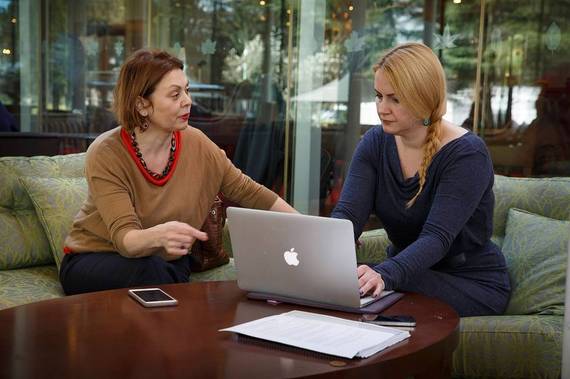 Velma Šarić, founder and executive director of the Post-Conflict Research Center in Bosnia-Herzegovina (right), works with her mentor Galina Melnikova to advance her organization's mission of sustainable peace.
Research shows that girls and women reinvest 90% of their earned income into their families, which leads to more successful outcomes for their children and communities. Women often make decisions through accumulated experiences, with a focus on relationship building and balancing multiple stake-holder interests. This creates opportunities for honest dialogue that advances mutual goals. As President Atifete Jahjaga of the Republic of Kosovo noted during our conversation, "We could not have achieved long-lasting peace in Kosovo without women at the table."
Here's what we've learned:
Women leaders are good for business. Forget for a moment the moral argument for empowering women and look at the economic imperative. A growing body of research and data show the impact of women leaders on economic growth and progress. A new report from the Peterson Institute for International Economics found that companies with at least 30 percent female leaders had net profit margins up to 6 percentage points higher than companies with no women in the top ranks. Diverse leadership, by its very nature, prevents group-think and leads to better decision making.
Small steps can make a big difference. Few women leaders--or their male counterparts--have a straight trajectory to the top. There's no question that we need to reform laws, but creating smaller opportunities can also help. Women face systemic challenges, including a lack of jobs, structural corporate obstacles, workplace bias, unsupportive families, poor or unsafe transport services, prohibitions against owning land and limited access to financial capital. According to the group Education for Employment, lowering or removing those barriers and increasing women's workforce participation to that of males in the Middle East would have an enormous impact on local economies - for example, boosting GDP by 34 percent in Egypt, and 12 percent in the United Arab Emirates. While the cultural and legal barriers can't be ignored, there are universal needs all women face - education and training, a solid support system and access to childcare.
Ordinary women can do extraordinary things. They just need support to help them find their purpose, maximize their potential and build stronger communities. All of us have a role. We're inspired by Dr. Deqo Aden Mohamed in Somalia, another Global Ambassadors Program participant, who is building a village with housing, education and health facilities for women and children - a goal made possible through a network of mentors who helped her refine her business plan to successfully obtain funding. Giving our time and expertise to mentor women leaders along their journey can reap exponential benefits.
One of our biggest lessons learned? Creating a network of women leaders generates momentum as they in turn share support and encouragement across time zones. With today's inter-connected world, we can offer perspective and tangible coaching to women to help them discover their power and purpose. Women are leading economic and social change. Let's give them the opportunities and tools to do more and create a long-lasting impact.

Ambassador Melanne Verveer, co-author of Fast Forward and co-founder of Seneca Women, and Anne Finucane, Vice Chairman, Bank of America, participated in a public forum, "Women, Progress and the Global Economy", on February 25 in London. The event can be viewed here.
Related
Popular in the Community