It was an inspired idea -- bring together 100 of today's boldest women leaders in sustainability, and see if they can produce an accelerated, gender-aware climate action agenda which can be implemented everywhere, from households and communities to boardrooms and negotiation halls.
One of its organizers, Osprey Orielle Lake first approached me about the idea at the Durban climate conference in December 2011. And now it's happening -- the International Women's Earth and Climate Summit is happening right now in New York.
The nature of the gathering might leave some asking: are women uniquely positioned to tackle climate change?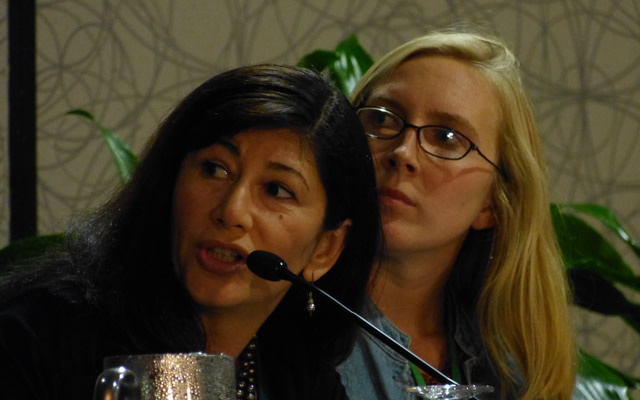 Atossa Soltani of Amazon Watch and May Boeve of 350.org discuss fossil fuel campaigns at the Women's Earth and Climate Summit | Photo: Kelly Rigg, 2013
Data and knowledge of climate impacts that are gender blind -- that lump men and women together -- make invisible the disproportionate toll that climate change takes on women. It also hides the important knowledge that women have of climate change, its causes and its solutions.
Women are more vulnerable to climate impacts due to their unequal position in society.
Women are disproportionately affected by natural disasters: after the 2004 Asia tsunami men outlived women 3:1, and women who survived Hurricane Katrina faced additional personal danger (rape, for example) and discrimination in comparison to male survivors.
In the developing world, women stand at the nexus of food, water, and energy. It is women who are responsible for food production and the collection of water and fuel wood, which makes them keenly aware of changing weather patterns that alter growing seasons, decrease crop yields and lower water levels.
The Barefoot College in India trains women to be solar engineers, simultaneously bringing electricity to communities, avoiding additional carbon emissions and empowering women with valuable skills.
Energia International, led largely by women, uses knowledge of gender norms in the areas where they work in order to better implement clean energy solutions varying from solar grid installation to clean cook stove projects.
But it's not just women in the developing world who play a central role in the fight against climate change. Polling in the developed world (in Germany, Australia, and the U.S.) indicates that women see climate change as real and dangerous in higher numbers than men, and they're more likely to take action against it.
In Germany, the polling also revealed that women are more likely to believe in the power of the individual to protect the climate. That kind of empowered thinking drives NGOs like One Million Women, which works to inspire one million women to cut one ton of carbon dioxide from their daily lives.
Women in high powered leadership positions also bring something unique to the table. For example, though women are only a small proportion of corporate boards, their presence is critical for bringing fresh vision to company governance.
A study on gender inclusion on boards found that having at least three women -- a number that exceeds simple 'tokenism' -- caused a fundamental change and improvement in a board's decision-making: the perspectives of more stakeholders were addressed; controversial issues were tackled instead of ignored; and the dynamic of the group was more open and collaborative.
Imagine if this experience were applied to the UNFCCC negotiations, where women are outnumbered by their male counterparts on the order of three to one, and where only 15 percent of country delegations are led by women.
At last year's conference in Doha a landmark agreement to promote gender balance in the negotiations was adopted, an important step in the right direction. And let's remember, this isn't just about fairness, but about improving the quality of decision-making, as women bring important -- and different -- perspectives and critical knowledge to climate talks.
So to answer my own question, are women uniquely positioned to tackle climate change? I say yes, for the reasons explained above. But being uniquely positioned is not the same thing as being solely positioned. When it comes to climate change, everyone has an important part to play.
With that in mind, I'm excited to attend the summit, to collaborate with a group of incredibly passionate women from around the world, and to see what emerges from these discussions. And those who are not in New York are encouraged to join the Summit through interactive live-streaming during the plenary sessions each day.
It will be a powerful opportunity to elevate the voices of those still underrepresented in discussions about climate action, and to promote stronger solutions as a result.
Related
Popular in the Community