WASHINGTON — Hundreds of thousands of women and men took to the streets in cities across the nation on Saturday in a defiant stand against President Donald Trump, who today marks the anniversary of his inauguration amid a government shutdown.
The 2018 Women's March — round two of an event that in 2017 proved to be the largest single-day protest in American history — includes a main event in Las Vegas on Sunday and more than 250 marches in the U.S. and overseas.
In New York City, an electrified crowd — estimated at more than 120,000 people — stretched for some 20 blocks. Among those carrying signs was 30-year-old Nikki Vargas, an immigrant from Colombia. She told HuffPost she is "horrified by the blatant xenophobia, the blatant racism, the gender biases of this president."
Vargas marched at last year's event in New York, an experience she described as "incredible" and powerful. But she feels even more energy one year into Trump's term.
"This march is even different from the last one, because of the #MeToo movement and the spotlight on sexual assault victims," Vargas said. "This march ― there's a lot more rage and a lot more anger in this march, and I think we're gonna see a lot of women out there defending those who didn't have a voice before."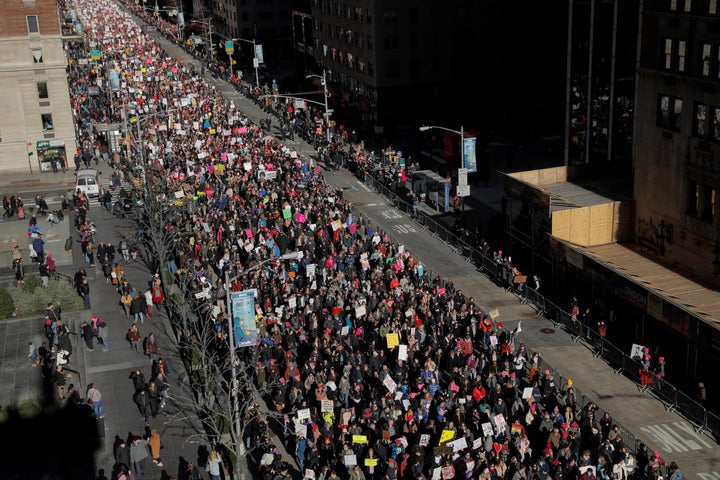 In Washington, D.C. — where a year ago hundreds of thousands of people swarmed the National Mall, many wearing pink "pussyhats" — protesters gathered around 11 a.m. at the reflecting pool in front of the Lincoln Memorial. The event featured speeches from several Democrats and activists.
"It's a beautiful sight to look out here today," Democratic National Committee Chair Tom Perez told the crowd. "If the Congress, if the White House, if the governorships across America, if the legislatures across America had more women like I see here today, we'd be a much better America. There's no doubt about it."
This year's demonstration is as much a protest of Trump's agenda as it is an effort to register new voters to ensure more women and progressives are elected to office in 2018.
"We march. We run. We vote. We win." House Minority Leader Nancy Pelosi (D-Calif.) said at the D.C. rally.
Hillary Clinton, whose loss in the 2016 presidential election partly inspired the original march, tweeted her support and urged protesters to vote in this year's elections.
"In 2017, the Women's March was a beacon of hope and defiance," Clinton said. "In 2018, it is a testament to the power and resilience of women everywhere."
Majella Mark, 31, of Brooklyn, told HuffPost at the rally in New York that people aren't just optimistic. They are fired up, she said.
"No, now we're serious," Mark said. "Especially with the shutdown ― you just gave us ammo. We need some women in Congress, because obviously you can't get anything done."
In a post to Twitter on Saturday, Trump appeared to poke fun at demonstrators.
"Get out there now to celebrate the historic milestones and unprecedented economic success and wealth creation that has taken place over the last 12 months," he wrote. "Lowest female unemployment in years!"
This year's main event in Las Vegas, titled "Power to the Polls," kicks off Sunday at 10 a.m. local time, and is being streamed live on the event website. Other large marches are being held today in cities including Chicago, Philadelphia, Los Angeles, San Francisco, Oakland, Denver, and Seattle.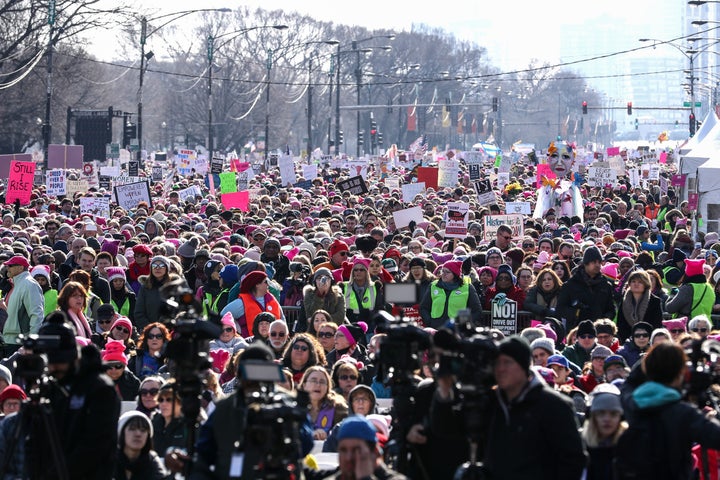 Popular in the Community