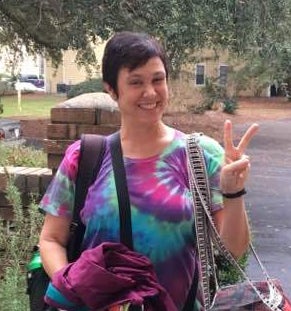 January 21 is indelibly marked in my memory as a day of unity, peace and friendship. I hadn't been feeling very good about the USA, but suddenly, when I needed it most, optimism and possibility emerged. I live in Charleston, South Carolina, and it is instructive for the rest of the country to know how we experienced the Women's March here in the Deep South, in a very red state. Charleston, a city that is celebrated for its hospitality, has also known tremendous tragedy and suffering. It is a place where people have demonstrated that they can come together in a spirit of acceptance for the purpose of healing and moving forward.
The forecast for January 21 announced thunderstorms and pouring rain, and we got our share of that. The organizers of the Women's March-Charleston are not celebrities; rather, they are women from diverse backgrounds who came together because they wanted to do something here for those who couldn't make the trip to Washington. In just two weeks, they put together an event that was far beyond the scope they imagined. They had anticipated a crowd of 200, but they got a crowd that was over 2000. Just days before the event, they had to reimagine what they had initially planned because the large group would have overwhelmed the narrow streets in the historic city center. The rally was moved to Brittlebank Park, which overlooks the Ashley River at the edge of the peninsula. Marchers would meet at several different spots around the city at 11:00 and proceed from there to rally in the park at noon, creating ribbons of mini-marches throughout town.
My friends met near our office building, and we marched together to Brittlebank Park. We were a group of women, men, teens and children, some wearing the now iconic pink hats, others carrying signs and wearing t-shirts with catchy slogans. As we headed out, it began to rain steadily, but that didn't dampen our mood. We arrived at the rally early, which afforded us the advantage of seeing the other groups as they entered the park in turn. Each new arrival was applauded and cheered—we were all dancing, hugging, introducing ourselves to fellow marchers and admiring each other's signs. Above all, we were celebrating women and our First Amendment rights of freedom of speech and the right to assemble.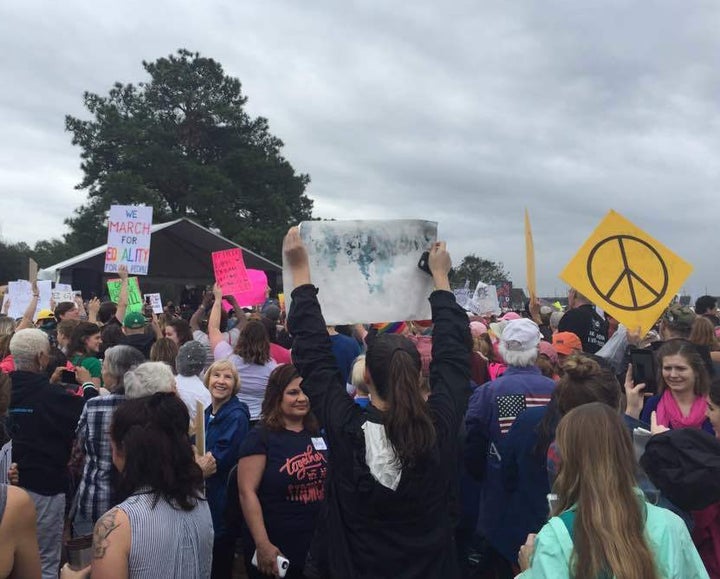 The line-up of speakers included local poets, politicians and activists—this event was 100% South Carolina, at least on stage. Marcus Amaker's inspirational poem "A woman's hands are the hands of God" set the tone. While it was apparent that few in the audience were supportive of the new administration in Washington, the message was overwhelmingly one of affirming women's rights. We marched for the rights of all women, even those women who disagree with us. We marched for the right of women to be free from sexual harassment and sexual assault. We marched because we stand in opposition to any language that belittles or shames women, the kind of language we heard far too often during the election cycle. We marched because we do not want anyone to think that speaking of or treating women in demeaning and harmful ways is normal or acceptable. We were marching to express our First Amendment right to speak out against hateful speech and behavior.
Aren't these ideas that we can all support? Think of your mothers, your daughters, your sisters, your aunts, your nieces, your wives, yourself. What would you do if someone "grabbed" a woman that you love against her will? At the very least, wouldn't you speak out? Might you consider marching with us to affirm that it is absolutely unacceptable to excuse or downplay such behavior? The message in Charleston was loud and clear: no, it is not acceptable. Women, men and children of all ages and of diverse backgrounds stood together in the pouring rain to celebrate women and to validate women's voices.
It gave me strength to be embraced by those at the Charleston march and to participate in our collective affirmation that we are here in support of each other. We will stand together and protect each other, and that is an extraordinary feeling. But do not think that this is a march about feelings only; it is one of ideas and action as well. One consistent message was the need for more women to run for elected office, and this goes beyond party affiliation. I hope that those who disparaged the march or who think that it was only for blue state liberals will take the time to consider the truly historic moment that the Women's March was and will seek to understand why so many decided to march so that their voices might be heard.
REAL LIFE. REAL NEWS. REAL VOICES.
Help us tell more of the stories that matter from voices that too often remain unheard.