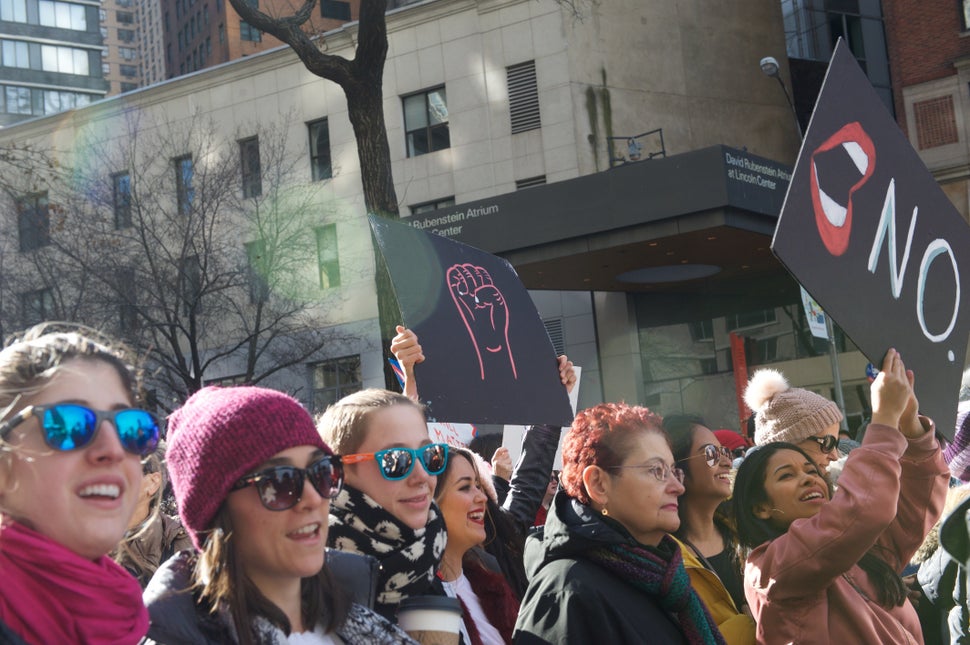 "It's time for change," said Annon, who told HuffPost that it was #MeToo, specifically the Aziz Ansari story, that pushed her to march. "We need to stop making excuses, and I don't want my daughter to grow up in a world where she feels pressured to do things that she's uncomfortable doing." 
In New York, the march spanned more than 20 blocks and two avenues. Marchers of all ages, genders and backgrounds carried signs with slogans like "Grab him by the midterms," "Harasshole," "I miss science," "Stop tearing families apart," "Nasty women from shithole countries," "Together we rise," and "Fuck this shit."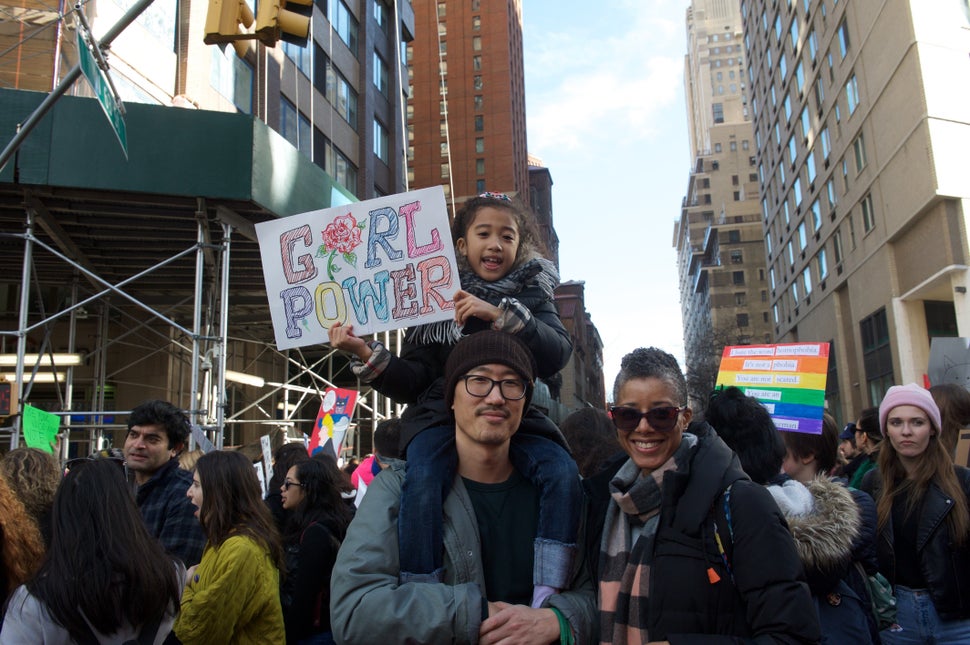 Despite a year that several women described to HuffPost as "hard" and "draining," marchers seemed prepared to call their representatives and protest in the streets for the next three years. 
"After marching many times, I would march next year and the year after that, and I would continue marching," said Tessa Cahill, 11, who marched in D.C. with her family in 2017.
Though the themes of the 2018 march remained largely the same as last year's, many women pointed to the #MeToo movement, which kicked off in earnest this past October, when asked why they were marching again. 
"I feel optimistic, especially with so many women coming out in the #MeToo movement [and] in Time's Up," Danielle Sabalvaro, 26, told HuffPost. "Enough is enough at this point ― especially after this past year. So I think we have a lot of momentum coming into this year."
Nikki Vargas, 30, said she had protested and marched before Trump was elected, but was especially energized this past year by #MeToo and her identity as a Colombian immigrant. 
"This march is even different from the last one because of the #MeToo movement and the spotlight on sexual assault victims," Vargas told HuffPost. "There's a lot more rage and a lot more anger in this march, and I think we're going to see a lot of women out there defending those who didn't have a voice before."
Another clear difference between this march and the one in 2017 was an effort to work for inclusiveness and intersectionality from day one. The original march, which grew out of two Facebook events created by white women, drew criticism for not initially doing so.
The founders of the Women's March changed the name of the event from the "Million Women's March" ― the name of a 1997 black women's march ― brought seasoned organizers Linda Sarsour, Tamika Mallory and Carmen Perez on as national co-chairs, and say they have since spent a lot of time discussing and reflecting on white privilege and the problems with white feminism.
"I think it was important for all of us to talk about the ubiquity of white privilege and how we all had been basically skating on this privilege without really naming it or addressing it for a very long time," said Bob Bland, a co-founder of the march. "We learned about the history and the ways we were causing harm and trauma to communities of color, and we centered women of color in leadership and became intentional as white women about holding space."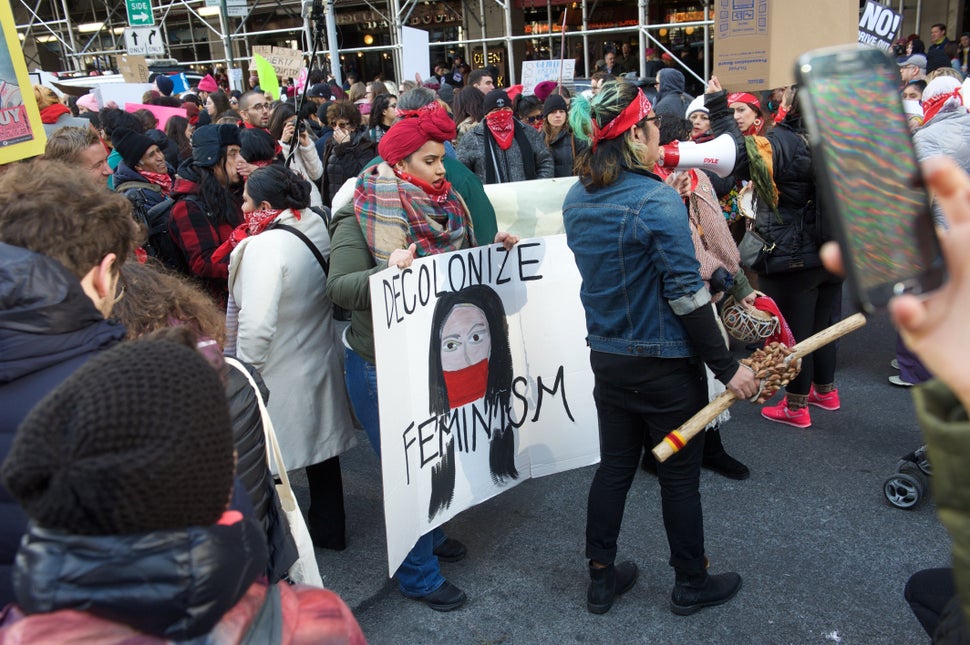 Many women brought signs to the march that emphasized inclusivity. Veronica Pazmino, 28, in New York with an indigenous women's group from Mexico, said she wore red to honor indigenous women. 
"I just really wanted to show solidarity and stand with all my sisters here today, all native sisters, all trans sisters," she told HuffPost. "And I really feel like it's important to stand together, be inclusive, not exclusive. This is about all groups of women, not just certain groups of women. Be intersectional and not be like, oh, this is only for certain groups and not the others." 
Majella Mark, 31, carried a sign that nodded to "pro-life feminists," despite the fact that she supports abortion rights and that feminism has traditionally shunned the anti-abortion community. "There's women who really are dedicated to gender equality, and their perspective is just different, and that's OK," she said.
But Bland said she is encouraged by the movement's evolution.
"The miracle of this year is people putting away any past differences ― or more accurately, talking about them ― and having the courageous conversations that needed to be had with each other," she said. 
I would say our greatest victories are ahead of us. The true promise of the Women's March hasn't yet been met.

Bob Bland, Women's March Co-Founder and National Co-Chair
One year into Trump's presidency, demonstrators see the Women's March as a jumping off point rather than an end goal. And with the midterm elections just months away, that's where many of the marchers plan to direct their energy. That's also where the Women's March organization has directed its efforts, via the Power to the Polls campaign, which kicks off on Sunday in Las Vegas.
"It's a marathon fight, not a sprint," said Marianna Martinelli, 35. "Now it's 2018, we've got our eyes on November and trying to support candidates that are gonna be able to make a change in D.C. So I think we know that it's gonna be the long haul. It's not guns blazing ― we've gotta keep the pace, keep fighting."
"It's wonderful to see this kind of turnout," echoed Sydney Crawford, 83, who has been marching since the 1960s when she fought for civil rights alongside Martin Luther King Jr. "I was with a group in Virginia, and we took 12 seats in the state legislature and got the governorship. People came out and voted, and it was really inspirational."
Bland shares the optimism of the New York marchers. 
"I would say our greatest victories are ahead of us," she said. "The true promise of the Women's March hasn't yet been met."
This piece has been updated to reflect a later crowd size estimate.
Calling all HuffPost superfans!
Sign up for membership to become a founding member and help shape HuffPost's next chapter
BEFORE YOU GO
PHOTO GALLERY
Women's March 2018 NYC